West Virginia Cattle Farmers Build the Local Food Economy They Need to Thrive
A crowd of calves looks on as Jennifer "Tootie" Jones edges her truck, weighed down with hay, toward the gate where they're starting to gather. They know it's time for food, and a few of them leap into the air from excitement.
Once the truck is inside the gate, more than 40 calves trail behind it or run alongside until Jones parks it in a corner of the field.
She knows that the fate of her own farm relies on the success of the entire local meat ecosystem.
"I like to see my steers run up and down a hillside because I know their lungs and their hearts are really healthy and they're growing, and they feel good," Jones says.
She tosses out the hay and climbs back into the truck, moving on to the next field. She unloads a bag of dried organic kelp, which supplements the diet of her grassfed herd.
"I can tell you exactly what day they were born [and] the cow," Jones says. These are beef cattle, and after they've gone to slaughter, buyers can find out specifics on how they were raised by researching Swift Level Farm, whose contact information appears on the packaging. It's a way to ensure buyers that each animal has had a good life.
Eleven years ago, Jones started raising grassfed beef. It seemed like a smart move: her farm, Swift Level, is in Greenbrier Valley, whose rich grasses and relatively flat terrain make it West Virginia's top cattle-raising area. Jones' family was in the cattle business when she was a child, and she was seeing signs of an emerging market that could help her return to a similar lifestyle.
But once she began raising cattle again, Jones discovered a local meat infrastructure that was struggling to survive. All she wanted to do was get local meat onto local tables, but she encountered a shortage of slaughterhouses and other meat processing services, as well as a lack of financial support for producers.
Luckily, she likes a challenge.
This past winter saw heavy snows at Swift Level, and the spring was even rougher. Grasses came in late, so it took longer than usual for many of Jones' cattle to mature. But she's built up a strong network of fellow producers around the state, and was able to fill in the gaps at restaurants she supplies with meat from other farms.
From the beginning, building this type of network has been Jones' goal. She knows that the fate of her own farm relies on the success of the entire local meat ecosystem. That's why she and other West Virginians are working so hard to clear the path to local tables.
Running a West Virginia meat farm
Local food is nothing new in Appalachia.
"West Virginia has a long history and heritage of self-sufficient farming," explains Jill Young, technical assistance coordinator for the Value Chain Cluster Initiative (VC2), a program funded in part by the federal government through the Natural Capital Investment Fund.
But this tradition of self-sufficiency has nearly died out.
"There's not one bank in the state of West Virginia that was willing to support my business growth."
"That whole process of taking your cattle from birth to slaughter has been changed, and they now focus on just breeding and raising them," Young says. That means that the processes of finishing, slaughtering, and butchering the animals usually occur in out-of-state facilities. "When they load them on the trailer, you can watch West Virginia dollars go away."
VC2 aims to connect and support local food projects around the state. This kind of networking helps the projects achieve their aims and encourages collaboration between them, Young explains. The goal is to keep West Virginia dollars from leaving the state—and to create a more profitable environment for farmers.
"You start increasing your profit the closer you get to the consumer," Young explains. A farmer selling directly to the customer not only cuts out some middlemen, but can also set his or her own prices. In contrast, "when commodity prices come in, they're dictated—they're not negotiated."
West Virginia's agriculture commissioner, Walt Helmick, seems to agree that more local food production will help the state's economy.
"We're importing in excess of $6 billion in food," Helmick told West Virginia's State Journal in 2013. "That is a significant problem. We want West Virginia land to be used by West Virginians to grow a product that West Virginians will consume."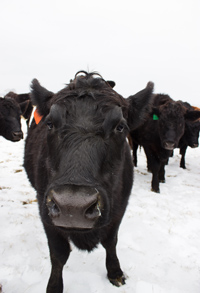 One of the cows at Swift Level Farm.
According to Jones, one of the greatest challenges to increasing local meat production lies in local farmers' resistance to altering the export-to-slaughter status quo. Most farmers wait until their calves reach a certain age, then sell them all to a facility where they live out the rest of their lives until they're mature enough to slaughter. Such facilities are almost always outside of West Virginia.
Even for those farmers who are interested in raising meat for a local market, there are financial obstacles.
"I've got a lot of up-front costs before I ever see a return on my investment," Jones says. She purchases calves a few years before they're ready for slaughter, and pays the meat processor before she actually sells the product. It's a long time to wait for a paycheck.
It's also challenging to find the financial backing to get started, at least in Jones' experience.
"It's very, very hard to borrow money to get the capital needed to do this business, and I've only been able to find one group of people that are willing to lend me any money," Jones says. That group was the Natural Capital Investment Fund. "There's not one bank in the state of West Virginia that was willing to support my business growth."
When it finally comes time to sell the meat, yet another challenge arises: not all farmers are marketers. Jones has networked throughout the state to raise awareness about the benefits of buying local, but spreading the word is a job all its own, and West Virginia still has a long way to go compared to one Appalachian neighbor.
North Carolina's local meat industry is growing quickly. Jennifer Curtis is the cofounder of Durham-based Firsthand Foods, which connects about 40 beef and pork farmers in the area with about 60 local customers.
Smart marketing is integral to the success of Firsthand Foods, which does the branding and networking that many farmers don't have the time or inclination to do. And it turns out, there's money in this type of work. According to Curtis, Firsthand Foods made $250,000 in gross revenue in its first year of operation. Two years later, in 2013, it achieved $1 million in gross revenue.
Where's the beef?
Perhaps the greatest obstacle in West Virginia's local meat supply chain is in the lack of slaughterhouses and meat processors, in particular USDA- and state-inspected facilities, whose meat is eligible for commercial sale. The absence of such facilities is particularly surprising in the Greenbrier Valley.
"We've got more cattle than any other part of the state, and there's not one facility in this valley that's inspected," Jones says.
Those facilities that do exist within driving distance generally don't have the capacity to handle commercial-scale volumes.
It's a different, more gamey flavor than your typical burger, Wright says.
"That's why a lot of animals just get put on trucks and leave, because most of our slaughterhouses were really used to taking two to four animals from a farm and now you've got farms like me, which are sending you 40 to 60 to 80 in a year," Jones explains.
But kick-starting local meat processing isn't easy.
"It's a chicken-or-egg problem," Young explains. "Does the processing come first or does the demand come first?"
A lot of these obstacles can be overcome if producers think differently, Jones says. For one thing, meat processors often have too much work in the fall—when producers typically send their cattle to slaughter—and not enough work during other times of year. This makes it hard to keep full-time workers. But Jones says slaughtering in the fall is a tradition, not a necessity. If producers slaughtered year-round, meat processors could have steadier work.
Jones also sees an opportunity for creating jobs in the field of butchery.
In fact, Jones and Chicago-based butcher Kari Underly hosted their first meat-cutting school in May at Swift Level Farm, followed by a second class in July. Jones says those are the first of many; the goal is to build a curriculum for 2015.
"The skill of butchery and the value of butchery has diminished over the years through the industrialized meat processing industries," Jones says. Jobs in butchery pay well, so expanding the sector is a boost to the local economy."
A 2011 study by Iowa State University confirms that jobs do follow when local meat processing increases: that study found that 7.4 processing jobs were created for every 1,000 additional cattle sent to small meat-processing facilities in Iowa.
The upside is that the few meat processors in the state are seeing plenty of demand. Andy Nelson of Nelson's Meat Processing, LLC, in Milton, W. Va., says his business is booming in large part because of the shortage of facilities like his.
"We've always been busier than anything because there's hardly anybody left that does this kind of work," Nelson says.
Nelson has also witnessed the increasing demand for local meats, and plans to start slaughtering free-range chickens and rabbits. He's also looking into processing organic-certified meat.
"You've got to roll with the changes if you're going to survive nowadays," he says.
Meat on the table
Farmers aren't the only businesspeople trying to build connections in the local meat network. Although many chefs and restaurateurs are interested in serving local food, convenient access to that food is a big problem, as is finding enough of it to keep their restaurants in stock.
Daniel Byrd a cook at the Bridge Road Bistro in Charleston W. Va. presents a plate of New York strip from Swift Level Farm. The flavor can be more gamey than most people are used to Chef John Wright explains but as a result "Its a different bite each time."
"We're a busy, busy restaurant, and some people can't keep up with our demand," says Chef John Wright of the Bridge Road Bistro in Charleston, the state capital. "A small farmer will knock on my door, and within a week I blow them out of all of their crop."
Wright orders Swift Level beef for his regular menu. He says it's a huge help that Jones checks in regularly on his supply and ensures the meat gets to his restaurant.
That type of networking kept local meat on Wright's tables during the difficult winter.
When Jones had trouble meeting Wright's demand, he says, she found him another farmer with a similar product. "I've been going back and forth between those two now."
Devin Billeter co-owns the Dish Café in Daniels, W. Va., a small town about 50 miles west of Jones' farm. Billeter has encountered the same problem that Wright has: it's hard to find enough local food to keep his restaurant stocked. Jones delivers meat regularly and that has been a big help, Billeter says.
But in small-town West Virginia, Billeter's greatest obstacle is explaining the concept of local food to his customers.
"I think the biggest challenge is educating people," he says, pointing out that the taste of grassfed beef is new to a lot of people.
It's a different, more gamey flavor than your typical burger, Wright says, and not all his customers are comfortable with it. But it's catching on.
"If they weren't buying it, I wouldn't have it," he says. "But we sell a lot of this."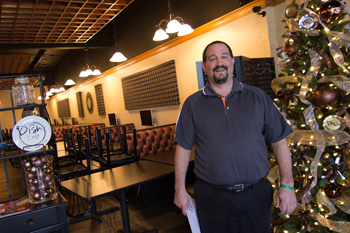 Devin Billeter and his co-owners at the Dish Café in Daniels W. Va. have been working hard to introduce a passion for local food into their small community. Today some of their customers have also become their suppliers.
Billeter estimates that burgers made from Swift Level meat constitute 45-55 percent of his sandwich sales. And his efforts to get locals excited about food from their area seem to be paying off—in fact, a few of his customers have become suppliers.
When it comes to sourcing other types of meat, Wright says each animal comes with its own set of challenges. For instance, he can't find enough local chicken to keep his restaurant in supply on a regular basis, so he only serves it for special parties.
"I go through a hundred pounds of chicken a week, and that's just breast. People can't keep up with that."
Still, Wright continues to seek a steady supplier of local chicken and says he hopes to start serving buffalo in the fall.
Another source of local food for Wright is the Monroe Farm Market, founded in 2005 southeast of the state capital. Today, the market has four pickup locations, including two in Charleston. Manager Jennifer Frye says a big focus of the organization has been to make access to local food more convenient, which it achieves through online ordering. Customers can view product availability each week, then place an order for pickup. Monroe Farm Market recently released a mobile app, as well.
Having meat has increased Monroe Farm Market's sales across the board, and its base of regular customers.
"We can see the effects of not having enough meat on the market—our sales are down," she says. "They're thinking, if I can't get my beef here, I just don't have time to stop and get a few carrots or a vegetable."
What lies ahead
Meanwhile, Jones continues to work on a number of projects—among them, a retail store on her property set to open next year.
Jones and Young agree that collaboration remains an essential piece of the puzzle, and in the long term Jones hopes to create a prototype that can expand beyond the borders of West Virginia to other parts of Appalachia.
"That's been a real hope of mine for years," Jones says, "to create a pilot, a model that can be used anywhere, because it's not really about me. It's about the people in these mountains, the Appalachian people. I love these people. They're my people."