Immigrant Moms Were Told They Can't Have Jobs—So They Started Their Own Tamale Co-op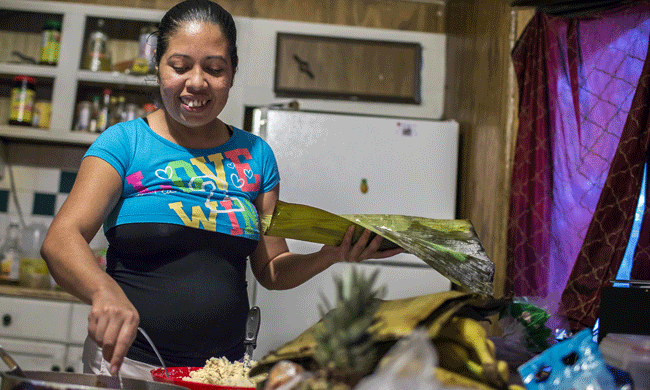 Immigrant Moms Were Told They Can't Have Jobs—So They Started Their Own Tamale Co-op
Employment options can be extremely limited for undocumented immigrants who can't work legally. These single moms are relying on each other.
Why you can trust us
---
On a crisp morning this past fall, cooperatives from around the world set up shop in an Austin, Texas, church for the annual Women and Fair Trade Festival. While most of the vendors were veterans of collective organizing, one group of single immigrant mothers used the festival to debut their food cooperative, Cooperativa Posada.
Three Mexican women—Silvia, Elideth, and Erika—and a Guatemalan woman named Hilda spent a near-sleepless night preparing dozens of their distinct regional varieties of tamales, some wrapped in corn husks and others in moist banana leaves. Nebat, the lone Ethiopian member of the cooperative, prepared some luscious, dark, traditional Ethiopian coffee by roasting the beans on a metal plate over an open flame, then grinding them by hand.
The products of their labor were not only nourishment for the festival attendees (who lined up for a taste), but also an attempt to raise the awareness—and donations—needed for their cooperative to succeed. On a broader level, the tamales and coffee represented the mothers' efforts to create an opportunity for self-sufficiency, to foster collective economic empowerment, and to forge a path forward for themselves and their families.
All the Cooperativa Posada members currently live or have lived at Posada Esperanza in Austin, a shelter for homeless immigrant mothers and their children. The shelter houses 16 families, most of whom are undocumented immigrants or asylum seekers from Latin America and Africa who have fled violence and dire economic circumstances.
While Posada Esperanza has provided refuge for their families, these women remain victims of poverty and have histories of degradation. In many cases, their dignity has been chipped away over time by the combination of abusive partners and societal marginalization, and now they are trying to learn a sense of self-worth all over again—or for the first time in their lives. Many understandably yearn for more: a way to feed and support their children, to have a sense of security and comfort—modest desires by most standards.
Their identities as women, single mothers, and immigrants present a combination of barriers to supporting their families. Of the estimated 5.4 million undocumented women living in the United States, those who find illegal employment are among the most underpaid workers in the country, according to the Center for American Progress. The Migration Policy Institute found that, in 2013, nearly 30 percent of single mothers, whether immigrant or native-born, were in poverty, compared to 21 percent of single immigrant fathers and 16 percent of single native-born fathers.
Elideth, one of the cooperative's founders, illegally crossed into the United States after leaving her home in the southern Mexican state of Chiapas. She asked to not be fully named because of her immigration status. "I want to have money and to be able to rent a quiet apartment to be with my daughter," she says of her 1-year-old, speaking—as did the other Mexican co-op members—in Spanish.
They are trying to learn a sense of self-worth all over again—or for the first time in their lives.
Elideth's sentiment is echoed by co-founder Silvia, a 39-year-old mother of three who, for the same reason, also asked to be called by her first name only.
"I want my children to feel proud. I want them to be proud that they've been given a good path," says Silvia, who left her home in Michoacán state in Mexico more than 15 years ago when she found herself without the means to provide for her first child. "I want them to be well more than anything. I don't want them to lack anything."
But providing for their children doesn't come easy.
The cooperative members who are undocumented cannot legally be employed, and those seeking asylum aren't eligible for a work permit until their asylum application has been pending for at least six months. They could join the more than 8 million undocumented immigrants in the nation's labor force, but that would likely mean working in restaurants or as domestic workers, where they would earn low wages and risk abuse.
They are also disqualified from most social services, despite the fact that undocumented immigrants often pay taxes that support such services. (Undocumented immigrants pay more than $11 billion a year in state and local taxes, including sales and excise taxes, according to the Institute on Taxation & Economic Policy.) Some of their U.S.-born children, however, do qualify for food assistance. Still, that aid does not cover the many other costs of living, like clothing, rent, and transportation.
These mothers are fiercely protective and loving toward their children, and they need support to survive, says Elaine Cohen, an Austin-area activist who has worked closely with the Posada women.
All of this meant finding a way for these women to work legally without sacrificing time with their babies and kids—a way, as Cohen put it, "when the kids come home from school, they're there."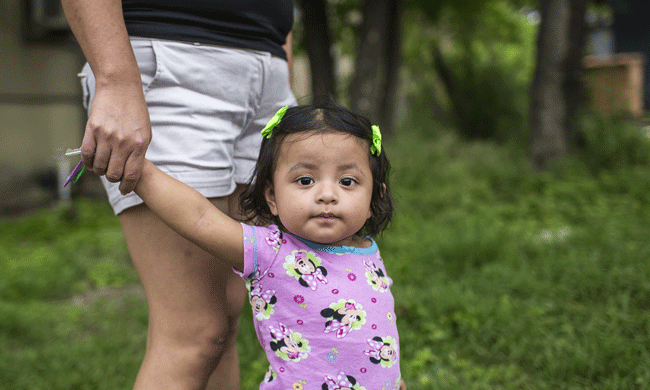 Elideth and 1-year-old daughter Alinna outside of their home in Austin Texas.
Photo by Martin Do Nascimento
From a conversation with a fellow immigrant advocate, Cohen realized that a cooperative business could be a solution because, surprisingly, the law does not explicitly prohibit undocumented immigrants from starting a business.
Under the Immigration Reform and Control Act of 1986 (IRCA), employers face penalties for knowingly hiring undocumented immigrants or continuing to employ immigrants upon discovering they are undocumented. But the IRCA does not use any specific language to bar undocumented immigrants from owning a business.
"The employment sanctions provisions of immigration law refer specifically to the employment of undocumented noncitizens and were aimed at targeting employers," says Professor Leticia Saucedo, who researches employment, labor, and immigration law at the University of California, Davis. "It does not speak to undocumented noncitizens as employers, although it does prohibit knowingly contracting undocumented noncitizens for labor."
In other words, they cannot be employees, but they can be employers.
Carlos Pérez de Alejo, executive director of Cooperation Texas, an Austin-based worker-cooperative development center, recommends that undocumented workers form their cooperative businesses as limited liability companies. That legal structure allows each member to be an owner.
He would know. Cooperation Texas trained and consulted with the women who created Dahlia Green Cleaning, a 4-year-old undocumented-worker-owned cooperative also in Austin.
"The options for these women are extremely limited"
The Cooperativa Posada members, with Cohen's aid, have only just begun gathering the information and funding they need to hire lawyers and file the paperwork to formally establish their co-op, but Dahlia's success, as well as the establishment of New York City's Apple Eco-Friendly Cleaning and other similar cooperatives, shows the idea's promise.
The Dahlia Green Cleaning cooperative saved its worker-owners from an informal industry notorious for its low pay, lack of control over poor working conditions, and verbal and physical abuse. They now earn $15 an hour and determine their own schedules and policies for the co-op as a whole.
For single mothers, like those of Cooperativa Posada, that means the power to set work hours when their children are at school or to coordinate child care responsibilities with other mothers—much needed flexibility in a time when paying for child care out of pocket can eat up about half the monthly wages of low-income families. And the prospect of earning a living wage gives the Cooperativa Posada mothers a chance to build a future beyond the shelter.
"The options for these women are extremely limited," Cohen says. "Maybe they can ride around in a little Nissan and be cleaners, or they can go to fancy hotels and be exploited there, or they can work in restaurants where they're exploited differently. Or they can organize themselves, and have dignity, and make money for themselves and their kids, and contribute to the cultural wealth of our community."
These mothers offer the cultural wealth of their cooking, the cuisines they brought from their homelands. But though they brought those traditions, they left much behind.
When Silvia left Mexico for the United States in 2000, she couldn't bring her 2-year-old son. She ended up in central Texas, where she had two more children with a man who eventually turned violent. She and her children escaped that abusive relationship and moved to Posada Esperanza last April.
Elideth dreamed of becoming a teacher, but she chose love instead. She followed a man to Los Angeles in 2012. Two years later, she gave birth to her daughter, but soon found out her partner had been unfaithful. She left him, and with few places to turn for help, she ended up in Austin at Posada Esperanza and, now, Cooperativa Posada. She left the shelter in early March, but the stability of her current accommodations remains uncertain.
These mothers are determined to build fuller and richer lives from the tribulations they left behind. Through owning a business that can sustain them and their children, they can turn hardship into opportunity.
"I've always said that we're always going to encounter obstacles that we have to cross, to jump over, because not everything in life is easy; the road isn't always straight," Elideth says. "For one reason or another, we have to overcome all of that because the goal is to arrive where we want, and what we want to have is a place to sell our tamales."