How Cooperatives Are Driving the New Economy:
In Depth
6 Ways to Fuel the Cooperative Takeover
6 Ways to Fuel the Cooperative Takeover
From now on, the global mantra for filling market gaps is going to be, "There's a co-op for that." But co-ops need customers, money, and training. How do we shift from business as usual to the work of cooperation?
Why you can trust us
---
In the aftermath of the 2008 financial crisis, businesses, products, and services that benefit people, communities, and the planetÑinstead of a few megabanks and billionaires—have been in higher demand. The International Cooperative Alliance's recently published "Blueprint for a Cooperative Decade" lays out a long-term vision to make cooperatives not only the fastest-growing form of business but the acknowledged leader in environmental, social, and economic sustainability. From now on, the global mantra for filling market gaps and new demands, according to Eric DeLuca of the National Cooperative Business Association, is going to be, "There's a co-op for that." But co-ops—like any kind of business—need customers, money, training, political support, and help from their communities. How do we shift from business as usual to the work of cooperation? Here are a few strategies.
1. Find Money
Where do you get the money to finance a new co-op? Traditional banks are loath to lend to co-ops, often because they are unfamiliar with them or do not trust that a cooperative business model can yield profits. But there are institutions that can help.
The National Cooperative Bank (NCB) has become a leading funder for new housing, business, and consumer cooperatives. Chartered by Congress in 1978 and privatized as a member-owned financial institution in 1982, it has provided more than $4 billion in loans and investments to co-ops all over the country—from a New York City housing co-op to an organic grocery in San Francisco to a solar project at Denver International Airport. Most recently, NCB has been working with PNC Bank in Pittsburgh to allocate $13 million in loans to local co-ops.
The nonprofit Heartland Capital Strategies Network—allied with NCB and other credit unions—is another rapidly growing source of funding for cooperatives, especially for the union co-op movement. The organization has committed billions of investment dollars to profitable projects in green construction, manufacturing, affordable housing, and transportation.
McKuskers Market photo courtesy of Franklin Community Co-op.
2. Convert to a Co-op
Some cooperatives get their start from traditional sole proprietorships or corporations. This can happen, for example, when a business owner wants to retire or move on and the employees buy the business.
Franklin Community Cooperative (FCC) in Greenfield, Mass., acquired McCusker's Market, in nearby Shelburne Falls, when the owner of the longstanding natural foods store was ready to retire. A third of FCC's members lived near McCusker's. The purchase allowed FCC to keep its commitment to serve downtown Greenfield while solving its space problem at its popular flagship store. All of McCusker's Market's staff were rehired and retrained, and sales went up 15 percent during the store's first year as a cooperative. Since the purchase, the cooperative has attracted many more members all over the region.
3. Hook Up With Big Partners
Bring co-op business to the mainstays of your community—hospitals, schools, government services—which are already committed to community-scale investment and the public good. It's a mutually beneficial relationship: The co-op keeps money circulating in the community; the institution provides stable demand for the co-ops services or products.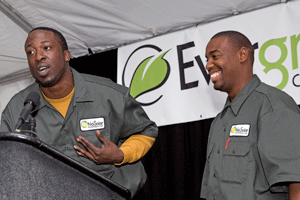 Ohio Cooperative Solar photo courtesy of the Cleveland Foundation.
"If you can get even a small bit of a university's goods and services devoted to your co-op," says Democracy Collaborative co-founder Gar Alperovitz, "you can go to any bank, and they'll be happy to finance you, because you've got a market."
The Evergreen Cooperative Initiative, a group of local, sustainable, and worker-owned co-ops in Cleveland, is built on a strong partnership between the co-ops and local institutions—such as Cleveland Clinic, University Hospitals, and Case Western Reserve University—which have a combined annual buying power of more than $3 billion.
Ohio Cooperative Solar, another Evergreen business, is in the process of installing photovoltaics at these three institutions and has also placed nearly 700 solar panels on the city hall and library rooftops in nearby Euclid. Evergreen Cooperative Laundry (a green cleaning operation) washes bed linens for Judson Retirement and McGregor Homes, two large nursing homes in the area.
The film Shift Change gives an inspiring look at worker-owned enterprises from the Mondragón co-ops in Spain to the Arizmendi bakeries in San Francisco to Isthmus Engineering in Madison Wis.
4. Be Co-op Curious
You can learn more about the business of sharing—how co-ops work, why they're important, how to support them, and how to start and manage one—from organizations across the country working to promote cooperative enterprise.
The Bay Area group Women's Action to Gain Economic Security (WAGES) was founded in the 1990s to help immigrant women form cooperative housecleaning services. Now they are creating toolkits for anyone looking to start a green cleaning co-op. "With all the emphasis on co-ops coming on the heels of the Occupy movement, we're seeing an increased interest right now," says Elena Fairley, who is working with WAGES as an AmeriCorps VISTA member.
College and university programs are also training the next generation of cooperative entrepreneurs. The Cooperative Teach-In is a nationwide initiative that has connected colleges, universities, and programs like AmeriCorps VISTA with cooperatives across rural and urban America.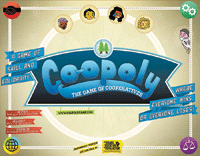 The Toolbox for Education and Social Action is a worker-owned producer of resources in support of the cooperative movement including the game Co-opoly.
The Teach-In uses creative tools to help participants learn the importance of cooperative economics. For example, the "Democracy Rating Warm-up Exercise," an interactive survey, allows participants to "rate the level of democracy in the institutions they interact with on a daily basis," and group discussions explore how the cooperative model differs from typical business models. And a fun way to gear up for a cooperative future is to play a round of Co-opoly: The Game of Cooperatives.
As interest in cooperative business has grown, some young entrepreneurs have taken it upon themselves to learn more. For example, Co-cycle is a group of 15 undergraduates who crossed the country last year on their bicycles, visiting more than 70 co-op organizations and building a network of like-minded communities. "A year ago I didn't know what a cooperative was," writes Co-cycle participant Riko Fluchel on the riders' blog. "Now, after the nine weeks of touring cooperatives across the continental United States, I know first-hand that cooperatives empower people's lives."
The Co-cycle journey is chronicled by a team of filmmakers from New York University in the forthcoming feature-length film To The Moon, which will introduce viewers to the ideas that guide cooperatives and Co-cycle—like teamwork and dedication to a new shared economy.
Arizmendi Bakery photo by Tony Nguyen.
5. Shop Co-op
By buying from co-ops or using cooperative services, you can create local jobs, keep wealth in your community, and shop according to your values.
6. Make Co-op Friendly Laws
Cooperatives are often at a financial and technical disadvantage in an economy dominated by quarterly profits and shareholder returns. The United Nations recently resolved "to encourage governments and regulatory bodies to establish policies, laws, and regulations conducive to cooperative formation and growth." In 2012, the United Nations celebrated the "International Year of Cooperatives," noting that co-ops "build a better world" and "empower people."
At the federal level, supporters of cooperatives are pushing for the National Cooperative Development Act (H.R. 3677) (NCDA), which would create a national development center designed to bring federal resources to cooperative development. From loans and seed capital for start-ups to funding for technical assistance providers, passage of the NCDA would not only help level the playing field for co-ops but increase economic development and create much-needed jobs in underserved areas of the country.
A different bill would raise the cap on small business loans from another type of co-op: credit unions. Fifteen years ago, the banking industry lobbied for and obtained this cap to throttle its competition. The Credit Union Small Business Jobs Bill (S. 2231) would more than double the limit to nearly 30 percent of assets. According to the Credit Union National Association, this would enable credit unions to loan an extra $13 billion of their $300 billion lending capacity to small businesses in the first year alone, helping to create as many as 140,000 jobs.