Opinion Advocates for ideas and draws conclusions based on the author/producer's interpretation of facts and data.
A Historic Ordinance Could Ban Caste Discrimination
Why you can trust us
---
Twitter Photo via @cmkshama
UPDATE: On Feb. 21, 2023, Seattle became the first city in the nation to ban discrimination on the basis of caste, with a 6-1 majority vote at the city council.
We are finally here. 
After decades of organizing, caste-oppressed Americans and our allies are on the verge of passing the first city-level ordinance including "caste" in nondiscrimination policies. The struggle is unfolding in Seattle via a historic ordinance, crafted in collaboration with Seattle City Council member Kshama Sawant. It is a culmination of years of Dalit feminist research and organizing that has broken the silence about caste oppression in our communities and found ways to heal from this violent caste system in our diasporic networks and in our homelands.
The path to this Seattle ordinance was the result of a yearslong collaboration between my organization, Equality Labs, and many grassroots organizations in the city. It began in 2015 when we began engaging in Black and Brown solidarity work with the #DalitWomenFight tour in 2015. The tour was centered on Dalit women leaders who were fighting against caste-based sexual violence to speak out and build solidarity with leaders from Black Lives Matter, worker unions, University of Washington faculty and students, as well as racial and gender justice groups in the city.
This work then spawned a collaboration between Equality Labs, API Chaya, and Ambedkar Association of North America to support caste-oppressed survivors in the city. Among our achievements was the first congressional briefing on caste discrimination with Rep. Pramila Jayapal (a Democrat from Washington) held in 2019. This briefing was inspired by the many powerful survivor advocates from all of our organizations who have supported caste-oppressed workers, and survivors of domestic violence and trafficking in Washington state and across the nation who felt it was time to take our issues to the U.S. Congress so we could work collaboratively to find a remedy to this issue.
As we have worked to advocate for our rights with governmental stakeholders, we have also spent years conducting Unlearning Caste Supremacy workshops to help our community begin the repair and reconciliation needed after centuries of caste violence. Thousands of South Asians have attended these workshops and learned to confront caste in our communities and commit to healing from caste violence.
Now, our caste equity coalition is driven by powerful interfaith and inter-caste organizations, like the Coalition of Seattle Indian Americans, Indian American Muslim Council, National Academic Coalition for Caste Equity, and South Asians for Black Lives, as well as a network of over 30 anti-caste Ambedkarite organizations, such as Ambedkar King Study Circle, Ambedkar International Center, Ambedkarite Buddhist Association of Texas, Boston Study Group, Ravidassia and Sikh gurdwaras from throughout the Northwest, and many more.
Many unions and workers collectives are also weighing whether to join our coalition, such as Asian Pacific American Labor Alliance, AFL-CIO (APALA); Alphabet Workers Union; and the recently formed Tech Workers Collective for Caste Equity, representing thousands of workers in the region. The issue has had a global reach as the United Nations special rapporteur on contemporary forms of racism, Ashwini K.P., released a statement in support of this historic ordinance.
Caste Oppression Is Violence
This work is deeply personal. As a Dalit American born into a Hindu and Christian family, I experienced significant discrimination in South Asian immigrant networks. And, even as we organized in Seattle, my team has received threats, had our reputations smeared, and faced insinuations that we are bigots and connected to terrorists.
This is the cost of coming out as Dalit. When we pursue our rights, we face endless disinformation and violence.
My experience is not unique: Dalits and caste-oppressed people around the country have endured physical violence, slurs, workplace discrimination, and caste-based sexual violence. Our research at Equality Labs has revealed that caste discrimination is rampant across American institutions, including in universities and other spaces of higher education, and in workplaces in the form of microaggressions and caste-based slurs. Caste discrimination is also prevalent in housing, student networks, and other groups. And it intersects with gender-based violence in the form of sexual harassment and assault aimed at caste-oppressed women.
Using a survey to determine the extent of harm, Equality Labs found that 1 in 4 Dalits experience physical or verbal assault, 1 in 3 experience discrimination in universities, and 2 in 3 face discrimination in workplaces. This is also why half of all Dalits who took our survey chose to remain unnamed for fear of the consequences of being outed.
In addition, in 2022, the National Academic Coalition for Caste Equity and Equality Labs also conducted the Caste in Higher Education Conference and Survey, the preliminary analysis of which revealed that within U.S. higher education, 4 in 5 caste-oppressed students, staff, and faculty reported experiencing caste discrimination at the hands of their dominant-caste peers. Further, 3 in 4 caste-oppressed stakeholders did not report caste-based discrimination in their universities or colleges because caste was not added as a protected category, or their Diversity, Equity, and Inclusion departments lacked caste competency due to a lack of provisions and trainings.
These are extremely grave statistics, reflecting the serious extent of caste oppression. In the face of stiff opposition from caste-privileged communities, we have also publicized such stories in mainstream outlets like NPR, CNN, The Washington Post, Harpers Bazaar, PRI, The New York Times, Time, Vice, Wired, BBC, Slate, The New Yorker, and more.
The reality can no longer be denied: Caste discrimination exists, and South Asians have brought it to the U.S. Like other systems of discrimination, it must be tackled through the enforcement of civil rights law.
That is why we need ordinances like the historic one being proposed by Council member Sawant that would make Seattle the first city in North America to ban caste-based discrimination.
A History-Making Ordinance
If passed on Feb. 20, 2023, the ordinance would add caste to the city's list of protected classes, outlawing discrimination in employment, housing, public places, and contracting. It would also empower the Seattle Office for Civil Rights to investigate complaints of caste discrimination and facilitate a settlement for monetary damages or other forms of recompense.
This legislation is driven by a powerful intercaste and interfaith movement wherein South Asians are finally willing to reconcile with our shared intergenerational trauma related to caste.
I have written about the wounds of caste in my book The Trauma of Caste. In it, I cite Indigenous and Black somatic abolitionists, like Eduardo Duran and Resmaa Menakem, who talk about intergenerational soul wounds that arise from systemic violence, like Indigenous genocide and Black enslavement. South Asians similarly carry a caste soul wound that ties the privileged and the oppressed together in a terrible dynamic of caste stress and violence.
The burden of reform all too often falls on the excluded, even as we face tremendous violence, bigotry, and bias. While the caste privileged are largely able to avoid caste stress, they now must grapple with the guilt and injury that comes from complicity and silence in the face of violence—for to dehumanize another is to dehumanize yourself.
There is a small minority of bigots who deny the existence of caste oppression by peddling disinformation and trying to intimidate Dalits who are calling for remedies. Rather than listening to and supporting this reckoning, they continue launching attacks by gaslighting us, denouncing Dalit civil rights organizations, and weaponizing their fragility and bigotry to muddy the waters around lawful processes that help make American institutions safe for all.
Here is the thing: We should have open debate and conversation around caste, but we should not slow down our progress in order to accommodate the feelings and fears of the privileged. The discomfort of the caste privileged comes from many years of conditioned fragility. The lack of resilience toward caste stress allows them to view efforts toward caste equity as a survival-level threat.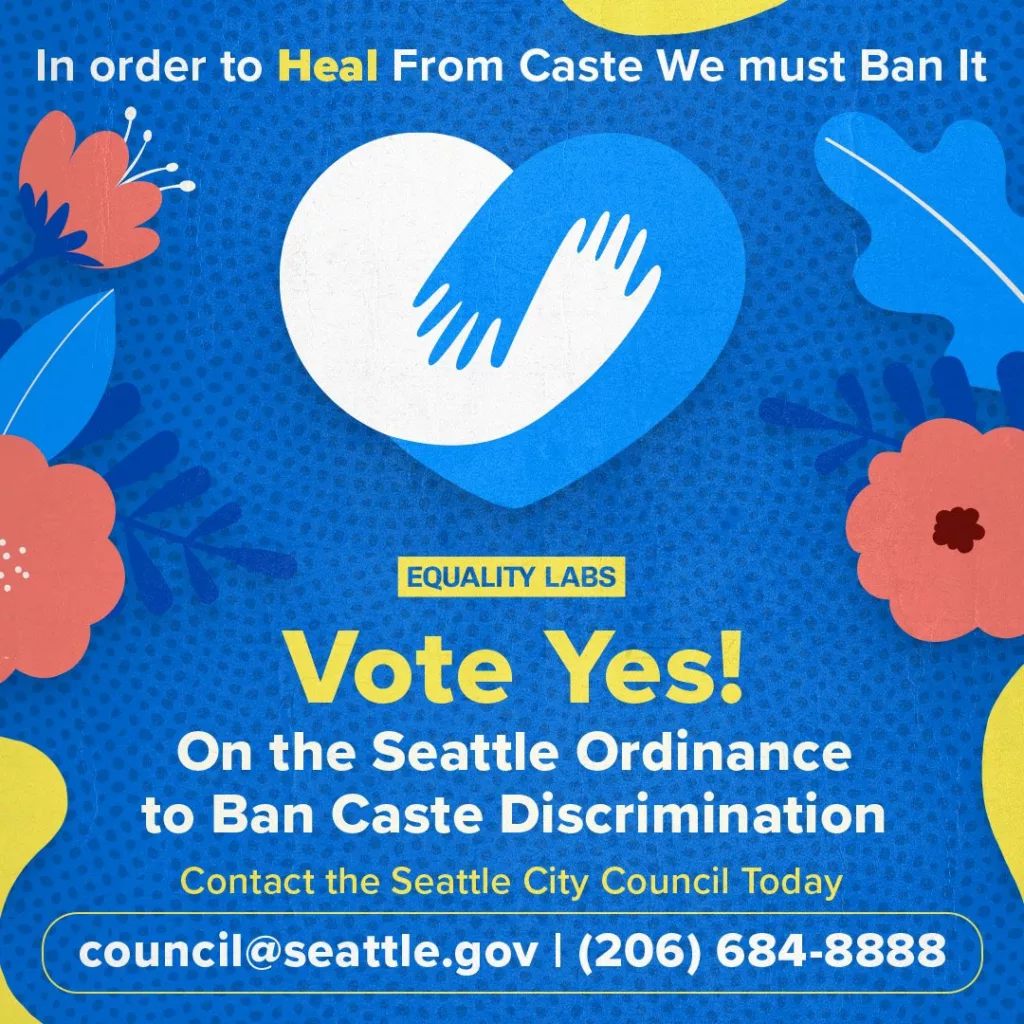 Let's Choose Love
What the caste privileged experience is discomfort, not discrimination. And there is a better remedy for their fragility than blocking civil rights ordinances: courageous conversations, empathy, and reconnecting with members of the larger South Asian community who are leaving behind caste and building intercaste, interfaith, and multiracial circles of healing and possibility. Adding caste as a protected category to the nondiscrimination policies only impacts those who want to discriminate.
If you are not a bigot, such a policy will not harm you. It is as simple as that.
Thus, my invitation to all those who oppose the Seattle ordinance on caste is that you can choose to be trapped in your own trauma of disinformation, fragility, and bigotry.
Or, you can choose love over hate.
Separate yourself from your conditioning, listen to those who are speaking out as survivors of violence, and join us in making institutions safe for all. You might lose your privilege, but you will gain your humanity. Let's put aside the endless cycle of caste violence and come together as a unified South Asian community liberated from historical pain and committed toward a reconciliation.
Let us pass this ordinance. Let us heal. Let us choose freedom.
---
Thenmozhi Soundararajan

is a Dalit technologist, artist, and activist who is the founder of Equality Labs, a Dalit civil rights organization working to empower caste oppressed people in the United States and around the world.
---