Montana Center Destroys Unwanted Guns—Trying to Make a Dent in 300 Million
Fifteen years ago, Mars Scott locked away a Ruger .357 revolver in a fireproof safe in his Missoula, Montana, law offices and tried not to think about where it had been. Months earlier, a young man had used the long black pistol to shoot its owner, another man in his 20s, who was also his friend. The victim's grieving mother had no use for the weapon and turned to Scott for help disposing of it.
A Navy reservist and former NCIS agent, Scott became the reluctant owner of a crime gun, until he learned about a new organization, the National Center for Unwanted Firearms, where he sent it to be destroyed: "One less gun is a step in the right direction," he says.
Based in Helena, Montana, NCUF was born of necessity to meet a growing demand for gun disposal in a country with nearly as many guns as people, a firearms industry that produces millions of low-priced weapons every year, and weekly school shootings.
In many parts of the country, gun owners can donate weapons to local police to be destroyed, discard them through buyback programs, or even turn them into garden tools. Bruce Seiler, who worked for the U.S. Secret Service from 1987 to 1992, founded NCUF to provide them another option, while addressing gun violence in the process.
He was more than happy to cut Scott's Ruger in half: "There's more than 300 million firearms in America," he says. "There has to be more guns destroyed."
As a Secret Service employee charged with assessing threats on the president's life, Seiler was always mindful of how easily criminals could acquire guns. But as an armorer and ordnance specialist, he is also a strong supporter of the Second Amendment. "I'm anti-gun violence and gun crime," he says. "That's my political affiliation."
In 2006, he began developing the idea for an organization that could facilitate the safe transfer and disposal of firearms. Ten years later, he and his business partner, Chip Ayers, a former member of the Secret Service's Counter Sniper Team, launched a website for NCUF, advertising options for people with unwanted guns: transfer them to a federally licensed dealer, repurpose them for use by law enforcement, preserve those with historical value, or simply destroy them.
The first gun they destroyed was a cheap revolver, made of pot metal.
The organization secured non-profit status a year ago and now operates from a large workshop on Seiler's property. The center has helped clients transfer hundreds of guns to dealers with Federal Firearms Licenses (FFL), who are required to run background checks before any sale. Nationwide, a fifth of gun sales occur without background checks, and that number troubles Seiler.
"We're not trying to take guns away or outlaw guns," Seiler says, "but we can try to keep them from showing up in garage sales and newspaper ads."
Most of the center's clients have been middle-aged people who inherit unwanted guns and don't want them ending up in the wrong hands.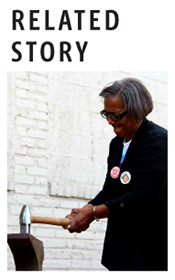 The weapons his organization has acquired have either been turned over to law enforcement for repurposing, retained for their historical value or destroyed.
The first gun they destroyed was a cheap revolver, made of pot metal, which Seiler said was "more dangerous to the user than the intended victim."
The center had acquired it and 11 other firearms from Robert Cogan, a retired college professor from Edinboro, Pennsylvania. "I didn't want them anymore," Cogan says emphatically, "and I didn't want to sell them where they could be circulated again in the local market and could be misused."
Seiler transferred 11 of the guns to an FFL dealer. He then broke the small revolver into three pieces, which he plans to mount in a shadow box in his home. Modern versions of cheap handguns like this one are "out there like tennis rackets and skis," he says. "I'll probably be destroying more."
The number of guns in the U.S. is growing exponentially. According to the Bureau of Alcohol, Tobacco, Firearms, and Explosives, firearms manufacturing increased 43 percent in the past five years. In 2015, the U.S. produced more than 9.3 million firearms and recent data show that gun exports are slowing while imports are picking up. In 2016, a record year for gun sales, more than 5.1 million firearms were imported, a 30 percent increase from 2015.
"Taking firearms for us is a no-go because we're stuck with them."
This explosion in production contributes to the problem of unwanted firearms, especially for law enforcement. "Across the country, police property rooms are bulging at the seams with firearms," says Ray Reynolds, a retired police commander and founder of Gunbusters, a St. Louis-based company that also destroys guns. Since 2014, his business has expanded to four locations, and he's destroyed more than 20,000 firearms for agencies across the country.
This surplus of firearms negatively affects both rural and urban agencies, but options for safe gun disposal vary significantly by state and jurisdiction.
The Seattle Police Department, for example, doesn't re-sell guns. Instead, they melt them down at a local foundry. The number they've destroyed has increased from about 200 in 2014 to 1400 in 2016.
But that's not an option for all law enforcement agencies. Police are restricted from destroying guns in 12 states, including Montana, which has the sixth highest rate of gun ownership in the country. "Taking firearms for us is a no-go because we're stuck with them," says Steve Hagen, Assistant Police Chief in Helena. "We can sell them, but there are a lot of issues with that as well."
One of those issues is the possibility of a gun being seized as evidence in a criminal investigation after it had been sold by a law enforcement agency, a possibility that became reality in Washington state more than a dozen times since 2010, according to The Associated Press.
Looking ahead, Seiler hopes NCUF can help prevent such tragic outcomes, and he thinks an increase in gun destruction is an "inevitable" part of that work.
This certainly was on his mind recently as he prepared to destroy that Ruger .357 revolver that had taken a young man's life. He removed its cylinder, placed the gun on a band saw in his shop and slid the crime weapon width-wise into a whirring blade. The gun, he remarked, could easily be resold for $500, but within minutes, it lay in pieces—worthless and harmless.
The irony was not lost on Seiler that at that very moment, across the country, gun manufacturers were busy producing new weapons that would replace it. "As we're talking about it, they're cranking them out," he says. "There needs to be a junkyard for guns in America."