Blacksmiths Turn Unwanted Guns Into Garden Tools
Blacksmiths in Colorado use their anvils to turn guns into gardening tools, reshaping America's gun culture one strike of the hammer at a time.
This is the work of the "Swords to Plows" initiative of the nonprofit RAWTools. Gun owners from around the country send RAWTools their disassembled weapons for transformation. Most guns can be made into several tools, such as hoes and pickaxes. Shotguns often become hand spades, and a weapon like the AR-15 that was used in recent mass shootings has a thicker barrel that suits an afterlife as a mattock.
RAWTools' first donated gun was an AK-47 from a retired public defender. Since then, it has reshaped more than 200 weapons so far, with more in progress. The tools they create are typically returned to the donor, given to community gardens, or sold to raise money for programming.
RAWTools founder and Executive Director Mike Martin was inspired to learn blacksmithing and start the nonprofit after the 2012 Sandy Hook Elementary School massacre in Newtown, Connecticut. By late May 2018, 23 school shootings in the U.S. have involved injury or death this year.
This summer, RAWTools and the Newtown Foundation, an organization formed after the Sandy Hook Elementary shooting to focus on post-gun violence healing, will carry out an extensive version of weapons transformation. In cooperation with the New Haven Police Department in Connecticut, weapons from a gun buyback program will be taken apart by a local metal sculptor. Volunteer inmates from the New Haven Correctional Center will do the blacksmithing to create the tools, which will be used by students at local high schools to plant gardens. The harvests will be donated to soup kitchen and shelters.
"The entire process will essentially transform weapons of death into implements of life," Newtown Foundation Communications Director Steve Yanovsky said.
Martin is a former Mennonite pastor. "Swords to Plows" is a reference to the biblical quote, "They will beat their swords into plowshares and their spears into pruning hooks … nor will they train for war anymore."
He works with his dad and three other blacksmiths locally in Colorado Springs, as well as in traveling programs. RAWTools also promotes community dialogue around gun violence and leads peacemaking workshops. It partners with churches, community groups, and organizations like the Newtown Foundation and the Children's Defense Fund.
Getting firearms out of circulation is only one of many potential ways to reduce gun violence.
During the group's community demos and workshops, participants can try their hand at forging the metal. Cherie Ryans is one of numerous mothers who lost a child to gun violence and has taken a turn at the RAWTools forge. Martin said that between each swing of the hammer to the iron she said: "This bang is bang for bang my bang son."
"I was holding the hot metal as she did it. Everyone was in tears, and it was all I could do to hold the metal safely," Martin said.
More than 300 million guns are loose in America—the equivalent of about one gun per person. About 96 people are killed by guns in America every day.
The type of gun surrender program that RAWTools is reimagining has been going on in the U.S. since the 90s in the form of police-run buybacks. Weapons can be turned in anonymously to police, no questions asked. To encourage participation, police often give out gift cards in return.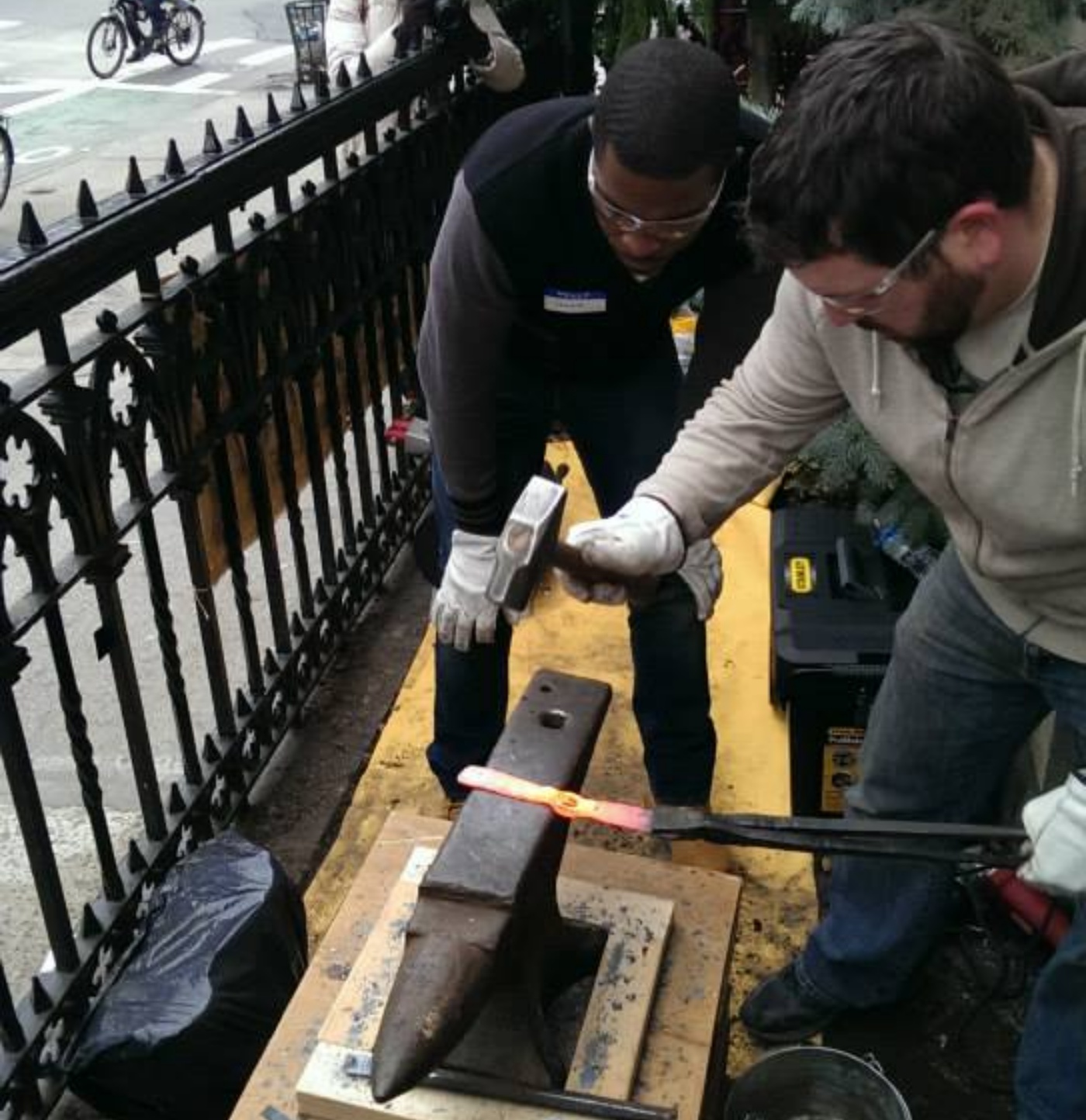 Mike Martin with local participant Derrick Gregory in New York. Photo by Jenny Lando.
A 1994 study evaluating a Seattle buyback, which the National Rifle Association references, concluded that while buybacks are broadly supported by communities, their effect on decreasing violent crime and reducing firearm mortality is unknown. The nonprofit GUNXGUN, which mobilizes community-funded buybacks, states the infrequent and isolated nature of U.S. buyback programs makes it hard to analyze their effectiveness. But, it points out that after a 1996 mass shooting in Australia, an extensive buyback program coupled with stricter gun regulations led to a significant reduction in firearm deaths.
Getting firearms out of circulation is only one of many potential ways to reduce gun violence. Along with changing guns into peaceful instruments, RAWTools runs workshops on intentional conflict resolution. Martin says these range from "serious to silly" and integrate dramatic arts, role-playing, and direct instruction.
"Guns drain so much of our imagination to explore other ways to engage with conflict or confrontation."
RAWTools artist-in-residence Mary Sprunger-Froese leads many of these multiage programs, which might include rapping, personal storytelling, skits, and other ways to train in de-escalation and peacemaking. So far she has taught an adult bystander intervention class and led a theater and nonviolent tools workshop for middle schoolers.
Martin envisions a nationwide RAWTools network, and said it's happening already.
Volunteers across the country have helped gun donors disable guns for the forge, and churches have opened their parking lots for tents and anvils. Blacksmiths throughout the U.S. have signed on, and Martin says he needs "more people to help make tools, especially if they come from guns in their region."
RAWTools is piloting a regional chapter in Toledo, Ohio. This summer, it will host youth workshops involving making tools from guns, creative expression and conflict mediation.
"There's something beautiful and good about participants forging something that destroyed our community in some way into something that will bring beauty and life to our community," says pastor Joel Shenk, who is leading the project.
New Mexicans to Prevent Gun Violence in Santa Fe, which previously collaborated with RAWTools, has now started their own creative gun transformation program. They invite community members to use the metal and the plastic from relinquished guns to make tools, sculptures, and jewelry.
Elsewhere in the U.S., a group called Lead to Life changes guns into shovels for tree plantings at sites affected by violence in Atlanta and Oakland, also citing the "swords to plowshares" tradition as an inspiration. So does Mexican artist Pedro Reyes, who also turned guns into shovels.
For Martin, transforming weapons at the forge and teaching nonviolence are important because guns in America are "elevated to such a level that they are viewed as an ultimate problem-solver." He said, "Guns drain so much of our imagination to explore other ways to engage with conflict or confrontation. They are a tool to use power over others for the sake of the individual and not the community. This is what motivates me to do the work of RAWTools."
A military veteran named James gave his guns to RAWTools after studying Christian scripture supporting pacifism. He wrote that he could no longer justify owning the guns because there was "no way to guarantee they would never be used to take a life."
Another participant, who chose to remain anonymous, wrote: "I'm a teacher. After Parkland, I can't own a gun anymore. How do I get it to you?"