Meet the Hip Hop Artists Bringing Music Classes to Kids in Kenya's Slums
There's a whole host of organizations that provide food, clothing, and medicine to poverty-stricken areas of Africa, but the nonprofit group One Vibe Africa is focused on another kind of aid—something that founder Simon Javan Okelo says may be equally important.
Okelo, who grew up in a slum called Manyatta in Kisumu, Kenya, is providing music and arts education to kids in his hometown.
On June 1, as the highlight of a fundraising campaign for One Vibe Africa, Seattle's Experience Music Project hosted a festival featuring Seattle's premier African-influenced artists. The lineup included The Physics, Black Stax, and Naomi Wamboe—superstars Macklemore and Ryan Lewis headlined.
YES! talked to the artists to find out more.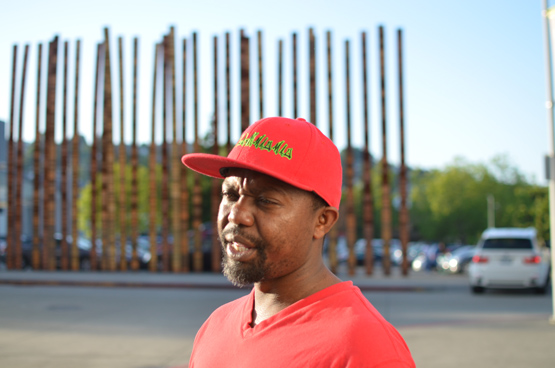 Kamau Ngigi of Kalamashaka. Photo by YES!

Hip hop vocalist Kamau Ngigi uses his talents to educate others about life in the Kenyan slums. Growing up in Dandora, a rough neighborhood in eastern Nairobi, he and his peers faced issues like police brutality, HIV/AIDS, and poverty, Ngigi said. Music was a saving grace, an outlet that helped him deal with the hardship of daily life.
"Without music, I'd be dead," he said. That's why he's working with One Vibe to give kids back home an opportunity to find the same kind of comfort.
In the early 1990s, Ngigi started hip hop group Kalamashaka, which means "we've been through a lot." The first Kenyan group to rap in Swahili, Kalamashaka paved the way for the rise of the local language in Kenyan pop music, and is credited with inspiring a new generation of rap artists from Dandora.
"Music can get [kids'] minds involved in doing something different, give them joy in a sad situation."
In 2007, Ngigi collaborated with the U.S.-based hip hop duo Dead Prez to film a documentary, Ni Wakati, in Kenya. Ngigi is also a visual artist—his first exhibition was featured at Madaraka Festival on Sunday.
"I hope that the kids from One Vibe realize their full potential—that they'll be better people and fight for the change they need themselves," said Ngigi. "I hope music empowers them."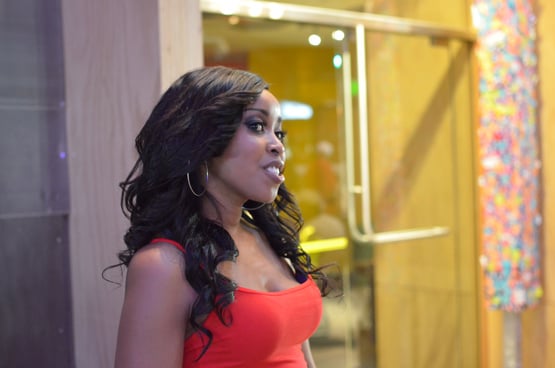 Naomi Wamboe at the Experience Music Project in Seattle. Photo by YES!

Naomi Wamboe was born and raised in Tacoma, Wash. "But, I am Kenyan, 100 percent" she said. "In my house I grew up as Kenyan."
Naomi is a first generation Kenyan-American. Her family traveled to their home country every two years when she was growing up. Now an award-winning musician, Wamboe still visits Kenya regularly, and her sense of connection to her roots inspired her to become an ambassador for One Vibe, she said.
Being a One Vibe ambassador means that when she's not performing, she's helping promote and expand the organization's efforts. And when she heads back to Kenya this summer, she'll be leading music workshops—funded by money raised at Madaraka Festival—for One Vibe students in Manyatta.
"I love kids, I love music, and this was exactly the type of platform I wanted to be involved in to expand my music and help kids through music."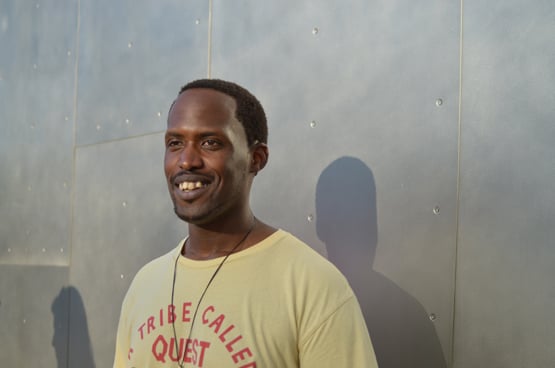 Njuguna Wa Gicuru of The Physics. Photo by YES!
Njuguna Wa Gicuru (aka Monk Wordsmith), another first-generation Kenyan-American, is an MC for The Physics, a fixture of the Seattle indie hip hop scene. The group got involved with One Vibe in 2012, Gicuru said, and they've been working to help develop the project ever since.
Originally from Goan, a neighborhood in Nairobi, Gicuru's family came to Seattle in the 60s. Gicuru said his parents instilled in him an ethic of community leadership.
"My parents have always done their best to lead and serve others in the community, so that's something that I've been raised with. Becoming a musician, I've always wanted to use my music to serve that purpose."
Gicuru started experimenting with music in elementary school, he said, writing rhymes in class to make his friends laugh. "The arts introduced me to who I was and helped me to develop as an individual. I think a lot of individuals can benefit from that in Kenya and other African countries."
He got involved with the One Vibe Africa program to give disadvantaged kids in Africa an opportunity to grow and realize their potential through art, he said. "Cultivating your creativity helps you to realize the value that you have naturally."
"We can help them develop through arts, but also keep them away from the negative influences of the streets, such as juvenile delinquency, substance abuse, violence, all kinds of trouble. We found that music has helped us stay away from those things. It can be a very valuable tool."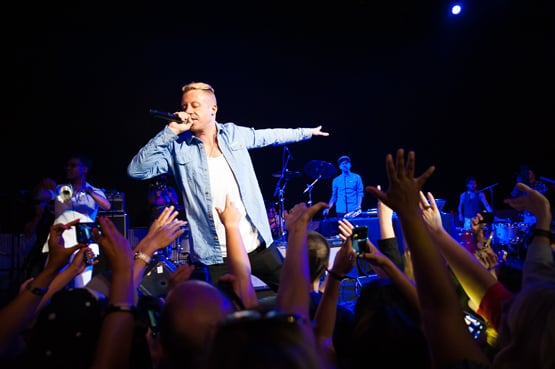 Macklemore and Ryan Lewis at the Experience Music Project. Photo by IkeandTash.com.
And then there was Macklemore. After he rocked the crowd with a performance of his hit song "Thrift Shop," he took a moment to explain why Madaraka Festival was important:
My life has been enriched by the fact that I have an opportunity to accumulate recording equipment—turn my bedroom into a studio—and I had electricity, and I had parents that supported me—If I didn't have resources to create my own studio in my bedroom, there would be no Macklemore and Ryan Lewis here tonight.
It's given me the opportunity to share my story with the world. There's so many people around the world who don't have the opportunity to share their stories. That's what this is all about for me tonight—giving others the chance to share who they are—to make music. Not to become famous—this is a byproduct of the system. What it's really about is sharing from the soul your experience on this earth.
Proceeds from the Madaraka Festival totalled $15,000; alongside that, One Vibe's online Indiegogo campaign received nearly $21,000 in donations. Founder Simon Okelo said these are not final numbers, as more funds are still coming in.
The proceeds will stabilize the One Vibe Music and Arts program in Manyatta, helping to make it self-sustaining, and enhancing its impact.