Where Citizens Can Run for Office Without Big Money—and Win
Where Citizens Can Run for Office Without Big Money—and Win
Maine's unique solution for clean elections involves $5 contributions and campaigns funded entirely by taxpayers. And it's working.
Why you can trust us
---
This article is part of our state-by-state exploration of local solutions.
State representative Joyce McCreight never thought she would run for office. She'd always been an advocate for her neighbors in her coastal Maine town of Harpswell, but she did that as a social worker in public middle schools. She remembers a pregnant seventh-grader who once came to see her, and parents who worked multiple jobs but struggled to support their families.
She was convinced that the state government could do more to help those people, and she had ideas about how to do it. But she didn't want to raise money from donors to pay for her campaign. It went against her sense of ethics.
In most states, that would have been the end of the story.
But Maine has a law that makes it easier for people who see things like McCreight does to run for state office.
The Maine Clean Elections Act, originally passed in 1996 and strengthened in 2015, gives candidates the option to finance campaigns with taxpayer dollars. Candidates who choose to run a publicly financed campaign don't need to spend time courting wealthy donors—in fact, they're prohibited from raising private money. Instead, constituents show their support through $5 contributions to the Maine Clean Elections Fund made on behalf of a candidate. But that money doesn't go to the candidate—instead, it shows support and helps fund the public-financing program. Once candidates have raised the required number of donations, they receive a flat fee from the state, which can vary depending on the office being sought. Also, there's an option to seek more funding in certain circumstances.
During McCreight's first campaign, in 2014, the state gave her nearly $5,000 once she'd collected 60 contributions.
The number of publicly funded candidates like McCreight is rebounding.
She won, and by the end of her first term, she'd helped to write a bill that makes it easy for low-income people without insurance to get reproductive health, including birth control and screenings for sexually transmitted infections. The bill passed, and McCreight expects it to save the state $2.5 million a year, primarily by catching conditions early and preventing unwanted births.
"If you think long term, it saves a lot more than that," McCreight says. "Healthier kids do better in school, and they're less likely to need expensive health care, special ed care, and other things."
McCreight's story shows what's possible when Americans who aren't especially wealthy bring their understanding of life's daily challenges into the legislature. It's an exception to the story of most campaigns' financing and was made possible by a network of activists who came together in 1995 to draft and support the Maine Clean Elections Act. A similar coalition, now represented by the nonprofit Maine Citizens for Clean Elections, went into action last year to strengthen that law after a series of court decisions reduced participation. They succeeded, and today the number of publicly funded candidates like McCreight is rebounding.
Running clean
The program was popular from the beginning: It went into effect in 2000 and by 2008, more than four out of five candidates for state office were publicly financed. Participating—or "running clean"—offered freedom from feelings of obligation to campaign donors.
"There was an unspoken pressure to vote a certain way," said politician Justin Chenette about his privately financed campaign for state representative in 2012. "There was a 'We supported you, now you have to have our backs' sort of thing." Chenette switched to public financing for his campaigns in 2014 and 2016.
He said he now votes based only on his district's best interests, without any feelings of financial obligation.
Originally elected at the age of just 21, Chenette helped put together a youth caucus in the state house, and in 2015 sponsored legislation to help former students pay down college debt.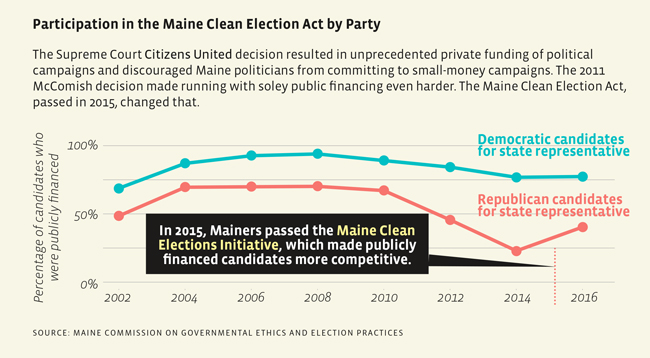 Chenette said there's no way he could have done it without the Clean Elections Act. "What the MCEA has been able to do is say, 'You know what? Here is your opportunity to advance your values and make a real difference, regardless of your socioeconomic status,'" he said. "You don't have to be in bed with lobbyists. You can do it right now through this system."
And it's not just a few lower-income people who've been elected. The Clean Elections system has given Maine the most economically diverse legislature in the nation. According to political scientist Nicholas Carnes' 2013 book, White-Collar Government: The Hidden Role of Class in Economic Policy Making, about 14 percent of Maine legislators are working class: waitresses, cashiers, machinists. Only 2 percent of the U.S. Congress comes from similar backgrounds.
Legal challenge
Then, in 2011, the Supreme Court ruled in McComish v. Bennett that a key part of the policy was unconstitutional: The state, to even the playing field, gave matching funds to candidates whose opponents outspent them. The court decided this violated the rights of campaign donors, whose contributions are protected as free speech under the long-established legal principles that led to 2010's Citizens United decision. The McComish ruling weakened Maine's Clean Elections Act: matching funds were no longer available, and politicians who ran clean lost leverage against well-funded candidates running privately.
"That scared a lot of people and made them feel vulnerable," said Roger Katz, a Republican who ran his fourth publicly financed campaign for state senate this year.
"You don't have to be in bed with lobbyists."
The percentage of candidates who ran clean immediately declined, especially among Republicans. By 2014, three-quarters of Republicans running for state representative were privately financed.
But Maine Citizens for Clean Elections found a way to circumvent McComish and restore competitiveness to public funding: Publicly financed candidates could collect more $5 contributions to receive limited additional rounds of funding. The law also forces political action committees to disclose their top three funders in political ads and stiffens the fines and penalties for violating campaign-finance laws. Those and other changes became law in 2015.
Back in Harpswell, McCreight is busy helping local lobster fishermen face a new suite of issues.
"I'm very proud of Maine for having clean elections," she said. For McCreight, it's created a government that looks more like the people it's supposed to represent.