The Building Bridges Issue:
In Depth
Bridges Only Work When Both Sides Cross Them
Bridges Only Work When Both Sides Cross Them
A new walkway connects two post-apartheid neighborhoods, but economic and racial equality are still out of reach.
Why you can trust us
---
A 19-foot tall bronze statue of the late Nelson Mandela stands proudly in a courtyard just outside the Sandton City Shopping Centre. It is the gleaming centerpiece of what is commonly known as the richest square mile in Africa—a little slice of Manhattan on the continent's southern tip. Sandton, a business district of South Africa's commercial capital, Johannesburg, is home to most of the continent's richest companies.
Lining its neatly gridded streets are elaborate skyscrapers—home to Africa's richest banks, law firms, and insurance brokers—and luxury housing estates where members of the professional class live with their swimming pools and spare rooms.
Mandela dreamed, famously, of a "Rainbow Nation"—a South Africa where men and women of all races could live together in harmony and prosperity, free from the horrors of the apartheid regime. A casual observer can just about believe that, in Sandton, his vision has come to pass.
But Mandela is no casual observer. Whether by accident or design, his statue faces due east. And if you follow his line of sight, past the skyscrapers and strip malls and along a much-hyped pedestrian bridge, you will see that he is looking directly at another famous Johannesburg suburb, without which Sandton in its current form could not exist.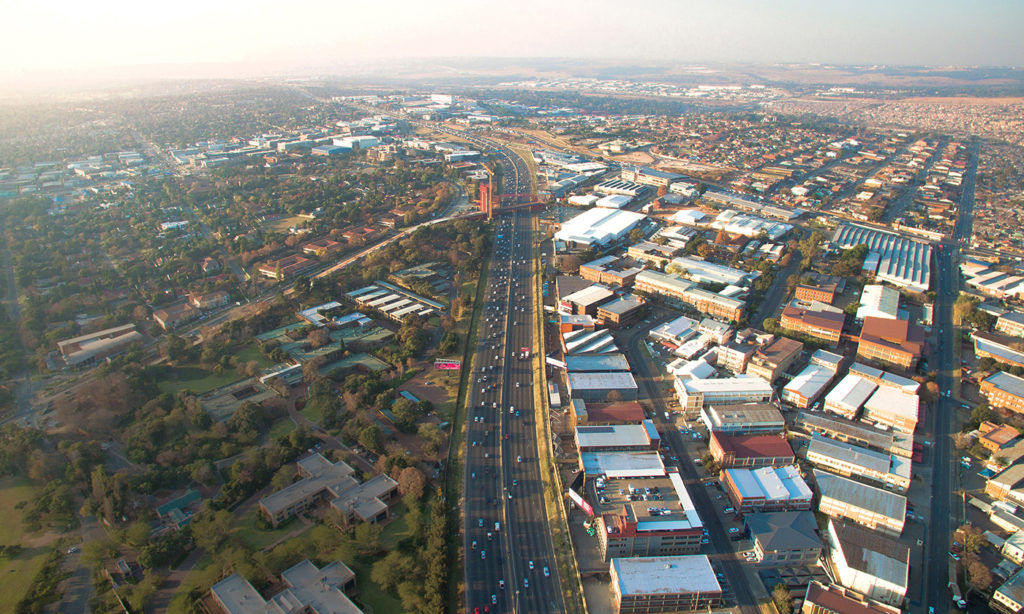 This is Alexandra, which was designated as a "township" by apartheid's spatial planners. Whereas, until 1994, only White people could own or live in Sandton, Alexandra was a Black area conceived as a dormitory town for the minimum-wage workers needed to serve their rich neighbors. The inequalities that were legislated then have persisted into South Africa's new, democratic dispensation.
A township of at least 180,000 people, Alexandra goes by many names. Some residents call it Gomorrah, after the Old Testament town that was destroyed by God for its wickedness. Houses in Alex, as it is often nicknamed, are mostly shacks built from whatever material is at hand: corrugated iron, plastic, wood. The shacks are built on top of each other and spill over onto the narrow, crowded sidewalks.
In an attempt to bridge the inequality—quite literally—Johannesburg constructed a pedestrian bridge linking its richest suburb with one of its poorest. Inspired by Mandela's memoir, The Long Walk to Freedom, the Great Walk Bridge is 977 feet of gleaming steel and concrete suspended from a central pylon, and the centerpiece of a 3 mile walkway linking the two suburbs.
Since opening in 2018, it has helped ease the commute for the estimated 10,000 workers and other pedestrians who make the daily, hour-long trip from Alexandra to Sandton every day. Almost all the traffic flows in that one direction—Alex to Sandton—except on weekends, when runners and cyclists from Sandton use it for recreation. But the bridge also serves to highlight just how far apart these neighboring suburbs really are—and the lingering legacy of segregation in post-apartheid South Africa.
Rich and poor. White and Black. Employers and employees. Although just a couple of miles apart, Sandton and Alex could not be any more different. The divide is so stark, in fact, that it has become something of a symbol for South Africa as a whole—which, despite the formal end of racial segregation, remains the world's most unequal country, according to World Bank statistics.
In his award winning series "Unequal Scenes," photographer Johnny Miller captured this inequality in overhead images that show South Africa's vast wealth alongside its vast poverty. Even for him, the gap between Sandton and Alexandra is exceptional. "The story of Alexandra and Sandton is a story of the most stark divide of wealth in South Africa," he said.
The Great Walk
John Charnley is what is referred to as an Alexandra original. The 56-year-old was born in the township and has never lived anywhere else.
Charnley spent most of his career working in Sandton, most recently as a projectionist at a movie theater. Every morning, until he retired recently, he joined thousands of other people from Alexandra who work on the other side of the highway, commuting there by foot. He is part of a labor force which Sandton depends on in order to exist.
Until 2018, Charnley's one-hour commute took him across the Grayston Interchange, which crosses the M1 Highway, a major north-south thoroughfare that connects suburbs in the south with areas to the north. With seven lanes, Grayston was designed for cars, not people, and pedestrians who use it are forced to weave in and out of traffic.
This design is no accident. Much of Johannesburg's highway network was built during apartheid, and serves a dual purpose: In addition to improving transport links, the highways were intended to form a physical barrier between White and non-White areas.
This school of urban planning is known as apartheid spatial development, and it is one of the most insidious legacies of the apartheid era. While the legal framework that underpinned the former regime has been dismantled, it is proving much harder to rip up these physical manifestations of its White supremacist ideology.
The Great Walk Bridge, formally known as the Grayston Pedestrian and Cycle Bridge, which gives pedestrians and cyclists a safe route across the motorway, was one attempt to overturn the old order.
It was part of the city-wide "Corridors of Freedom" project, first announced in 2014—a 10-year, 100 billion rand ($6.6 billion) push to overhaul Johannesburg's creaking infrastructure.
To travel from one end of the bridge to the other was still to be reminded every day of the fundamental, perhaps irreconcilable differences between where Charnley lived and where he worked.
---
As Noel Reddy, the project manager for Royal HaskoningDHV, the firm awarded the contract for the bridge, explained at the time: "The planned pedestrian bridge will provide safe and convenient pedestrian and cyclist access into Sandton. It literally bridges the gap between two communities with opposite economic backgrounds whilst creating a visual gateway into the economic hub of the country."
Charnley does not see it that way. He began using the bridge when it opened in May 2018. It's safer, yes, and it makes his journey less stressful. But to travel from one end of the bridge to the other was still to be reminded every day of the fundamental, perhaps irreconcilable differences between where he lived and where he worked.
"In Alex we are suffering, but Sandton is heaven," he says. "As Black people in the township, we were oppressed by an apartheid regime. But we thought when people who look like us took leadership, things would change; but nothing has, especially in Alexandra. It's even overpopulated now.
"When you try to open your window, you hit someone's wall because they've built right there. In Sandton, there are huge yards for one family but in Alex, that yard will have 50 families living in it. How is that right? How is that fair?"
Corridors of freedom
Like so much of post-apartheid South Africa, construction of the bridge did not go smoothly. In October 2015, just months after building began, temporary scaffolding collapsed onto the highway below during rush hour traffic. Two people were killed as the debris crashed into their vehicles: Adrian Doodnath, a 27-year-old businessman; and Siyabonga Myeni, 27-year-old minibus taxi driver.
Even as the bridge opened in 2018, to great fanfare, the inquiry into its collapse was ongoing, pitting the families of Doodnath and Myeni against the principal contractor, Murray & Roberts, a prominent South African engineering firm that made a large chunk of its fortune building mines during the apartheid era. The families are still awaiting the promised compensation.
The bridge also hasn't become the centerpiece of a radically transformed public transport network officials had hoped for. The "Corridors of Freedom" project was conceived by Johannesburg Mayor Parks Tau, from the ruling African National Congress—Mandela's party.
Designed to address apartheid-era spatial planning, the project aimed to cut down on commuting hours for passengers across the city through the establishment of rapid bus routes and dedicated bicycle lanes on major roads and bridges such as the Great Walk Bridge.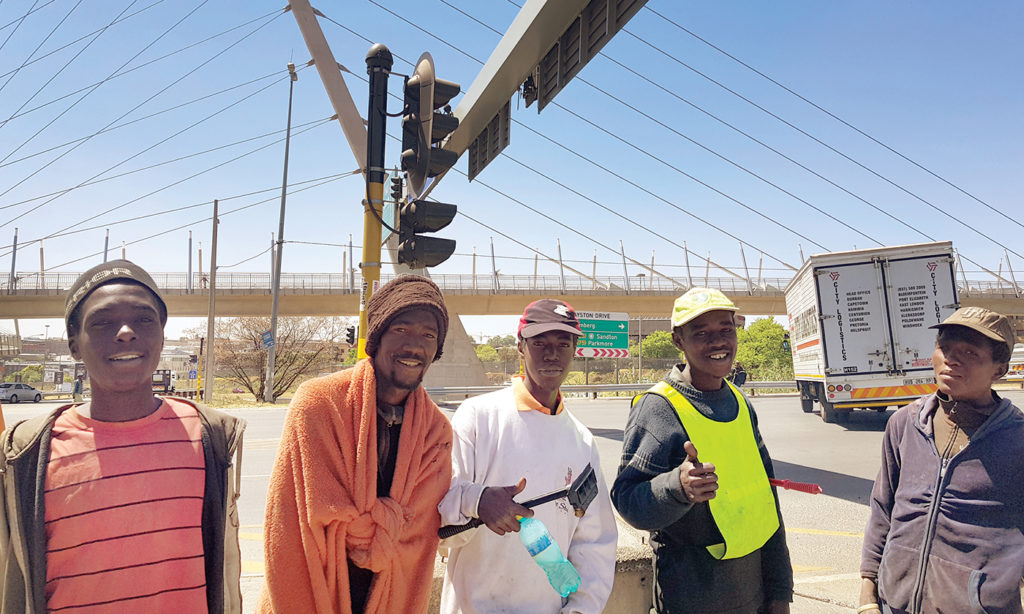 But when Tau lost power in 2016, he was replaced by Herman Mashaba from the opposition Democratic Alliance, who wasted no time undoing his predecessor's legacy. Mashaba was especially angered by the network of bicycle lanes envisaged by Tau—of which the Great Walk Bridge was a key node—and immediately halted further construction.
"When every road in Johannesburg is tarred, maybe then we will look at bicycle lanes again," Mashaba told the Johannesburg City Council in 2016, promising to divert the funds instead toward basic services.
Another major opposition leader, Julius Malema, from the Economic Freedom Fighters, echoed this position. "Shame on White people for demanding bicycle lanes while Blacks use bucket toilets," he said.
The forgotten people
As vehicles exit the motorway onto the Grayston Drive interchange, they are greeted by four young men who offer to clean their windshields in exchange for tips. These men spend up to 12 hours a day at the interchange, and witness the flood of commuters going first one way and then the other.
Lucky is 23. He is very chatty, but does not want to give his last name. The tools of his trade are a small plastic bottle filled with liquid soap, and a squeegee. He loves the new bridge that looms above him. "It is so beautiful, so attractive," he says. "At night when the blue and red lights come on…even tourists like the view, they come sometimes to take pictures."
But commuters are less enamored with it, he says. He estimates that only about one in five commuters bother with the pedestrian bridge. Even on this weekday, most pedestrians are choosing to brave the traffic on the road bridge. "The first reason is people are scared of the bridge," Lucky says. "You know it fell down? If it fell down once. …"
The second reason, according to Lucky, is that the bridge's winding design means that although it is safer, it also adds several minutes to people's travel times because commuters can't take shortcuts through traffic, and because they spend time waiting at traffic lights. "The bridge is a good idea; maybe it is the people that need to change," he says.
Lebo, a clothing store supervisor in the Sandton City shopping mall, walks over from Alex every day, but rarely uses the new bridge, and instead dashes through highway traffic. He declined to provide his last name. "For me, the bridge is too long," he says. "It was a good idea because this road is just too busy, and it's not safe for kids. So it's good that there is an option for them."
The reluctance of ordinary commuters to embrace the pedestrian bridge perhaps underscores the difficulties facing South Africa's leaders: that even with the best of intentions, it takes more than flashy infrastructure projects to overcome centuries of inequality.
That is certainly Thomas Khosa's view. The 50-year-old lives in Innesfree Park, a tiny settlement sandwiched in between Sandton and Alexandra that pedestrians can see as they cross the Great Walk Bridge, and is the informally elected community leader. Unlike its prominent neighbors, Innesfree Park is of limited metaphorical value, and as such is rarely mentioned in conversations about inequality and division.
Khosa's problems are more immediate than bridges or bicycle lanes. He has had to fight bitterly to get proper toilets installed in the settlement, and he knows that some of its shacks are unfit for human habitation.
"There are people who live in a dangerous part of the settlement. They live right by the river and when it rains and the water level rises, they are unsafe because their houses flood. People here live under pressure and government keeps on making promises," he says.
For Khosa, the end of apartheid has not delivered the liberation he expected. He is not living in a Rainbow Nation, and the glamour and riches of Sandton seem impossibly far away—even though it is literally next door.
"I feel bad [about the differences between us and Sandton] but there's nothing I can do," he says. "Racism continues today but it doesn't look the same way it used to back in apartheid. If you are poor, you have nothing to say," he adds, resignedly, gazing west, toward the glittering skyscrapers and the bronze statue of Nelson Mandela. "It's a crime to leave people living like this."
---
Simon Allison is the Africa Editor for the Mail & Guardian newspaper, based in Johannesburg.

Mashadi Kekana

is a Johannesburg native and holds a B.A. in Psychology from Wellesley College.
---