The Cities Issue:
In Depth
In 10 Years, No One In Helsinki Will Even Want to Own a Car: 3 Simple Ideas That Are Making Cities Sustainable
In 10 Years, No One In Helsinki Will Even Want to Own a Car: 3 Simple Ideas That Are Making Cities Sustainable
An app that combines the affordability of ride sharing with the reliability of taxis. Playgrounds built as sponges for reusable greywater. From Finland to California, the cities of the future are here.
Why you can trust us
---
This article appears in Cities Are Now, the Winter 2015 issue of YES! Magazine.
1. A bus that will pick you up anywhere in the city with the use of a smartphone app.

in: Helsinki
Click here to subscribe to YES!
By 2025, public transportation in Helsinki will be so good that no one living in the city will have any reason to own a car.
That's the goal the city announced earlier this year, and Helsinki is serious about it. The Helsinki Regional Transport Authority is piloting an on-call minibus service called Kutsuplus. The service uses an algorithm and a smartphone app to combine the affordability of ride sharing with the on-call service of a taxi.
Riders hail buses on a smartphone; an automated system routes and reroutes the fleet to create the most efficient service for patrons heading in the same direction. It's cheaper than a taxi and more convenient than a bus.
Free wi-fi and storage for bikes or strollers are included, too. Compared with traffic jams, parking fees, and car maintenance, on-demand public transit in Helsinki is looking pretty good.
2. Absorbent playgrounds that reuse greywater.

in: Philadelphia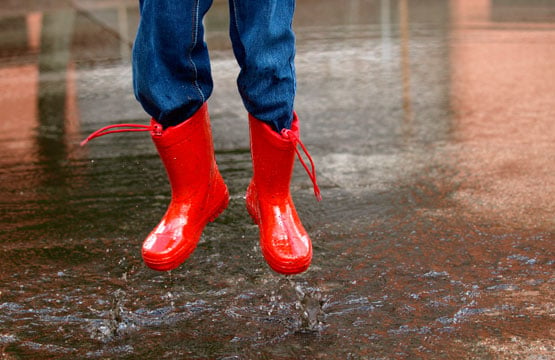 At Herron Park in South Philadelphia, monkey bars and sliding poles sit on top of a recycled rubber play surface that absorbs water like a sponge. Meandering pathways direct water into gardens filled with native Pennsylvania trees and shrubs. Even the basketball court is designed with an asphalt mixture that percolates water into the soil below.
Nearby, Wharton Street Lofts offers apartments with city views from the building's green-roof deck, while a greywater system captures and reuses rainwater on-site. Just a few years ago, both locations were almost entirely covered in concrete and asphalt.
Projects like these two in South Philadelphia are part of a network of green infrastructure that's springing up across the city. It's the core of the Philadelphia Water Department's Green City, Clean Waters program. Philadelphia is the first city in the country to put green infrastructure at the center of plans to address federal Clean Water Act requirements and manage stormwater runoff.
The 2011 plan commits $2.4 billion to turn the city from grey to green within 25 years. It's a blueprint for a new urban landscape that sends water into the soil instead of down the pipe.
3. Finally, an easy way for property owners to invest in renewable energy.

in: Berkeley, Calif.
Sometimes bold innovations on a local scale can set the stage for change nationwide. In 2008, the City of Berkeley launched a pilot program to make it easier for property owners to invest in renewable energy.
Steep installation costs often make converting to renewable energy prohibitive for property owners. To overcome this hurdle, Berkeley offered 100 percent funding for renewable energy projects. Property owners could repay the funds gradually over 20 years through a special property tax assessment.
Berkeley's program served as a model for the nationwide Property Assessed Clean Energy (PACE) program. Today, PACE financing is available to commercial or residential property owners in more than 800 municipalities. When property owners invest in efficiency upgrades or renewable energy, they save money, reduce carbon emissions, and supply green jobs. With the widespread success of PACE, local governments are clearing the way for investments.