The Good Health Issue:
In Depth
Latinos Live Longest Despite Poverty. Here's Their Secret
Latinos Live Longest Despite Poverty. Here's Their Secret
U.S. Hispanics who pass down a tradition of food, family, and healing are healthier. But can they sustain that as generations become more assimilated?
Why you can trust us
---
Celia Aguilar wears a long, loosely fitted white dress with touches of red embroidery and red bandanas tied around her head and waist. The 29-year-old Chicana dances alongside men wearing large, feathered headdresses, the seashells on their ankles rattling. Here in El Paso, Texas, they gather in a ritual of Danza Azteca, an Aztec dance preserved in Mexican culture.
Aguilar, a daughter of Mexican immigrants, dances to honor health and culture.
"For me it is a form of spiritual healing," she says. "A way to connect with my indigenous roots as well as preserve ancient traditions. It's a form of prayer and ceremony that really helps me cope with all of the things that I face in my life."
Author Claudia Kolker took a closer look at such cultural practices for her 2011 book, The Immigrant Advantage. Her book examines why immigrants are often healthier than native-born Americans—a question that continues to be explored. Some credit this perplexing phenomenon to the idea that immigrants must be healthy to migrate. Kolker's research shows its connection to customs like Danza Azteca: close community bonds, traditional foods, and la cuarentena, a Latin American tradition in which a new mother rests for the first 40 days after giving birth, not lifting a finger except to breastfeed and bond with her child. Kolker also has a hunch that a lack of smoking is a factor, and other researchers agree.
But these findings not only show an immigrant advantage; they present a paradox, too.
Recently arrived immigrants, especially Hispanics, experience nearly double the poverty rate of the U.S.-born population. Despite their economic situation and lack of health insurance, Hispanics tend to live longer than both black and white males and females: about three years more than whites and six years more than blacks. However, they still have higher death rates when it comes to diabetes, cirrhosis, and hypertension.
---
The Latino Paradox
Despite nearly a quarter of their population living in poverty, Latinos have higher average life expectancies than white Americans, who have a much lower poverty rate.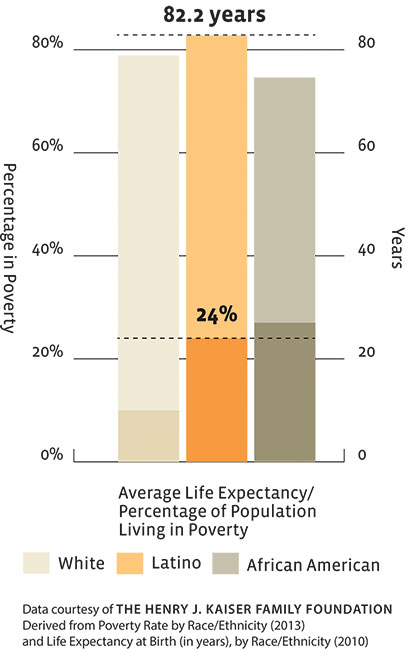 Data courtesy of The Henry J. Kaiser Family Foundation
Derived from Poverty Rate by Race/Ethnicity (2013) and Life Expectancy at Birth (in years) by Race/Ethnicity (2010)
Aguilar's mother and grandmother, who are from rural Mexico, have developed diabetes and hypertension, diseases Aguilar is sure their change in diets caused. "Right now we're all pretty much eating the same crap," she says. "It's cheap, and it's fast."
Kolker says immigrants who are not used to consuming so much fast or processed food have an upper hand when they arrive in the United States because their dishes are usually made up of more natural, healthier ingredients. Maintaining that diet once in the United States takes commitment.
As for Aguilar, she strives to stay in touch with her roots. She has worked at a local restaurant that serves traditional Mexican food, and she's a firm believer in the medicinal practices of her mother and grandmother. Yet she realizes that it isn't easy for her family—and those who follow—to keep that culture alive. As generations become more Americanized, their health begins to decline.
U.S.-born Hispanics face higher prevalence rates for unhealthy behaviors than foreign-born Hispanics: a 72 percent higher smoking rate and a 30 percent higher obesity rate. They also have a 93 percent higher cancer rate, according to the Centers for Disease Control and Prevention.
Timothy Smith, a psychology professor at Brigham Young University, also has studied this scientific wonder and suggests that social bonds and culture do contribute to health. While more research is needed to know for sure, one thing is certain: American assimilation isn't exactly healthy. "They're adopting the local culture, which does have some adverse consequences," he says. "There are positive consequences to health and adverse consequences."
Regardless, Hispanic customs hold some value—and leave a lesson to be learned.
Cuarentena
One tradition seen in Latin American cultures, but rarely in Western cultures, is cuarentena, meaning "quarantine." During this tradition, the new mother rests for up to 40 days and bonds with her child while relatives or friends handle all the cooking and household needs. Traditionally, someone even helps teach the mother how to breastfeed effectively.
In her book, Kolker describes cuarentena as a tremendous health benefit for both mother and child. The mothers are never alone and are fed healthy food; the babies can nurse whenever they want.
This luxury is nearly impossible in the United States, where there is no federally mandated paid family leave. Plus, being overworked is almost a sign of success here, Kolker says. "It's ironic that we are a richer country, but it's harder to organize a cuarentena."
Aguilar's mother practiced cuarentena for her five children, including Aguilar. Aguilar plans to do the same when she has her own children—she wants everything to be as natural as possible. She believes that, in the United States, pregnancy is treated as a disease rather than a spiritual process. Too many doctors, too many medications.
"There are certain things that are just passed down generationally without any kind of effort," she says, "and I'd like to continue that tradition of healing and self-care."
Food
Aguilar learned the value of self-care through food when she worked at Café Mayapan, a Mexican restaurant in downtown El Paso. It sources some of its ingredients from a community farm, aiming eventually to source all of them from the farm. Women of all generations run the farm and restaurant, along with a daycare center, as part of La Mujer Obrera, or "The Working Woman," an organization dedicated to building a strong community based on Chicano heritage.
"Our philosophy is that the more we go back to our traditions, the healthier we'll be," says Lorena Andrade, director of La Mujer Obrera.
Andrade was the first of her family to be born north of the border. As a girl, she translated labels at the grocery store for her mother, who would buy only the items that matched as closely as possible to what she used in her native Jalisco, Mexico, to cook caldo de pollo (chicken soup), chile colorado con nopales (red chile over cactus), beans, squash, and tortillas—all served at Café Mayapan today.
For Andrade, traditional cooking is a form of resistance: a way to preserve a culture that is hundreds of years old, a culture easily lost in a new place. It is a way to reject the status quo that glorifies processed foods.
"When we cross the border, we lose our sense of community and our connection to the land, verdad?" Andrade says. "We start to think that in order to be healthy, we have to look externally, when really all we have to do is look into our culture."
Family and community
This same philosophy of looking inside translates into Rayito Del Sol Daycare & Learning Center, the daycare beneath Andrade's La Mujer Obrera umbrella. There, female community members teach reading, math, history, and science to about 35 children, infants to 8-year-olds. The women look to each other to help raise their children, working hard to develop a sense of community in El Paso, where more than 80 percent of the population is Hispanic.
"Sometimes our culture is narrowed down to just folklorico," Andrade says. "We need more than that. We need the math and the subjects that'll strengthen us. And as a strong community, we eat together, we cook together and live together, and that's how we become healthier."
It's not uncommon in Latino families for three or four generations of relatives to live under one roof. This close family dynamic and sense of community contributes to the overall health of each member, Kolker says.
"When your cousin is sick, you know, and you go out of your way to help," Kolker says. "When each member of the family is involved in the health and needs of the other, everyone is healthier."
Even though most of Andrade's family is in California, her Mexican culture is a crucial part of her life. She cooks every day, using whatever the garden has to offer. Andrade even makes atole, a warm beverage popular in Mexico and Central America that's made with corn, water, cinnamon, and sometimes chocolate. "It tastes better at my mom's house, but at least I'm trying," she jokes.
Though she often wishes she were drinking her mother's atole, Andrade feels pride in making her own. It's little practices like this that help keep her culture alive. And they might just be what keep this paradox very much alive, too.