The Good Health Issue:
In Depth
6 Cities Designing for Health
6 Cities Designing for Health
From Detroit to Edinburgh, these cities are helping residents live more healthful and equitable lives.
Why you can trust us
---
Houston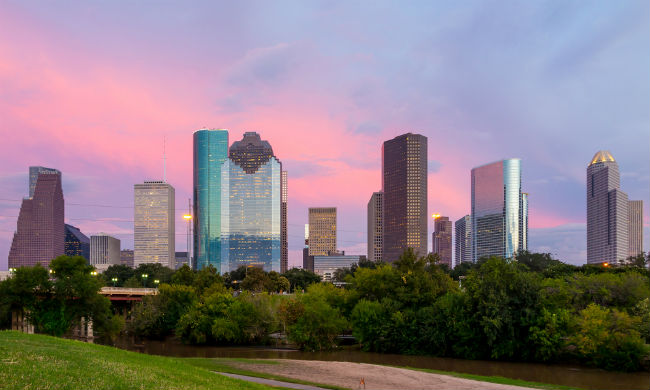 Photo from Shutterstock.
Restore the bayous for connection
While long dependent on the oil and gas industry, Houston is increasingly investing in sustainability. The city's $480 million Bayou Greenways Initiative, a massive public-private project, will connect 10 bayous and creeks across the city and its periphery. In the past, bayous were straightened out and paved over to control flooding. Now, Houston is bringing these low-lying rivers back to their natural life: slow, gleaming waterways full of fish and bordered by wildflowers, grasses, and native trees. The city is also adding 4,000 acres of new and equitably distributed green spaces that will improve water quality. And it's providing an alternative to high-traffic streets by developing 300 continuous miles of hike-and-bike trails along the bayous. When complete, an estimated six in 10 residents will live within 1.5 miles of a bayou, park, or trail. For the nation's fourth-largest city, which sprawls over some 600 square miles, this is a powerful way to stitch its diverse population together.
Edinburgh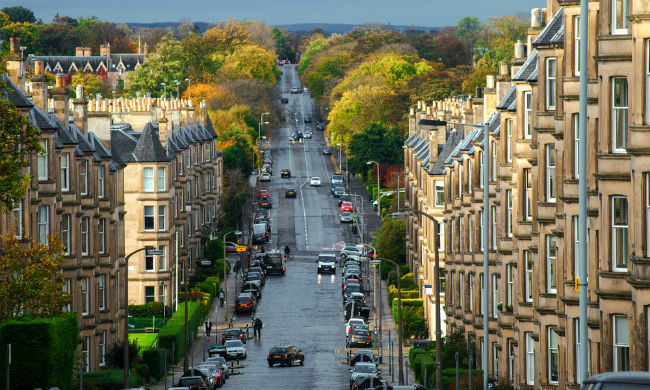 Photo from Shutterstock.
Slowing traffic to 20 mph
Scotland's capital city is rolling out a plan to cap the speed limit at 20 mph on 80 percent of its roads. The slowdown is designed to encourage people to walk and bike, rather than drive, and to enhance pedestrian safety. A 2012 report by Transport Scotland recommends 20 mph speed limits on certain roads to improve bike and pedestrian safety. The Edinburgh slow roads movement builds on pioneering slowdown policies in Portsmouth, England, and Scotland's council of Fife, both of which implemented 20 mph limits on most of their roads. According to early data from Portsmouth, the total number of road collisions has dropped 13 percent. The Edinburgh plan is expected to be phased in starting in early 2017. Environmental advocates say that encouraging walking and cycling will contribute to the nationwide effort to reduce air pollution and lower carbon emissions.
Albuquerque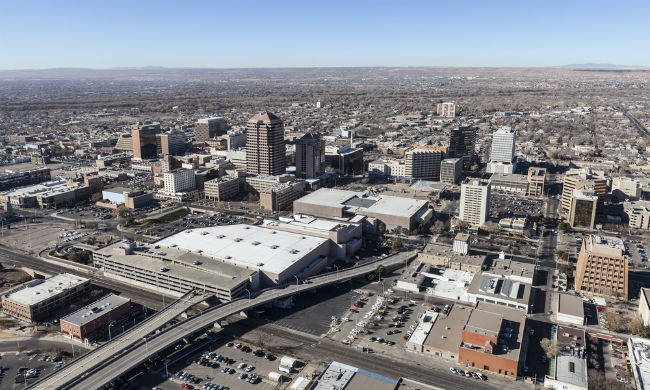 Photo from Shutterstock.
Apartments with on-site social services
Casitas de Colores is a family-friendly, mixed-income apartment complex in downtown Albuquerque that stands out with its bright stucco colors. But more dramatic is what's inside. This 71-unit complex has an on-site social services coordinator who connects resident families with local child care and health care providers and hosts bimonthly health screenings and trainings. The building's active design helps, too. Walking paths, open stairwells, courtyards, a 24-hour fitness room, bike storage, and a children's play area are integrated into its design plan. Reduced-speed elevators subtly nudge residents toward the stairs, and the building is within walking distance of major city destinations.
Detroit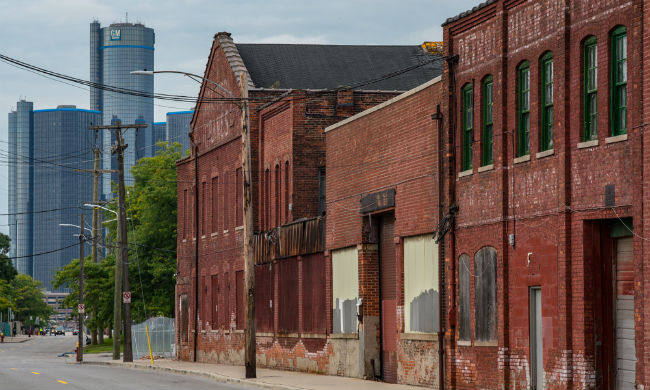 Photo from Shutterstock.
Vacant land becomes useful
City leaders have long been trying to find new uses for vacant spaces in shrinking cities. In Detroit, officials have found that one of the best ideas is also the simplest: The Detroit Land Bank Authority allows city residents to purchase the vacant lot neighboring their home for $100, with no red tape. Residents also soon may be able to lease a vacant lot in their neighborhood for $25 a year, so long as a neighborhood or local block group endorses its intended use. The Land Bank Authority empowers thousands of citizens to take ownership of land that has been long neglected in their communities. Once-dangerous eyesores are finding new life as gardens, playgrounds, pocket parks, off-street parking lots, flower farms, and art installations.
Cincinnati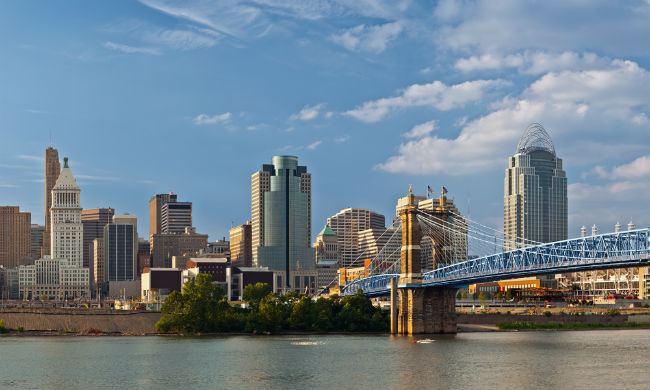 Photo from Shutterstock.
Build equity while you rent
Renters around the country are financially and physically vulnerable. While half of them pay more than 30 percent of their income in rent, according to the Center for American Progress, they have nothing to show for it on the other end compared to homeowners, who build equity as they pay down their mortgages. Renting Partnerships gives Cincinnati renters a third option: Build equity through social capital. In exchange for fulfilling commitments in an equity lease agreement—like work assignments on the property, timely payment of rent, and participating in resident meetings—renters earn financial credits. Money saved by low turnover is invested in a financial fund. After five years, renters can exchange credits for cash. Renters can earn a maximum of $10,000 over 10 years. While Renting Partnerships has been a stand-alone nonprofit since 2012, its equity experiment stretches back to 2002—enough time to see how this model provides renters with greater control over housing conditions and inspires them to engage more with their community. Landlords benefit from property improvements and high occupancy, and the City of Cincinnati welcomes more stable residents into full civic participation. And the movement is spreading. This summer, a version of the program tailored for local artists launched in Cleveland.
San Francisco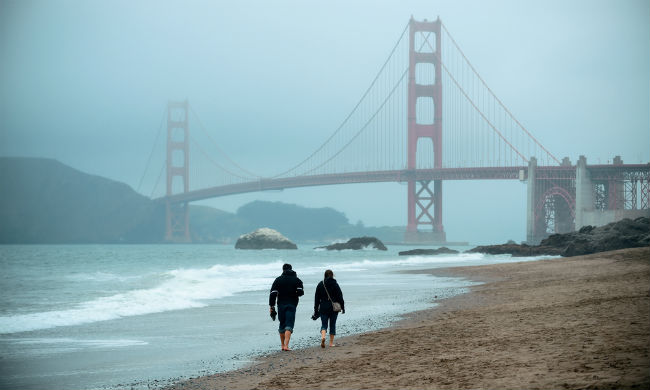 Photo from Shutterstock.
Doctor's orders: a walk in the park
In 1965, a Mississippi Delta doctor named Jack Geiger began writing prescriptions for fruits and vegetables for malnourished children at one of the nation's first community health centers. The local market filled the prescriptions and billed the center. This holistic idea of public health is echoed today in a partnership between physicians and the San Francisco Recreation & Parks Department. For patients struggling with chronic and mental illnesses, as well as diseases related to inactivity, doctors might prescribe, for example, a 45-minute walk in Glen Canyon Park three mornings a week. The more specific the instructions, the more likely patients are to follow them, according to one doctor involved. Not only do walks improve human health, they also build deeper relationships with the Bay Area's natural resources. Parks officials are making their open spaces as inviting as possible by providing free group walks in parks around the city and providing free water bottles and pedometers to participants.
---
Anna Clark

is a freelance writer and the editor of A Detroit Anthology. She is online at annaclark.net.
---