The End of Poverty:
In Depth
The Faces Behind the Fight for $15 an Hour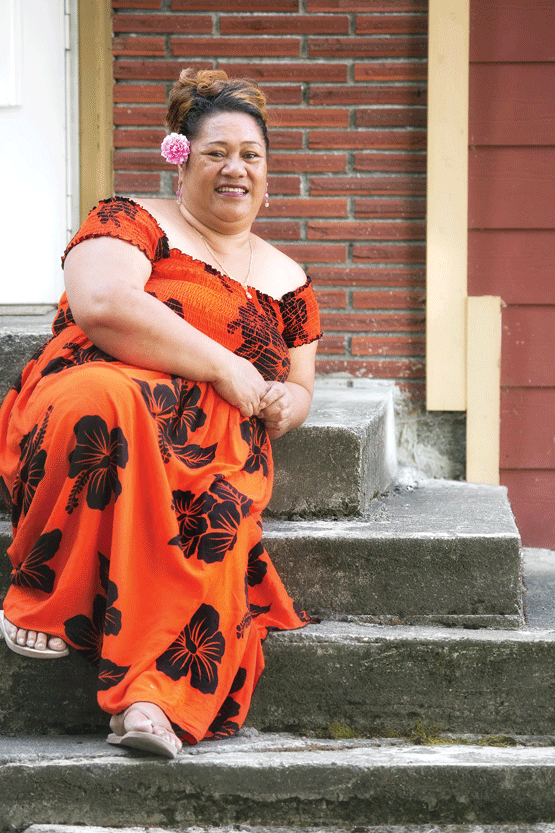 The Faces Behind the Fight for $15 an Hour
For low-wage workers, Seattle's minimum wage increase means a chance to go to college, pay the rent, and visit the dentist.
Why you can trust us
---
It was an outrageously ambitious goal—a 64 percent pay hike to more than twice the federal $7.25 an hour minimum wage. But in a short time the Seattle City Council met the demands of workers and organizers, unanimously approving the first $15 minimum wage in the nation. Read more about how it happened here, and meet some of the workers on the front lines below.
For low-wage workers, Seattle's minimum wage increase means a chance to go to school, pay the rent, and visit the dentist.
Portraits and interviews by Betty Udesen.
Imeleta Noa, 51
Noa works 36 hours a week and is paid $10.53 per hour as a home care provider. She lives with her husband, their 14-year-old son, plus three other family members in SeaTac.
The Noa family likes living near the airport because it is convenient for travel and to have visitors. Noa's husband, Liu, is disabled. After a friend told her about the campaign to raise Seattle's minimum wage, Noa got busy with the phone bank, calling other caregivers. Now that Seattle and SeaTac have set the national minimum-wage bar, Noa is hopeful the movement will spread. She took part in rallies and made a three-day bus tour to campaign in other cities. She speaks passionately about her continued involvement. "With a raise in pay, I'll be able to pay the bills, especially the rent, and maybe we can have a little vacation," she says.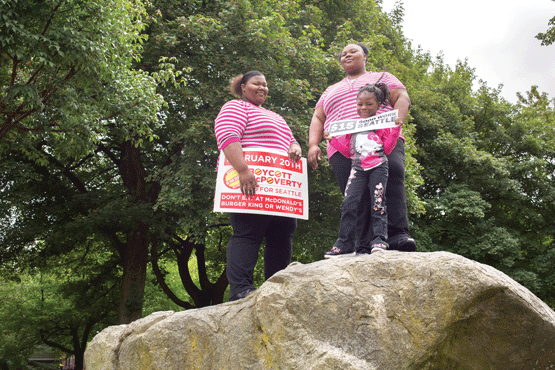 Brittany Phelps 23 and Martina Phelps 22. Brittany makes $9.52 per hour. Martina makes $9.47 per hour. Both work full-time at McDonald's in Seattle's Capitol Hill neighborhood and were involved with the movement to raise the minimum wage. Click here for stories of the workers on the frontlines of Seattles wage revolution. Photo by Betty Udesen.

Brittany Phelps, 23 and Martina Phelps, 22
Brittany makes $9.52 per hour. Martina makes $9.47 per hour. Both work full-time at McDonald's in Seattle's Capitol Hill neighborhood.
Brittany's daughter, Emonie Phelps, 5, marched with her mother and aunt, chanting "What do we want? 15! When do we want it? Now!" She says her favorite thing to do is "play outside." Her mom doesn't let her out to play in the South Seattle neighborhood where they live, saying it's too dangerous. With the increased minimum wage, Brittany hopes to move out of her mother's 2-bedroom, 1-bath apartment that is currently home to five people. Both women have college degrees. Martina hopes to get her own place to live and to return to school for a degree in cosmetic chemistry so she can make beauty products for skin and hair.

Sam LeLoo, 19
LeLoo makes $9.57 per hour at McDonald's in North Seattle.
This is his first job. He lives with his mother and 3-year-old sister in a townhouse in Shoreline and rides the bus for transportation. LeLoo got involved with the movement to raise the minimum wage a few months before the fast-food-worker strike. He didn't have an opinion on whether Seattle voters would approve the $15 minimum wage. He simply knew he had to take a stand. With his upcoming raise, LeLoo sees college as "the first stepping stone to where I'm going." He used to want to be a game designer, but now he's thinking of becoming a counselor or something similar, "because it's real, and I can make a difference."

Colton McMurray, 24
McMurray works as a sales associate at Red Light Vintage & Costume in Seattle's Capitol Hill neighborhood. He makes $10 per hour and works 31 hours a week.
"I basically make a little over $500 each paycheck," he says. "Half my paycheck goes to rent, and the rest to groceries, commuting for work, phone, and laundry." He rents a room in a home in the University District, a 15-minute bus ride from work that costs him $5 per day. "Growing up, you think that once you have a job, things are going to be easy, but it's not that way. Stressing about money for food is the worst—deciding whether to spend my last $5 to get to work and back or to spend it on something to eat on my lunch break."
As for his goals? "I'd love to have my own amazing online vintage store or a little boutique. Meanwhile, I think it would be nice to live your life when you're young and not be worried about having the dollars to get to work. And, it would be nice to go to the dentist."

Jason Harvey, 43
Harvey makes $9.32 per hour at a Ballard neighborhood Burger King, his employer for the past eight years. He's scheduled to work 28.5 hours a week but often gets called in to work extra hours. He takes the bus.
"It's a step in the right direction," says Harvey of his pending wage increase. "I might be able to get my teeth fixed. My three front teeth are broken. There's a program with the VA that, for $50 a month, they'll take care of everything. I just can't afford that with what I'm making now." Harvey is a Navy veteran. "I still love America and the freedom that we have here."
"The wage increase will give me a greater level of opportunity," he says. "I'm 43 years old, probably not ever going to be able to buy a house, but at least I'll be a little more comfortable in my own surroundings." Harvey says, "I don't really feel like I'm a part of mainstream society. I haven't gone out to see a movie in three or four years, or to a concert, the zoo, or aquarium for about five years. I save up to do Karaoke once a month."
Ubah Aden, 40
Aden makes $10.95 per hour as a home care aide. She lives in Tukwila with her brother and her three children, ages 7, 9, and 13.
"There are a lot of people in my shoes," Aden says. "They're not earning enough money to pay their bills." She recently moved to Washington state from Atlanta to be near her parents. "They are getting older, and they're the whole reason I'm getting into health care." She explains that as she went through her training and met other caregivers, she was "shocked" to learn how low their pay would be. "My eyes were opened to the whole [minimum wage] thing." So she got involved in the movement to raise it to $15. "I believe in saying what is right," she says.
At age 17, she was the first of her Somali family to leave a refugee camp in Kenya. After earning her citizenship, Aden sponsored 12 family members to come to the United States. "I'm glad it passed in Seattle," she says. "Everybody deserves to have better pay. I hope it will pass across the state and across the nation." Aden also works as a medical interpreter, making "more than $20 an hour." She is about to begin a position with Neighborcare Health. She is also taking night classes, with plans of a future working in public health.