The End of Poverty:
In Depth
A Wall Street Equity Firm Evicted My Family. We're Still Searching for a Home
A Wall Street Equity Firm Evicted My Family. We're Still Searching for a Home
Our experience strengthened our resolve to fight for housing as a human right.
Why you can trust us
---
It's been more than a year since the police, a property company, and government authorities splintered our family and left us homeless.
It started when the Chicago Housing Authority cut off our access to affordable housing under the federal Section 8 program because my partner Carmilla's former employer failed to produce paperwork documenting her paychecks. In the middle of a rough Chicago winter, we heard that we, our two children, and our infant grandchild would be evicted. By then, neither of us was working, and we didn't have money for a deposit on a new apartment.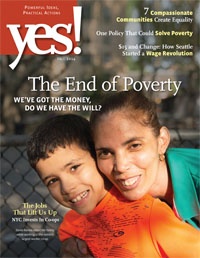 Click here to subscribe to YES!
We had both stayed in shelters in the past but refused to go back. Shelters rarely feel safe and secure. With instruction from Communities United Against Foreclosure and Eviction, formed by members of the Occupy movement, we found a foreclosed house that was owned by a bank but had been abandoned and vandalized. For two months, we lived there and fixed it up, until a squad of police busted in, arrested us, and locked our personal belongings and pet cat and turtle inside the house—all at the behest of Invitation Homes, a subsidiary of a Wall Street private equity firm, the Blackstone Group.
It took more than a week to recover our belongings. Many, including the pet turtle, were stolen or never recovered. We spent a couple of weeks in an abandoned apartment building until one night people broke into the basement to rip out the pipes, we believe to sell for drugs. When we reported them to the police, it meant that we had to leave. We and our son spent most nights of the next year sleeping at the storage facility we rent, until we were told that wasn't allowed.
We know our lives will never be the same since we lost our home.
Since then, we've occasionally pitched a tent in a city park. We often spend nights riding our bicycles through the city, stopping wherever we find shelter. Recently, we sat in a Starbucks in an affluent neighborhood on Chicago's North Side. I was emailing on my computer and Carmilla was streaming video on her phone. When I dozed off for a few minutes, a police officer woke me and said that the store manager wanted us to leave immediately. We protested and were forcibly removed.
Experiences like this remind us how often the poor and homeless are unwelcome. But we also receive help and kindness: A friend who works at a senior center lets us use the computers, showers, and kitchen there. A lawyer is representing us pro bono, and we've filed a lawsuit against Invitation Homes for wrongful eviction. We have also decided to fight for housing as a human right. We're researching Blackstone and its predatory practices in the Chicago housing market and developing a presentation to give at a civic-engagement organization called CivicLab.
We know our lives will never be the same since we lost our home. Our daughter stays with friends. Our son lives in a shared home. We're proud that he'll be attending a university in the fall, but we rarely see either of our children or our granddaughter. By fighting against illegal eviction and working with community groups, we hope we can spare other families from this kind of damage. ­­
—as told to Madeline Ostrander