The Storytelling Issue:
In Depth
Zydeco and Justice: Louisiana's Hyperlocal KOCZ Builds Community and Self-Reliance
Zydeco and Justice: Louisiana's Hyperlocal KOCZ Builds Community and Self-Reliance
Low-power FM radio stations bring a much-needed focus on local issues and culture.
Why you can trust us
---
The many possibilities for low-power FM radio are inspiring. KOCZ Opelousas Community Radio in southern Louisiana celebrates local culture like zydeco, the accordion-and-washboard dance music rooted in the area's Creole, French, and African American heritage. It also covers local politics—it's the first radio station owned by a civil rights organization. In Northampton, Mass., WXOJ Valley Free Radio started broadcasting a program during the Occupy movement that continues to update listeners on local protests, groups, and larger issues. The program's name? "Occupy the Airwaves," of course.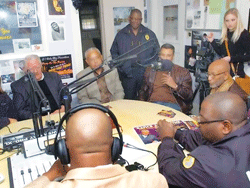 The studio at KOCZ. Photo by Freddie Herpin
Communities need access to community media for cohesion, safety, and economic self-reliance. Sometimes gaining that access is an uphill struggle. While corporations pressured Congress to restrict licenses for low-power FM radio stations, free media groups—most notably Prometheus Radio Project—lobbied for more than a decade for greater community access to nonprofit broadcasting.
That finally resulted in a breakthrough with the 2011 Local Community Radio Act. Small, underserved or marginalized communities got their chance at the airwaves when the FCC granted 1,000 low-power FM broadcasting licenses earlier this year. New stations have 18 months to raise funds and purchase equipment. Once on air, these nonprofit stations will have 100 watts of broadcasting power, enough to reach audiences within a radius of three to 10 miles.