The Storytelling Issue:
In Depth
These Native American Filmmakers Are Telling Their People's Stories—Their Way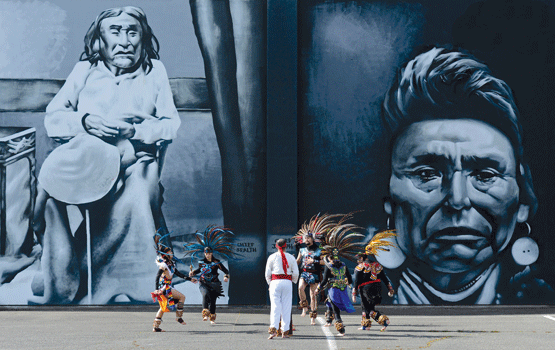 These Native American Filmmakers Are Telling Their People's Stories—Their Way
Longhouse Media helps indigenous artists step behind the camera and document their lives.
Why you can trust us
---
Great Native leaders appear to be overlooking contemporary Aztec dancers in a scene from Hummingbird, a short film that captures the spiritual power of ritual and tradition. The film was made by Longhouse Media, an organization that aims to catalyze indigenous people and communities to use media as a tool for self-expression, cultural preservation, and social change.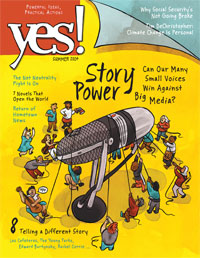 Click here to subscribe to YES!
Longhouse Executive Director Tracy Rector emphasizes the group's mission to nurture Native artists who use both traditional and modern forms of storytelling: "Our stories define us. Indigenous people have the right to share their own experiences through their own lens."
One of the ways Longhouse elevates Native stories is through a filmmaking project for tribal youth that is responsible for the acclaimed feature-length documentary March Point. Rector says the program has a positive impact for participants in many areas of their lives, such as academic success and overall self-esteem. Another program, the SuperFly Filmmaking Experience, a Longhouse and Seattle International Film Festival joint project, brings Native and non-Native youth together for filmmaking, storytelling, and cultural exchange.
Clearwater, a Longhouse documentary currently in production, shows how the Suquamish people, who have a strong relationship to the saltwater ecology of their home on Puget Sound, are responding to the environmental threat of ocean acidification.
Checkout this extended preview of Clearwater: