Together, With Earth:
Solutions We Love
3 Rad Vegan Chefs Share Their Inspiration (and Recipes!)
3 Rad Vegan Chefs Share Their Inspiration (and Recipes!)
And agree that healthy, sustainable cooking can still be delicious and enjoyed by all.
Why you can trust us
---
Bryant Terry: Fighting oppression from the kitchen
Photo by Paige Green.
Bryant Terry's first forays into cooking were, ironically, driven by selfishness. "I was such a greedy child," he says. "I didn't really want to wait for people to cook me food." And he was picky: "If my parents made certain things and I didn't like it, I wanted to make it the way that I liked."
But cooking has since become an altruistic act. In high school, after hearing "Beef," the anti-meat hip-hop anthem by KRS-One, Terry became a vegan. While at New York University, Terry's experiences in the city's working-class boroughs showed him that food availability was tied to other forms of oppression. "I started making those connections," he says, "being on the subway in the morning and seeing kids drinking soda and eating red-hot chips and knowing that that was their breakfast."
Since then, Terry's work—which has included founding a youth outreach initiative, a web series, and the publication of several acclaimed cookbooks—has focused on making healthy, sustainable food more accessible. He explains that his favorite recipes provide both instructions for a meal and useful cooking skills. Ultimately, he says, Terry hopes to help his readers "get spontaneity and creativity back into the kitchen."
Tofu Curry w/ Mustard Greens
14 to 16 ounces extra-firm tofu, cut into 1⁄2-inch cubes
3 tablespoons plus 2 teaspoons extra-virgin olive oil
3⁄4 teaspoon fine sea salt
1⁄4 teaspoon mustard seeds
1 cup finely diced white onion
2 cloves garlic, minced
1 tablespoon minced fresh ginger
1 1⁄2 teaspoons ground turmeric
1⁄2 teaspoon cumin seeds, toasted and ground
6 cardamom pods, toasted, seeds removed and ground
1⁄2 teaspoon chili powder
1⁄4 teaspoon freshly ground black pepper
1⁄4 teaspoon garlic powder
1⁄4 teaspoon ground ginger
1 (14-ounce) can chopped tomatoes with juices
1 heaping tablespoon chunky peanut butter
1 jalapeño chile, seeded and minced
3 cups vegetable stock
12 ounces mustard greens, stemmed, cut into bite-size pieces
2 bay leaves
2 tablespoons chopped cilantro
Preheat the oven to 450°F. Line a rimmed baking sheet with parchment paper.
Put the tofu in a bowl, drizzle with 2 teaspoons of the oil, and sprinkle with 1/4 teaspoon of the salt. Gently toss the tofu with clean hands until evenly coated. Transfer to the lined baking sheet, spreading the tofu in a single layer. Bake, turning once after 15 minutes, for 30 minutes, until firm.
Meanwhile, warm the remaining 3 tablespoons oil in a large sauté pan over medium heat. Add the mustard seeds and cook, shaking the pan occasionally, until they pop, 2 to 3 minutes. Add the onion and the remaining 1/2 teaspoon salt and sauté until soft, 5 to 7 minutes. Add the garlic, fresh ginger, turmeric, cumin, cardamom, chili powder, black pepper, garlic powder, and ground ginger and sauté until fragrant, about 2 minutes. Add the tomatoes, peanut butter, and jalapeño and stir until well combined. Stir in the stock, mustard greens, and bay leaves and bring to a simmer. Decrease the heat to medium-low, partially cover, and simmer, stirring occasionally, for 20 minutes.
Gently stir in the tofu and cook for 10 minutes. Remove the bay leaves. Taste and season with more salt and black pepper if desired. Serve garnished with the cilantro.
Reprinted with permission from Afro-Vegan by Bryant Terry, copyright © 2014. Published by Ten Speed Press, a division of Penguin Random House, Inc.
---
Haile Thomas: Creating healthy alternatives for kids (like her)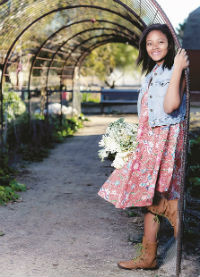 Photo by Rosalinda Rachel.
Haile Thomas is the founder and program director of the nonprofit Healthy Active Positive Purposeful Youth (HAPPY). She's written for Edible Baja Arizona magazine and Today.com. She attended the 2013 State of the Union address as a guest of Michelle Obama. She just turned 14.
Thomas has always loved cooking, but the importance of diet hit home in 2008, when her father was diagnosed with Type 2 diabetes. As her family began to re-examine their eating habits, Thomas started experimenting in the kitchen, creating healthier—but still "crazy delicious"—versions of her favorite foods. "That's kind of when I realized, whoa, this can actually taste good and be good for me, too." Thomas' passion for healthy cooking led to HAPPY, an organization dedicated to educating young people about nutrition and empowering them to take their health into their own hands.
"I think it's really important for kids to see that there's an alternative to the health standards that we have now," Thomas says. "Just being able to reach kids and adults and share my ideas with people is probably the thing that I'm most proud of and grateful for."


Lentil Love
2 bell peppers, red and green
12 ounces fresh asparagus, sliced
20 ounces sliced crimini mushrooms
2 lbs steamed lentils
1/2 bunch chopped cilantro
4 cloves fresh garlic (chopped or minced)
1 medium yellow onion (sliced)
1 cup quartered mini heirloom tomatoes
2 jalapeños (seeded and sliced)
1. Sauté mushrooms and garlic in olive oil, then add asparagus. Cook 2 minutes.
2. Add peppers, onions, jalapeño and season with salt & pepper and your favorite spice blend.
3. Add lentils, heat for about 1–2 minutes
4. Add tomatoes, heat through another minute or 2 then stir in chopped cilantro
Serve over brown rice & enjoy!
This recipe came from Haile Thomas' website. Click here for more information.
---
Kevin Archer: Raising awareness at the dinner table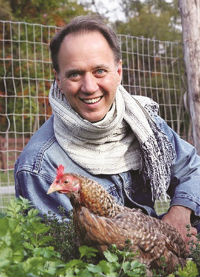 Photo by Jill Meyers.
Before Kevin Archer began his life as an issues-conscious New York chef, he spent 20 years building a successful IT career. But success stopped being enough. "I needed to get into something that was replenishing my own spirit," Archer says. "So I went to school, got myself some good, solid information to build on and set out to change the world one plate at a time."
Archer's cooking revolves around his increasingly popular Peace Meal Supper Club—"a fine dining experience with a discussion salon." Archer prepares a four-course meal in which each course relates to a theme: pollination, for example. "The first course focused on native squashes like butternut and pumpkin, and talked about the tie between the native plants of this region and native pollinators," Archer says. "The second course focused on plants that require pollination, not so much for fruit production but for seed production." His next theme: utopia.
Archer advocates veganism, sustainability, growing organic, and food workers' rights. "Making peace with all the living beings on the planet—taking meat off the plate, and other animal products—has the biggest impact of any other choice."


Kasha Pilaf
1 tablespoon olive oil
1/4 pound mushrooms, sliced
1 small onion, diced
2 celery ribs, diced
4 cloves garlic, minced
1 carrot, diced
1 cup buckwheat groats
1/4 cup white wine
1 1/3 cups vegetable stock, unsalted
1/2 teaspoon sea salt
2 tablespoons fresh tarragon, minced
2 tablespoons fresh parsley, minced
1. Warm the oil in a heavy-bottomed sauce pan. Add the mushrooms and sauté until they release their liquid, about 10 minutes.
2. Add onion, celery, garlic, and carrot. Sauté for 5 minutes.
3. Add buckwheat and mix well. Sauté for another 5 minutes to toast the buckwheat.
4. Deglaze the pan with the white wine.
5. Add stock and bring to a boil.
6. Cover and simmer for 10 to 15 minutes, until all the stock is absorbed.
7. Mix in the salt and remove from heat
Find out more about Kevin Archer at his website.
---
Miles Schneiderman

is a freelance writer, podcaster, fact-checker, and media producer. His work can be found on www.mjschneiderman.com
---