Landless Workers Fight for Fair Food
Photo by Leonardo Carrato for YES! Media
Landless Workers Fight for Fair Food
Brazil's MST has organized the largest social movement in Latin America.
Why you can trust us
---
On a hot summer day, I drive 65 miles from the city of Rio de Janeiro, one of the most famous tropical destinations in the world, to the countryside to visit a Landless Workers Movement settlement, also known as the Movimento dos Trabalhadores Rurais Sem Terra or MST.
The MST is the largest social movement in Latin America, with roughly 1.5 million members who use agrarian reform in Brazil to fight for rural workers' access to land. Pedro dos Santos, a member of the movement, sets his piercing blue eyes on me as he welcomes me to the Roseli Nunes settlement in Barra do Piraí.
Dos Santos is one of dozens of people who live on the land parcels, won through organized struggle, that comprise the Roseli Nunes. In 2006, Brazil's federal government granted 39 families the right to use and live on the land, which encompasses approximately 2,555 acres, after 40 years of activism. It's just one example of the MST's mission to challenge and dismantle the unequal land monopolies that emerged in Brazil as a result of 16th-century colonization and 19th-century industrialization. According to the 2017 agricultural census, roughly 1% of landowners in Brazil control nearly 50% of the land in rural areas.
"Brazil is the largest territory in the world in terms of arable land," explains historian and MST organizer Ademar Suptitz. "However, this arable land is owned by very few people." MST members squat on large pieces of privately owned vacant land to get the attention of the federal government, which then assesses the land and decides whether to buy and redistribute it to the movement. If the activists are successful, they then use the land to plant and harvest food that can be sold across Latin America.
Rural workers officially founded the movement in January 1984, just as Brazil's dictatorship was coming to a close, because they wanted to own their land rather than being exploited by the owners of land monopolies. Their demands were based on a watered-down piece of legislation passed in 1964, at the beginning of the country's military dictatorship, to appease the growing peasant movements fighting for agrarian reform. This legislation called on the federal government to better distribute land and to develop agriculture. While agriculture was indeed developed in Brazil over the next 20 years, the redistribution never came.
Thanks to the nascent Landless Workers Movement and the development of a new, democratic constitution, supporters of agrarian reform in Congress attempted to amend the law in 1988 to provide a clearer path for land redistribution. Interference from agribusiness ensured no such legal path was established, but some limited advances were approved: Articles 184 and 186 established the principle of "social function of [rural] properties" proposed by the original legislation. For land to be considered productive, the working conditions must comply with the provisions that regulate labor rights.
This is how dos Santos came to live in a small house on a 54-acre lot in the Roseli Nunes settlement, where he grows beans, corn, and manioc. Dos Santos, like some of the other families in the settlement, sells his produce in nearby cities and also harvests his crops for self-sustainment. "I first joined the movement because I had a dream to have my own piece of land, where I could see my plants grow, and eat the food I harvested," dos Santos says. "To have a piece of land, to me, means independence from the system because I own the means of production, and I don't have to work for anybody."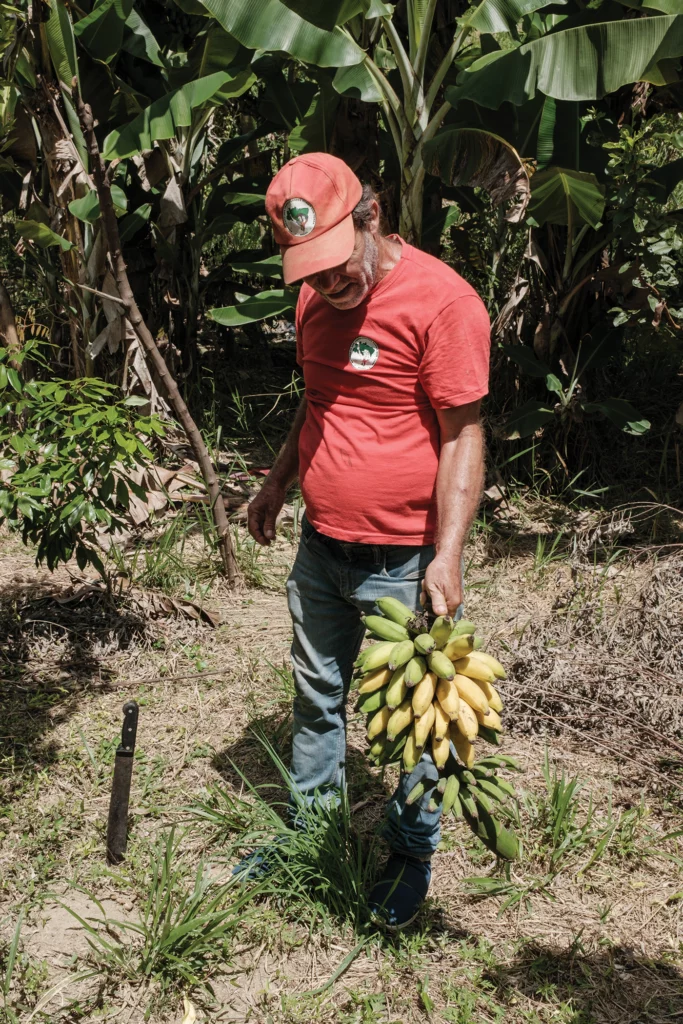 Nourishment Over Profit
According to a 2022 report from the Ministry of Agriculture, Livestock and Supply, there are currently 959,186 families living across 9,444 settlements focused on agrarian reform. Within those numbers, MST's website states 370,000 are MST-specific families who currently own the land they work (spread over a total of 29,000 square miles), while 150,000 more live in 900 active encampments, waiting for the government to process their paperwork to make the settlements official. Gathering and updating this data is still not streamlined, with government systems and turnaround times compounding the process, making it difficult to find accurate and up-to-date information. Between 2021 and 2022, these MST families produced 15,000 tons of organic rice. The movement has been Latin America's biggest organic rice producer for the past 10 years.
The families who reside in the settlement are dedicated to combating monoculture and preserving regrown native vegetation. "Monoculture is for profit," dos Santos says, mentioning Brazil's large soy crops that are mostly exported to the EU and China to be used as cattle feed. "We diversify our production for self-sustainment and as the basis for family agriculture," he says. After the MST began gaining land in the mid-1990s, its members immediately began producing food. "Now that we had land, we started planting so we could eat and show society that we weren't like the land monopoly owners who didn't use that land for anything," Suptitz says. Some of the families in the Roseli Nunes settlement came together to found the Alaíde Reis collective and purchase a small delivery truck to transport produce to the cities of Barra do Piraí, Volta Redonda, Resende, and Rio de Janeiro.
In her 22-acre lot, Amanda Aparecida Mateus grows bananas, manioc, okra, tangerines, oranges, limes, beans, and coffee beans—a far more diverse and ecologically sound harvest than that of the coffee plantations that used to rule the area. For Mateus, it's important to emphasize the movement's efforts to produce organic, pesticide-free food. "We have so many MST settlements that have advanced in their food production development and today focus on the production of healthy food through agro-ecological methodologies," Mateus says. "But above all, it's essential to highlight that our food production has the objective of ending hunger in Brazil. The agrarian reform, the democratization of access to land, is a project to combat hunger."
MST activists argue that land monopolies are the root cause of inequality in Brazil and that the resulting hunger crisis is a type of political violence. During the COVID-19 pandemic, food insecurity rates rose by more than 4% in Brazil, mostly due to poverty, unemployment, and right-wing president Jair Bolsonaro's mismanagement of the health crisis. In 2022, the movement released a statement reading, in part, "We know that hunger is a project of the current [extreme right] government and one of the most serious effects of political violence in Brazil, where half of the population doesn't have enough food to supply their homes." Since the pandemic began, the MST has partnered with other organizations to donate more than 7,000 tons of food to struggling families in Brazil.
The MST is also combating slave labor, which a recent investigation found is heavily practiced by local agribusinesses. MST settlements abide by an agrarian reform law, which defines using slave labor as grounds for declaring a piece of land unproductive, allowing the federal government to reappropriate it. In addition to using this legislation to call attention to slavery-like working conditions in land monopolies, the MST grants its members autonomy over their own land and production. By owning the means of production, these rural workers don't have to depend on exploitative land monopolies for employment.
Connecting ethical food production to the eradication of hunger has boosted the movement's visibility on social media over the past three years. For dos Santos, the movement's mission has always been bigger than land distribution. "People ask me, 'But why does the movement care about LGBTQ rights and women's rights?'" he says. "And I say, 'It's always been about more than the land; we are all involved in everything.'"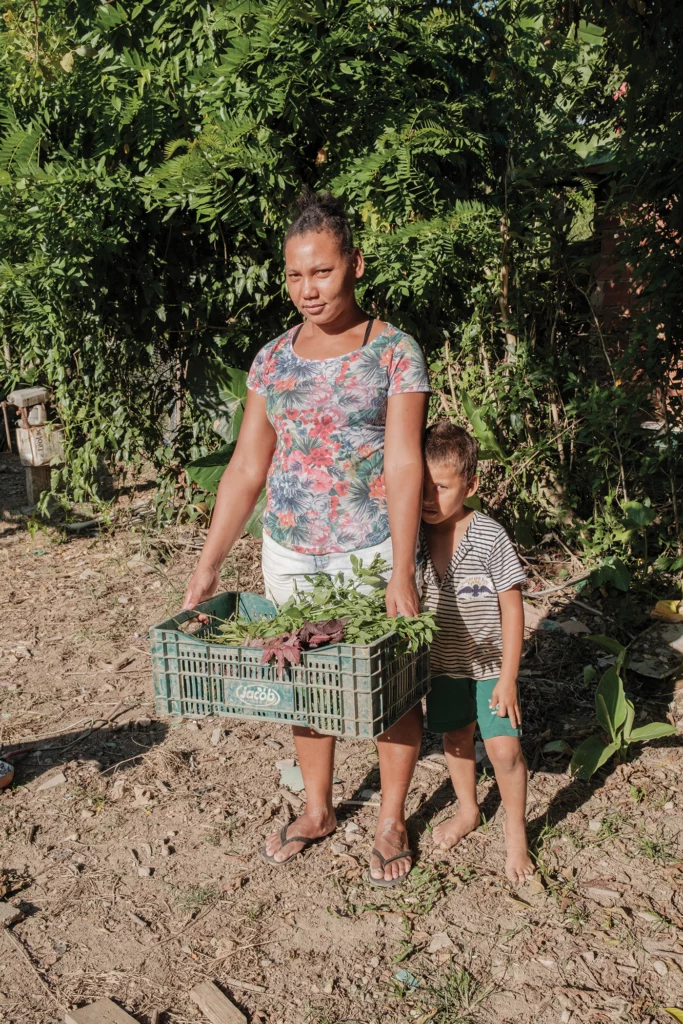 From the Country to the City
Back in Rio de Janeiro, in the bohemian neighborhood of Lapa, the two-story Armazém do Campo store sells and delivers seasonal produce that comes directly from the Roseli Nunes settlement. In 2016, MST opened the first Armazém do Campo store in São Paulo, with the intention of bringing its mission from the country to the city. In Lapa—known as the party center of Rio—people come to listen to live music, enjoy a cold drink, and dance the night away. Taking advantage of this rich cultural scene, Armazém do Campo hosts performances by local bands, film screenings, community meetings, lectures, and cultural celebrations, attracting nearby communities to join in and learn about the benefits of agrarian reform.
Every Saturday, this flagship MST store—one of 34 establishments across Brazil selling produce that comes directly from the movement—hosts Culinary from the Earth, an event with the Federal University of Rio de Janeiro's (UFRJ) gastronomy department. Using only available ingredients produced by MST families, UFRJ culinary students develop a three-course menu for the event; customers can purchase the produce and other agrarian reform products like beans, jams, and juices.
"People in the city have lost our connection with the origins of the food we eat," explains Ivan Bursztyn, project coordinator of Culinary from the Earth and a professor in UFRJ's gastronomy department. "When I buy food that is a direct result of agrarian reform, I am supporting a model of rural development that prioritizes people and prioritizes high-quality, healthy produce without pesticides."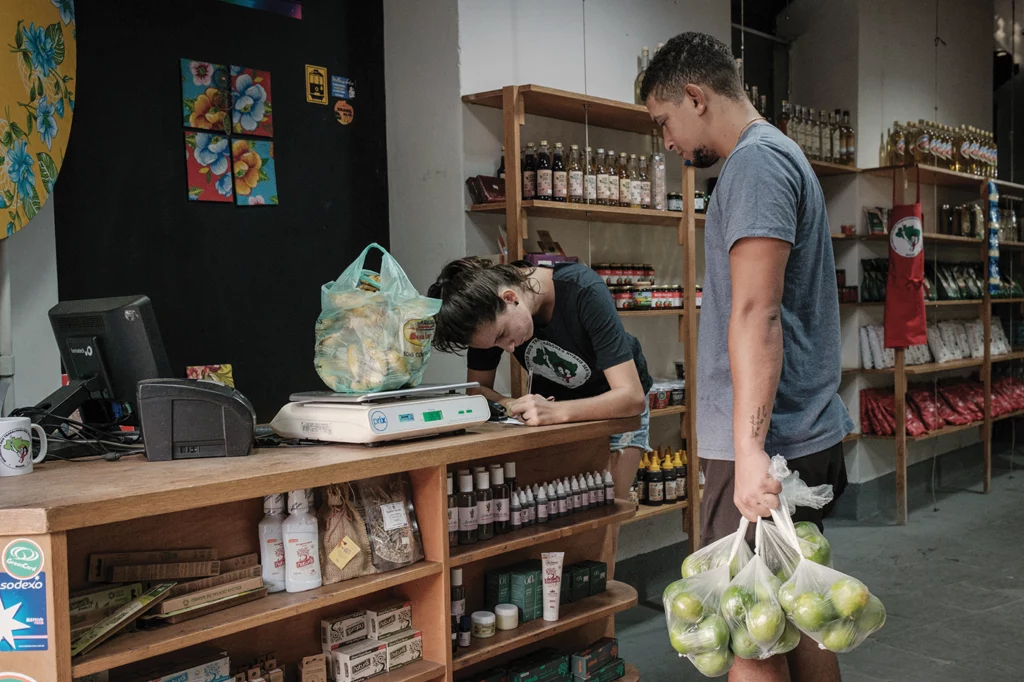 While the weather outside is hot and sticky, the vibe inside Armazém do Campo is lively and light. The staff is well informed about where all the food comes from, and they're happy to educate customers who have questions. Activist and university student Tifhanny Flor de Lua dos Santos has worked in the Armazém store for more than a year. She considers it to be more than just a job. "This is a space that has a social movement methodology," she says. "Beyond serving people, we also want to integrate with the local community, and we run events with that intention. And that also means that we join forces with the people from nearby settlements [outside of the city]. It feels good to be a part of something, of a movement that is so big."
Suptitz, who manages the São Paulo Armazém do Campo in addition to organizing, says the stores are a tool to connect the city to the movement's rural settlements, providing a line of communication between urban residents and rural workers. This connection is essential for coalition building and destigmatizing the movement, as well as providing urban residents with more knowledge about where their food comes from. "The movement always wanted the support of society, and now the way to do that is through the Armazém stores," Suptitz says. "This is the first time we've been able to connect to people in the city so strongly."
As I ate the first course of fried manioc on a hot Saturday in March, in a room decorated with portraits of Brazilian left-wing leaders and banners reading "STRUGGLE" and "JUSTICE," I vividly recalled shaking Pedro dos Santos' hand when we first met at the Roseli Nunes settlement. Dos Santos and other settlement residents are proud of the food they produce, the houses they build, and the lives they lead. Perhaps the hand I shook was the same hand that harvested the manioc I was eating 65 miles away. Those hands aren't exploited by a boss; instead, this manioc is a direct result of workers' struggle for a better world. Yet, the MST's unusual and liberatory relationship to work garners backlash.
For decades, movement members have been stereotyped as lazy or as land thieves, ideas that Flor de Lua dos Santos pushes back on. "We propose a solution to a previously slaveholding society where land wasn't properly distributed. We propose a profound change in the system." Last year, for the first time ever, the MST put forward 15 candidates for state and federal positions across the country. Six MST activists were elected, marking a new phase of the movement. In the state of Rio de Janeiro, Lúcia Marina dos Santos, more commonly known as Marina of MST, was elected as state representative.
She has already founded a committee to address hunger in her state. "Our movement wants to radicalize democracy by opening new paths for direct participation," Marina says. "We want to participate in the debates about economic and monetary policies, as well as governmental budgets." As for the movement as a whole, which now has a sympathetic left-wing Workers' Party government on its side, led by President Luiz Lula Inácio da Silva, Suptitz says squatting will return in full force. "We still aren't done redistributing the land of the 1%," he says. "So we will continue to fight for that redistribution."