Making It Home:
Solutions We Love
6 Ideas for Sensible Homes
6 Ideas for Sensible Homes
Small, supportive, affordable, recycled—and you can build your own.
Why you can trust us
---
Sensible Home #1: It's Small
Ella Jenkins is building the home of her dreams. It has pine floors and a yellow front door. And it's 130 square feet, mobile, and currently sitting in her parents' yard.
Jenkins, 23, is building her little house with the help of her stepdad after years living in college dorm rooms and couch surfing while she studied music in Scotland. She knew her degree in Scottish harp music and Gaelic singing would not be especially marketable, and she found Southern California rent to be "staggeringly high." "I could not support myself doing what I want to do when I need to pay rent," she says.
Family and friends weren't initially sure about her building her own house. Her parents were worried. Her sister thought she was nuts. "I've never built anything in my life," Jenkins says.
But her stepdad, Rick Lanes, has been helping out since she began construction in September, lending his tools and helping her frame her house while she lives with Lanes and her mother in Frazier Park, outside Bakersfield.
Though she's faced constant challenges in home construction, and "near-death" experiences with ladders, she hopes to be finished with her home this summer. And she hopes it will be an end to the constant moving that comes with young adulthood and earning money as a street musician. "Right now everything's totally up in the air," Jenkins said. "What I love about the tiny house is it doesn't change, it's your house."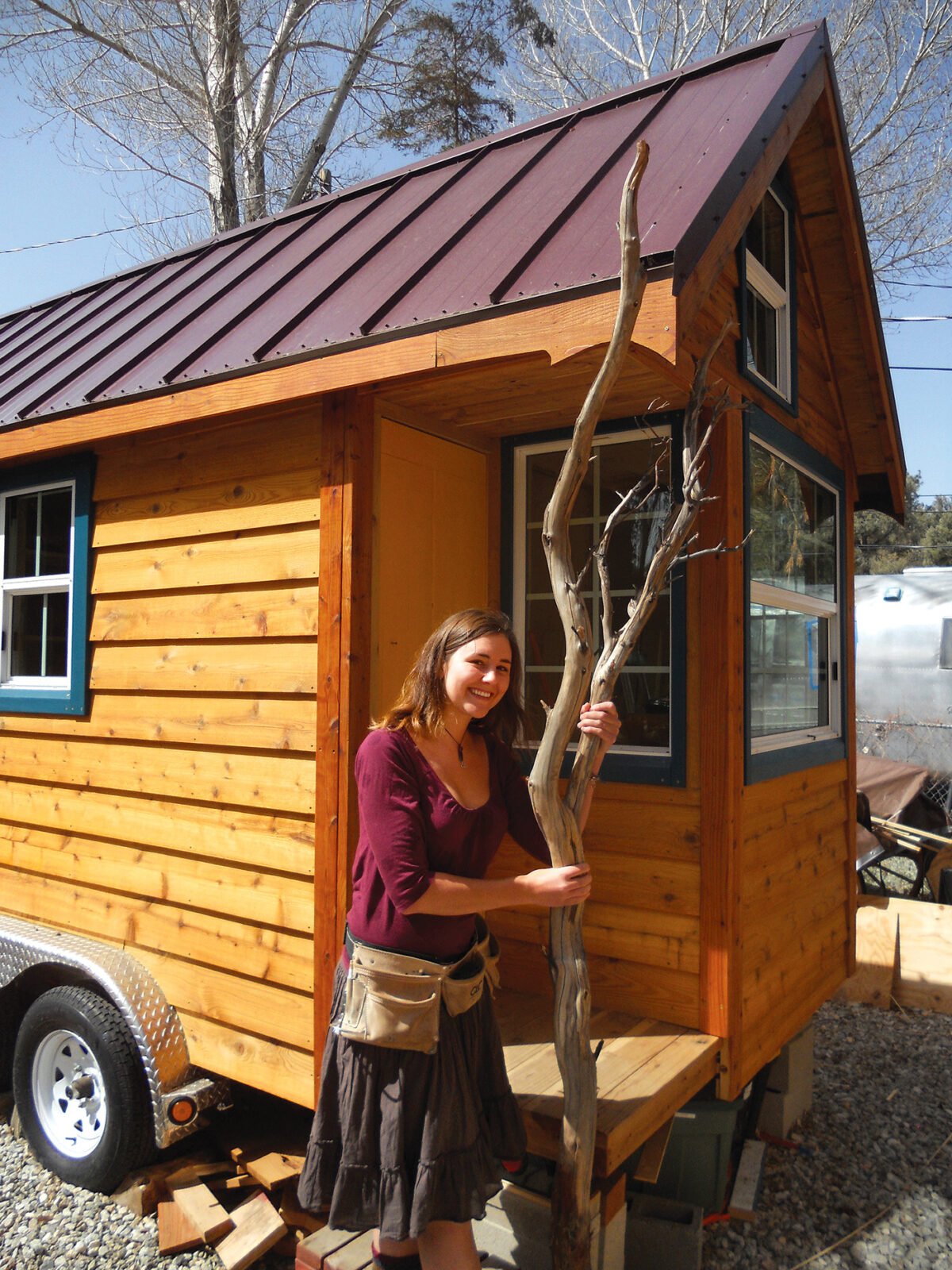 Along the way, she has found ways to cut costs. In addition to borrowing her stepdad's tools and experience as a carpenter, she has found fixtures inexpensively on the Internet, and her neighbor has helped with electricity and plumbing. Recently, she found a manzanita branch to use as her front porch post.
On top of gaining a home for herself, Jenkins developed a strengthened bond with her stepdad. "It's been such a fun year. I'm going to be really sad when I have to leave."
Though it may not be everyone's dream house, it's just what Jenkins wants."I just feel this wonderful feeling of peace," she says of her house. "I just walk in and feel it's huge."—Lynsi Burton
Sensible Home #2: It's Not Owned By a Bank
Six years ago, Ajaz Khan, an engineer in Santa Clara, Calif., was trying to figure out how to buy a home without violating the Islamic law prohibiting usury, which effectively rules out conventional mortgages. How do you buy a home without a mortgage, especially in pricey Silicon Valley?
He turned to Ameen Housing Co-op, the nation's first Islamic real estate investment trust. Ameen purchases primary residences with money from other homeowners and investors within the Muslim community. A typical homebuyer puts down 30 percent and then rents the home from the co-op based on local fair-market rents. Part of the rent goes to pay the investors and part goes to buy back shares of the house. All that mortgage interest that would have gone to a bank—one of the largest budget items for middle-class households—becomes, instead, modest quarterly dividends for investors, keeping the money within the community. After the final shares have been bought back from the co-op—this has taken as little as three years and as many as 11—the house is appraised, and the gain or loss in value is shared.
So far, 15 homes have become fully owned by members since Ameen began in 1996, and 25 more are in process. Ameen currently funds only four houses per year. Khan is now the volunteer president of Ameen and works with homeowners when they have financial difficulties. "The whole intent is to help provide homes. The goal is not about profit or loss," he said.
The idea of communities stepping in where mortgage banks have failed seems to be catching on. Khan has had recent inquiries from Muslim and non-Muslim groups about how to set up similar cooperatives. "Any group of people can do this, especially if they can put helping each other above profit."
Sensible Home #3: It's Built With Reused Materials
Dan Phillips is a rare hero of the built world. He combines artistry, eco-thinking, and social justice in his company Phoenix Commotion of Huntsville, Texas, which builds— crafts, actually—one-of-a-kind homes made 80 percent from construction site cast-offs and landfill-bound materials. He builds them specifically for low-income families and requires clients to help him build the house. His ultimate goal is to challenge the building industry. Freed from the "tyranny of the two-by-four and four-by-eight," he says, we can build a house out of anything. And he's proved it.
Sensible Home #4: It's Not Full of Stuff
Theologist Dave Bruno wrote the book on minimalist living. The 100 Thing Challenge: How I Got Rid of Almost Everything, Remade My Life, and Regained My Soul documents his family's rejection of consumerism and its quest to get unstuck from all the stuff they had accumulated by paring down to 100 things. "For years I lived with stuff instead of contentment." Through the book and his guynameddave.com blog, he is guiding thousands of people through "The 100 Thing Challenge," directing earnest discussions such as "does each fork count as one thing, or is silverware one thing?" He gets a lot of questions about what stuff to get rid of, so YES! Magazine asked him what he decided to keep among his 100 Things. His answer: Books. "Our lives are such wonderful stories. There is nothing like a physical book at home." Also, comfortable furniture, for family and friends to tuck into for a long conversation. He knows some minimalists who have only a couple of chairs and a bed. "If we're going to invite people into our lives and tell them that they are more important than stuff, we should be able to offer them a place to comfortably hear about it."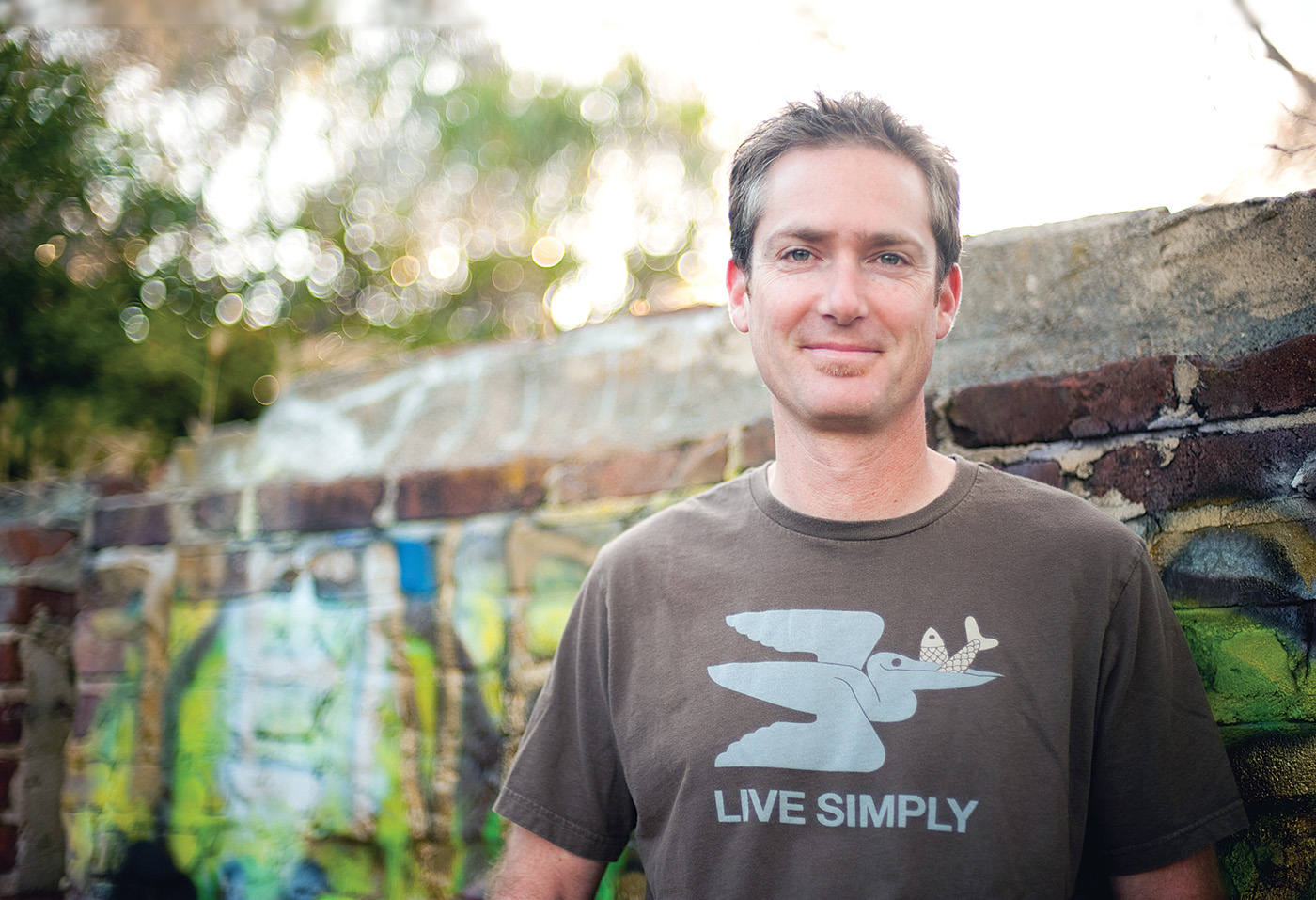 Sensible Home #5: It's a Hub
In Seattle's Belltown neighborhood, busy markets and concert halls are just minutes away by foot. Ferries, light rail, and buses are, too. It's not surprising that housing in Belltown generally comes with a big price tag, but the Apex Belltown Co-op offers affordable, communal home ownership. Apex emerged from the efforts of a group of artists looking to create low-cost housing. With loans from the city of Seattle and the National Consumer Cooperative Bank, they purchased and converted the 1909 Apex Hotel into a cooperative home with 21 living units and shared bathrooms and kitchens. Current members range in age from 19 to 50, and they share all aspects of building ownership. After a refundable "buy-in" share price of $2,472, members pay a rent-like sum between $259 and $583 per month. The fee goes toward whatever members agree upon as a group, from utilities to a party and event budget to toilet paper. Members share lives, too. "Outside the day-to-day organizational things like meetings that bring people together, we have potlucks, play games and do crafts together, or go to a neighborhood bar," says Aaron Long, a current member. "You see your neighbors all the time." — Shannan Stoll
Sensible Home #6: It's Supportive
Confronted with post-divorce anxieties about living alone, Carmel Sullivan started connecting with other single moms. In addition to a shared sense of loneliness, Sullivan learned of the harsh living arrangements many single mothers were in. She felt there should be a reliable resource to help single mothers connect with one another for shared living. Enter CoAbode.org, whose mission is to provide support and services that connect women raising children alone. Through partnerships with organizations around the country, CoAbode connects single mothers with affordable housing, support groups, educational scholarships, and community outreach. The online membership application is free. Once a good housing match has been made, mothers either move into a new living space or into one of their existing homes. They pool finances and resources to improve living conditions for themselves and their children; they share meals, household chores, and parenting responsibilities. According to Sullivan, "The difference between what we are helping to facilitate and just 'renting a room' is that our clients really do end up sharing lives. They are not just roommates—they become blended families."