How I Learned to Love My Hometown
How I Learned to Love My Hometown
A sense of history and community tugged at the heart of Mindy Fullilove and pulled her back to the Jersey home she'd forsaken.
Why you can trust us
---
Molly: I didn't think we had a hometown
I shut off the lights and closed the wide barn doors.
"Once upon a midnight dreary," Jenn said softly, "while I pondered weak and weary…"
Guests, ranging in age from 8 months to 89 years, sat in rows on old couches and folding chairs. They leaned in close to hear my best friend recite "The Raven" by Edgar Allen Poe. She'd memorized all 18 stanzas for her performance in "The Molly Rose Show," an annual talent show and birthday party that I hosted in the barn behind my mother and stepfather's house in Englewood, N.J. Over the years, acts have included readings from a childhood diary, hip-hop dancing, and a ventriloquist act with a baby dressed as the dummy. 
"The Molly Rose Show" came to an abrupt end when my mom and stepdad's divorce forced them to sell the house in 2009. I tried to keep the tradition going, but I gave up when I couldn't find a venue with the magic of the barn.
My mom, Mindy, didn't want to stay in Englewood after the move. We had loved our house there, a six-bedroom Victorian set back from the street with a wide front porch. But Englewood was not our hometown; I did not think we had one. 
Mindy grew up in Orange, N.J., a place my grandfather once called, "a dirty little Jim Crow town going nowhere." She fled when she was 16. Her father, Ernie Thompson, grew up on a farm on the Eastern Shore of Maryland, a place he left at age 13 for Jersey City, where he worked in factories and became the first black field organizer hired by the United Electrical Radio and Machine Workers Union. His negotiating skill earned him the name "Big Train" because he could deliver the goods. He traveled the country spreading the message that blacks and whites, men and women, should fight together for fair treatment.
When I could go into the kitchen and make tea, I felt a sense of life and security I thought I'd never have again.

My grandmother, Maggie, fell in love with Ernie when they met at a union hall where she was a secretary. She was a white woman from Chippewa Lake, Ohio, who'd been radicalized by early encounters with racism. As a young woman she committed her life to fighting for justice. Maggie admired Ernie's dedication. She told me proudly that he lived on peanuts and milk for nine months during a strike one winter.
While Ernie was traveling, Maggie bought a home that faced a pond in Orange, a town on the outskirts of Newark, N.J. It was modest, but the view was wonderful, and it suited her budget. Soon after, the progressive unions came under attack during McCarthyism. Ernie found himself in Orange unemployed and depressed.
Maggie found the cure: An organizer should be organizing. Maggie learned that the schools in Orange were segregated. As a result their daughter Mindy (who became my mother) was sent to a school that was farther from home and inferior to the nearby white school. Maggie obtained a copy of the map that revealed the gerrymander and showed it to Ernie. He started a campaign and desegregated the schools within three months.
Mindy: Growing Up in Orange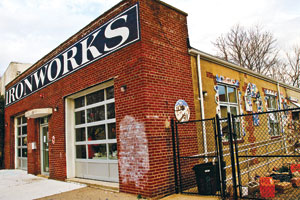 My parents' friends were always coming by our house for meetings, and I grew up surrounded by their affection. I loved the leaflets they made, the rallies they held, the ideals they believed in. I was proud of my mom and dad for all they did.
But I was not convinced that I, personally, needed to sacrifice for the movement. When my parents told me that they had succeeded in desegregating the schools and, therefore, I would leave my lovely Oakwood Avenue School and go some place else, I staged a 7-year-old's version of a three-month "anti-integration" sit-in. It was to no avail. They were adamant that I go to the new school and that I stay in the public schools through high school.
Two of my dad's friends, Dr. John Alexander and Ben Jones, became a buffer through the years I was bullied for being a nerdy, biracial kid in a racially divided, working-class town. Dr. Alexander took me on rounds with him so that I could imagine what my life as a doctor would be like. Ben Jones taught me to drive my brand-new Beetle getaway car.
That car was really special to me. My dad always drove worn-out cars. Then, one afternoon, I came home with no rear fender, and Ben saved me with a joke. When I got out of my battered car, he observed, "The apple doesn't fall far from the tree!" Instead of killing me, my dad roared with laughter, while I laughed weakly through my tears.
My dear Ben was nearly 90 in February 2007 when I went to Orange to hear him speak at a Black History Month celebration at the Unitarian Universalist Church where I'd worshipped as a child. After the service, we realized that it had been 50 years since my dad's campaign to desegregate the schools. We decided to have a celebration, and I started to go to Orange for planning meetings.
My work in medicine focuses on cities as a source of health or disease, so I spend a lot of time looking at cities. I began to explore Orange. Of course, I went to see my old house and the pond, my old schools, and the beautiful library, my favorite childhood haunt. I was reminded of my struggle to carry home six hard-cover volumes of The Adventures of Dr. Doolittle. Many of the American cities I visit have been destroyed by time: I was grateful to find so many precious places were still serving the city. Still, I wondered what made Orange different.
One day Pat Morrissy, a native Detroiter, told me he'd been drawn to Orange by a group of activists my father had mentored. Pat had gone on to found a community development corporation, HANDS, that preserved the housing stock in Orange and mobilized the residents to advocate for neighborhood stability.
That, I concluded, was the answer: 50 years of continuous organizing for a better city. The consistency was striking: In 1958, my dad developed a program called A New Day for Orange, and its goals were to protect housing, make the city beautiful, have representative government, ensure an adequate water supply, and create equal access to education and jobs. In the work of HANDS, my dad's New Day Program was alive and well.
On the day of the 50th anniversary party, May 6, 2007, Pat took us on a bus tour to see the work he'd been doing. We stopped on Elm Street. A Japanese maple had just opened its burgundy leaves, which contrasted with the tan house and blue sky in a way that made my heart ache. He told a story of saving the house across the street from the drug dealers who were destroying the neighborhood. "You save one house like that and you unlock the whole block," he said.
In that minute, on that block, in the bright sunlight, I fell in love with my hometown.
The tour continued to the old industrial section called the Valley, a part of the city I'd rarely visited as a child. I looked around at the abandoned, depleted factories that HANDS was renovating and thought, "I want to live here. I want to be part of this work of saving Orange and making it a city for the next century."
 "Why are y'all so into Orange?" my husband, Bob, asked. "Let's go to Paris." 
This divergence in direction was irreconcilable. In 2009 my marriage of 25 years ended. I was bereft. When we had sold the house in Englewood, my mom, Maggie, asked me, "Where do you want to live?"
I was (and still am) raising my granddaughter, Lily, and so I said, "Wherever Lily wants to go to high school."
Mom pressed the question, "Yeah, but where do you want to live?"
I squirmed for a while. "I want to go home—I want to live in the Valley."
My mother said, "Well, let's go!"
A few days later, the realtor called about a house he thought would be just the right fit in the West Orange section of the Valley. He cautioned me, though, that the house had been through foreclosure and there had been a lot of construction.
Indeed, the house had been pulled apart and the kitchen torn out, but sun flooded through its mass of windows on the day we visited. Lily and I moved in October 1, 2010, about halfway through the renovations. At night we ordered pizza and played the Wii game Rock Band. I loved waiting on the stairs for our contractor Mark Miller's 7 a.m. arrival.
"How are you today, Miss Mindy?" he'd ask in his thick Jamaican accent, smiling through his white beard.
"I am glad to see you, Mr. Mark," I'd reply.
As the walls were repaired, the furnace installed, the bathrooms made to work, and the deck built, my breathing eased. When I could go into the kitchen and make tea, I felt a sense of life and security I thought I'd never have again. 
Molly: Taking Up Grandfather's Vocation
My mother, Mindy, had no intention of raising me in the town she'd worked hard to escape. She brought me up in Berkeley, Calif., shuttling me back and forth to my father in New Jersey. When she moved back East, my mom sent me to an artsy private school in Brooklyn Heights, N.Y. I visited Orange before Maggie sold the house by the pond, but never imagined it was where I would land one day.
Of all the places I'd lived, our six-bedroom Victorian in Englewood felt the most like home. The house was always full of family and friends. As my mom was moving out, she asked me to rent a storage unit for all the things I'd always left with her—the letters, yearbooks, and vintage dresses that couldn't fit in any of my small apartments. Although I hadn't lived in that house for some years, I knew I could go back whenever I needed to watch cable, take a bath, or just feel space around me. At the storage company, I sat across from the man at the desk and burst into tears.
I was finishing my master's degree in journalism at Columbia University when I attended the 50th anniversary party in Orange with Mom. We didn't talk about it at the time, but that day in 2007, we were both called home.
In remarks at the event, Pat said, "One day soon, people everywhere will be talking about Orange as the urban village of the 21st century."
Later, during the reception, he asked me what I planned to do when I finished school.
"Odd question," I thought, "I will be working for you."
A year and a half later, Pat offered me a position as a full-time community organizer at HANDS. One afternoon, after running the streets with a group of teenagers collecting stories for an oral history project, I said to Pat "There are so many people in Orange in the businesses their grandparents started. Ida Woody at the funeral home, Lou Rossi at the paint store…"
"You," he added.
I have been with HANDS for three years now. Slowly, Orange has revealed itself to me. I love the kids on skateboards who wave to me as they glide past, the cappuccinos at Caffe Roma on Lincoln Avenue where men play cards and shoot pool speaking only in Italian or Spanish, and the stately buildings and wide sidewalks on Main Street. 
But my favorite place of all is Ironworks, once a skilled ironworker's shop. More recently, the red brick building served as a storage space and then was abandoned.
HANDS bought the building and worked with a group of teens to transform it into a center for young artists. We couldn't move our computers in right away-—with no access to Facebook or YouTube, the teens played Michael Jackson's "Thriller" on the record player, painted a mural on the walls, and silkscreened shirts saying, "ORANGE. You Glad?"
Three years later, while creating the schedule for the Ironworks Community Gallery, two local artists/skateboarders, Anj and Stephen, planned an art show, and Mike, the program director, explained an art and music event he would host. Patricia, a fashionista from the Bronx working with us as a VISTA volunteer, asked me, "So what are we doing for your birthday?"
"I was thinking of bringing The Molly Rose Show back. We could have it here." Anj signed on to play her ukulele, Mike to MC.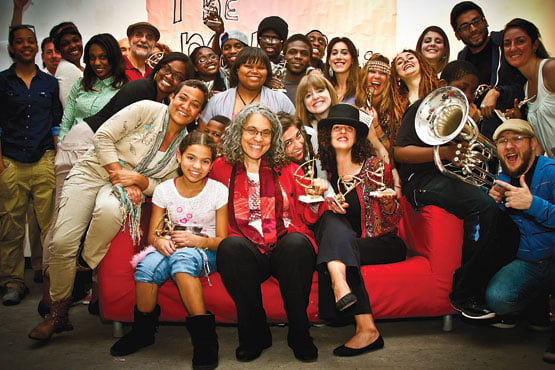 Mindy: Bread, Magic, and Home
Last summer Pat said, "Let's build an Earth Oven," and Molly put out a call. Forty-three people showed up at Ironworks to build a wood-fired oven from mud, sand, and straw. People of all ages with all kinds of relationships to the city worked steadily over weeks until the oven was ready to fire. It was a great day when we gathered at the oven to eat the first bread.
Breaking bread together made tangible the new relationships that were blossoming in the neighborhood. Molly's organizing is directed at linking the people who have been in the Valley for a long time with the people, like me, who are moving in. Making these connections is slow, hard work. She calls me when she feels like she is against a wall. It reminds me of my dad, who was always struggling to create coalitions and help everyone see where their interests intertwined.
He died long before Molly was born, but we've always talked about him, and, as a third-grader, Molly won a prize for a book report on his book, Homeboy Came to Orange: A Story of People's Power. 
I tell Molly that, in frustrating times, he found it soothing to walk across the street to Orange Park and watch the water flow in the pond. Or he would go take in the baseball game at the Harmony Bar, comforted by the banter among the patrons. He would use those serene settings to refocus and think about his programmatic goals. Where was he leading the movement? How might the problem be resolved to advance the cause? He worked on these knotty questions all the time.
I share these reflections with Molly. "I am sure he is very proud that you've taken up his work and that you're doing it programmatically! You're always reminding us to state what we're for. When the work is difficult, if we remember what we're for, we will find the next right action."
One day Molly texted me, "March 24 OK for Molly Rose Show at Ironworks?" 
"YES YES YES!" I texted back.
"I'm going to do a magic act," she texted, "except I don't know how to do magic."
"When did we ever let that stop us?"
Over the next weeks, Molly gathered her team and they drilled and drilled and drilled.
When the crowd of family, friends, and new neighbors had gathered, the music started to jingle, Molly and the "Flying Kazinsky Brothers No Shamdrudgery Magical Revue Since 1925" transformed the old ironworker's shop into The Big Top.
I couldn't stop laughing.
Some people run away to join the circus.
I joined by going home.