How I Found Bliss in a Creaky Old Rental
How I Found Bliss in a Creaky Old Rental
Corbyn Hightower and her family moved from affluence to poverty—and into a "funky, junky" house that's been the happiest move of their lives.
Why you can trust us
---
We live in a big, somewhat dilapidated rental house that I've come to think of as our creaking ship in these recession-rocked seas.
We've painted every room a different color, and the spiral staircase is wrapped with fairy lights. No longer do we live in the fancy new house with professional landscaping, but in this place the children can wrestle and climb, erect forts, and raise up baby chicks under a warming light. This is a house in which you can ride tricycles.
We've been living here for three years now. Before 2008, we lived in a pristine two-story house in a tidy exurban neighborhood outside Austin, Texas. We had a balcony overlooking the homeowner association-approved lawn. We did not know our neighbors, though we tried to spot them through the window when we saw a pizza delivery car approach their house.
We were top earners then. I worked in outside sales, earning five-figure commissions until the stock market and banking crisis hit and all of my retailers ceased ordering. Our income streams fell by about 90 percent, and we tumbled from affluence to poverty. We quickly felt like imposters in that brand-new house with its wall-to-wall carpeting, recessed lighting, and built-in art niches. It wouldn't be long, we knew, before we were officially outed as having Blown it Big Time.
When I was finally offered a job that would take us out of state, we liquidated everything we could in the world's most desperate garage sale, rented the largest U-Haul we could afford, and headed west like the Joads.
There is something about driving cross-country that makes transitions easier. You can see the land swell and flatten, sense the terrain and climate shift from curving mountainous roads to vast swathes of desert. We stopped for several overnights, sticking to hotels with free breakfast bars that could stuff our bellies full enough to take us to late afternoon.
When we arrived in the house we had rented sight unseen, what was immediately surprising and thrilling was how urban it felt. Well, as urban as a sleepy suburb of 120,000 souls outside of Sacramento, Calif., can feel.
Our house had a lovely rock facade, a deep and cozy front porch, and an apple tree whose branches were in full flower with the petals carpeting the small yard and walkway.
But my positive reaction was short-lived. When we stepped inside, our economic downturn took a shift to the visceral. The walls were cheaply paneled, the aged carpeting was a matted and mottled light brown, the appliances were vintage 1980s, and the windows had rotten and water-logged sills. Many doors had no doorknobs. It was vast—2,600 square feet—but oddly underpriced, which was why we had picked it as a safe harbor for our newly struggling family of five.
Painting all the rooms different artful, funky colors went a long way toward reducing the sad shabbiness.
We sat on the decrepit spiral staircase and snapped a family portrait. Our faces in this photo are tired and apprehensive, the kids in a weary cluster at our knees.
Your home is wherever your bed is, and that very first night, we all tucked into clean linens in our strange, new, small, and oddly-shaped rooms.
In the light of day, we saw still more signs of the funky junky-ness of our new dwelling. Where once a balcony had been, there was plywood attached with foam goo forming a new "wall." The backyard was shabby, with one side of the privacy fence leaning at a near 45-degree pitch. Some rooms had such small doors that no furniture could fit in. Heat came from a single creaky wall heater, and there was no air conditioning whatsoever.
But with some days of exploration, we discovered the joyous secrets of our new home and neighborhood. There is the hot pink fire hydrant at the base of the hill covered in daisies and ivy. The trailhead that you can see from our backyard leads to patches of blackberry bramble, glens of lichen-covered oaks, and pebbly creeks where the kids can wade in the clear, bubbling water.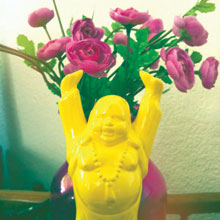 Just over an arched and ancient footbridge, there is a playground that is canopied by old-growth trees. There's a tennis court in this wooded park, and casual players shout smack at each other on the cracked asphalt ground while the balls go thock! thock! Big families have birthday parties on long rows of aluminum picnic tables; there is always a piñata, and a radio plugged into the street light pole.
Railroad tracks are a few hundred yards away from our small one-way street, and the corner strip of businesses includes a mortuary, pawn shop, donut shop, and a narrow convenience store with two small aisles stacked high with Mexican pastries and cheap wine.
We've been surviving through a combination of savings from days long past, odd jobs, and a low-paying job my husband was lucky enough to get. We qualify for food-stamps, which, along with eggs from our chickens, fruit from our trees, and vegetables from the garden, means full bellies for everyone. I had a cancer scare that further depleted our cash reserves, but we are still happier than we have ever been.
Over the few years we've lived here, we have slowly made this house safer and more livable. Painting all the rooms different artful, funky colors went a long way toward reducing the sad shabbiness, and we covered much of the depressing carpeting with giant, cheerful throw-rugs. With some on-the-fly DIY, we've eliminated dangerous stairways and splintered door frames. The leaning fence in the backyard has a buttress of reclaimed two-by-fours.
Next door is a childless couple who never show up at our house without four cold bottles of beer in hand. The day we moved in, the wife shouted, "Hey! Do you need help?" And before we could answer, she had pushed up the sleeves of her corporate casual and proceeded to give us two or three hours of grueling labor. And we didn't even get her name 'til halfway through; she was too busy hauling. Now, they give me monthly rides to Costco, and we repay them with mismatched dozens of eggs in a bright pink crate, when the hens are productive.
When our Internet was shut off, we had more than one offer to hitch a ride on a neighbor's WiFi. I sat on someone's porch with my archaic laptop, paying bills and responding to emails. We share lawn tools and garden harvests, and if a neighbor sees a rogue chicken, they will run and catch it and bring it home to us.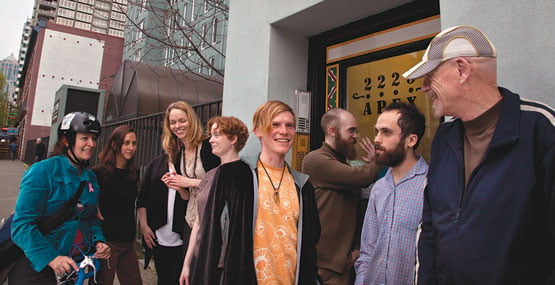 Life Is Easier With Friends Next Door
Feeling a need for community? Cohousing can provide affordable space and neighbors to share it with.
The other night, after the babies went to sleep and I was alone, curled on the couch reading, I heard shouts and happy laughter out front. Then I heard apples falling—lots of them, all at once. I remembered a neighbor whose wife works at a garden supply store had told me he was going to cull the early apples to support the future harvest. I looked out between the blinds and saw him in a crook of the trunk, shaking the branches with all his might, while the tattoo-artist guy shoveled loads of tart, tiny green apples into the compost bin. The wives were there, too, helping, shouting encouragement, gathering the bigger apples that might be good to eat. All of this in the dark of a late summer evening, under a clear night sky with a cool delta breeze blowing just enough to break the heat of the long June day.
I was so afraid to lose what I had when we were making good money and "living well." I'd felt the panic of what if: "What if I lose my job and can't make the car payment? What if we have to move from this safe neighborhood? The kids will miss the pool! The school is so good …"
Now, I feel peace and joy while we ride the rocky waves. The crests are so much higher than I thought they'd be, and the troughs are filled with other people, treading water and holding out a hand. And this house is a ship with patchwork quilts for sails.