Photo by Antonio de Jesús Álvarez Ojeda for YES! Media
Desaparecidos
Demanding answers for Mexico's disappeared.
Why you can trust us
---
Two months after her husband disappeared in northern Mexico in 2010, one of Elva Rivas' three children reminded her that they needed supplies for the upcoming school year. Rivas replied that she had no money.
A few hours later, her 9-year-old son, Roberto Sebastián, returned with 210 pesos. At first, Rivas was concerned he'd stolen the money. But Sebastián explained that he had taken the shoeshine box his grandfather had given him, and gone door to door among his neighbors in Juárez, Nuevo León, offering to shine their shoes for 10 pesos a pair.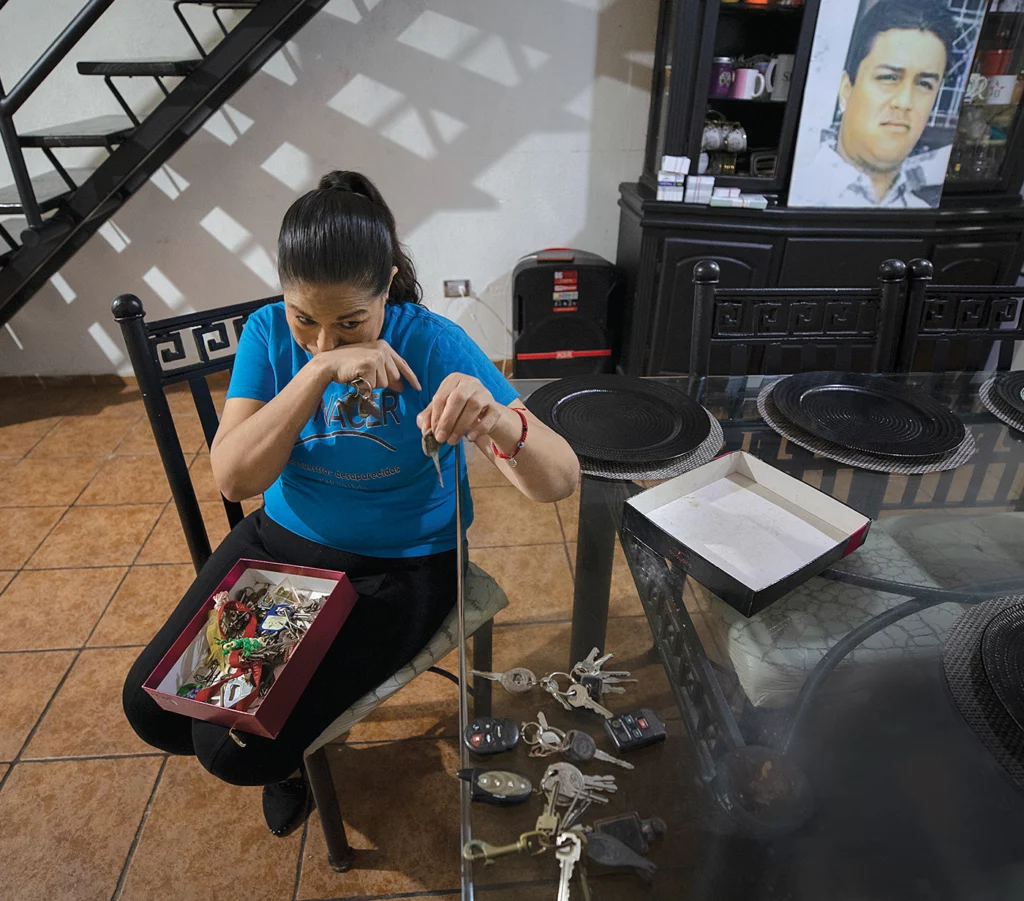 "Several neighbors came and told me: 'Hey, Sebastián shines the shoes very well,'" Rivas says in Spanish, before bursting into tears. "Then, it hit me like a bucket of cold water. I said, 'What am I doing? If my son can [find a way to support the family], I can too.'"
Rivas' husband, Roberto Maciel Ramírez, disappeared without a trace on May 23, 2010, in the municipality of Santiago, near Monterrey. All Rivas knew was that a group of armed men, dressed as soldiers, had broken into a country house where Maciel's mother was celebrating her birthday, taking Maciel and three of his friends. Rivas—who had planned to arrive later at the celebration with her children—was transfixed. Maciel's family told her to wait for a ransom to be requested. But five days later, Rivas found out that her father-in-law had paid a ransom, yet Maciel had not returned. So she decided to conduct her own search.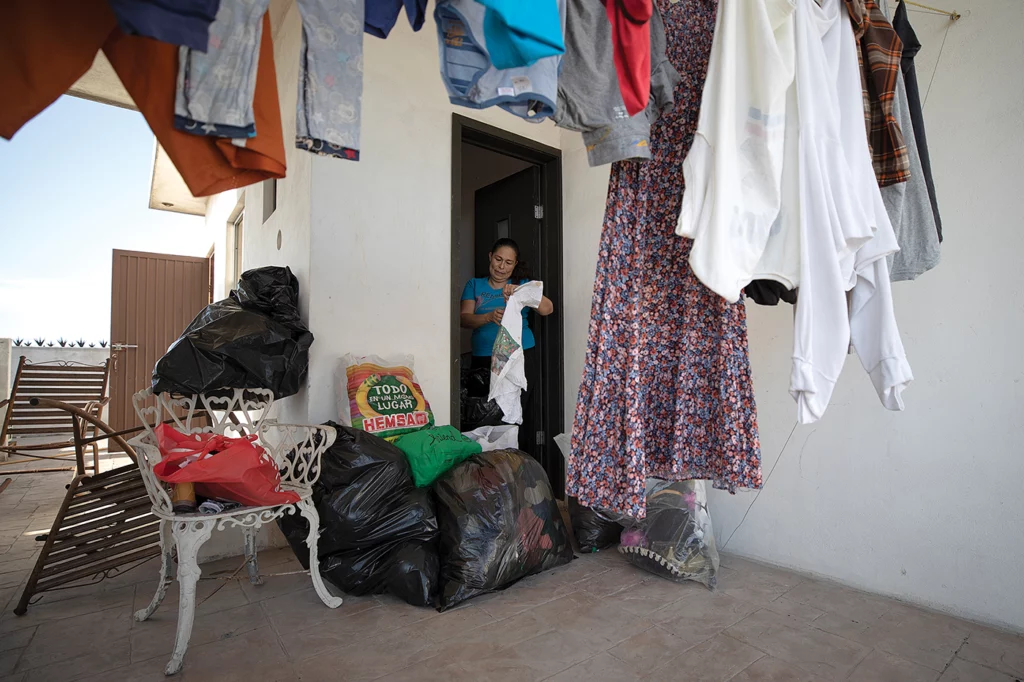 Her initial investigation led her to a local cartel leader and a municipal police commander, but both denied any involvement in the abduction. In the following weeks, her husband's family became increasingly distant. Rivas was devastated. "Unfortunately, I didn't understand the situation at the time," Rivas says. "Having been left with three children, without a job and with nothing, I didn't know what to do."
After seeing her son shine shoes to pay for school supplies, Rivas focused on getting money to feed her children. She told them she didn't know whether their father would ever return and that they had to do what they could to get by. She sold televisions, video games, and household appliances. Everyone moved into the same room to save on energy costs. On weekends, she sold secondhand clothing in the markets, with her children in tow. For years, she did this with no support from the government or family. Rivas says her sister refused to speak to her for fear of having her own family members disappeared.
Rivas experienced firsthand the stigmatization and blame that are commonly placed on not only the disappeared person, but also on their family members. In 2010, there was little public discussion about disappearances, and even less information available about what to do if someone disappeared. It wasn't until 2017, when her in-laws became ill and again asked for her help finding their son, that Rivas began a more active search for her missing husband. She joined a collective of families to learn more about how to pressure authorities to investigate, and to understand the rights of her children as victims.
Strength in Numbers
After the disappearance of a loved one, many families in Mexico launch their own search efforts in the face of authorities' inaction and investigative delays. They seek out information, gather evidence, talk to potential witnesses, and conduct physical searches, including of clandestine burial sites. But once it begins, the search can last for years—and does not guarantee answers.
Cases like Rivas' are considered larga data (long-standing), and are complicated by the fact that local authorities frequently fail to conduct an appropriate or thorough investigation at the time of the disappearance. Although the work of families and human rights organizations over the past decade has increased awareness and visibility of mass disappearances in Mexico, families have repeatedly denounced the slow response from law enforcement and government agencies, the overburdening of understaffed investigation units, and the inadequate federal and state budgets to support searches for the disappeared. In the state of Nuevo León alone, 6,139 people have disappeared between December 2006 and March 2023. Across Mexico, nearly 112,000 people are officially listed as disappeared, according to the National Search Commission.
In its 2022 report, the United Nations Committee on Enforced Disappearances (CED) recommended the Mexican government adopt measures to "facilitate search, investigation, reparation and memory efforts related to long-standing case[s]." The CED noted that Mexico had established the Commission for Access to the Truth, Historical Clarification, and the Promotion of Justice for Serious Human Rights Violations between 1965 and 1990. But the report also noted that it was "regrettable that no other mechanisms exist for long-standing cases that occurred after 1990."
As such, the investigation of disappearances has largely been shouldered by families, particularly mothers and wives, who face stigmatization, violence, and persecution as they grapple with the emotional and economic repercussions of disappearances. Relatives of the disappeared have created more than 130 collectives to support each other in this search, but internal conflicts can prove challenging. Such is the case with Rivas, who after five years in a collective became dissatisfied with its management, prompting her and other women she met to create their own association in October 2022.
"What I want is to have news of my husband and know the truth; if he is alive, if he is dead, [to] know what happened," says Rivas. "That is what I want and there [at the collective] I was not going to get anything. So I left." Rivas was hesitant to form an association as it would need to be legally registered in order to receive funds, but she believes doing so is one of the only ways to exert pressure on the government. Families of the missing have found strength in numbers; collectives have lobbied authorities and government agencies to expedite investigations, spearheaded efforts to locate and exhume mass graves, and continued to raise awareness about the magnitude of disappearances.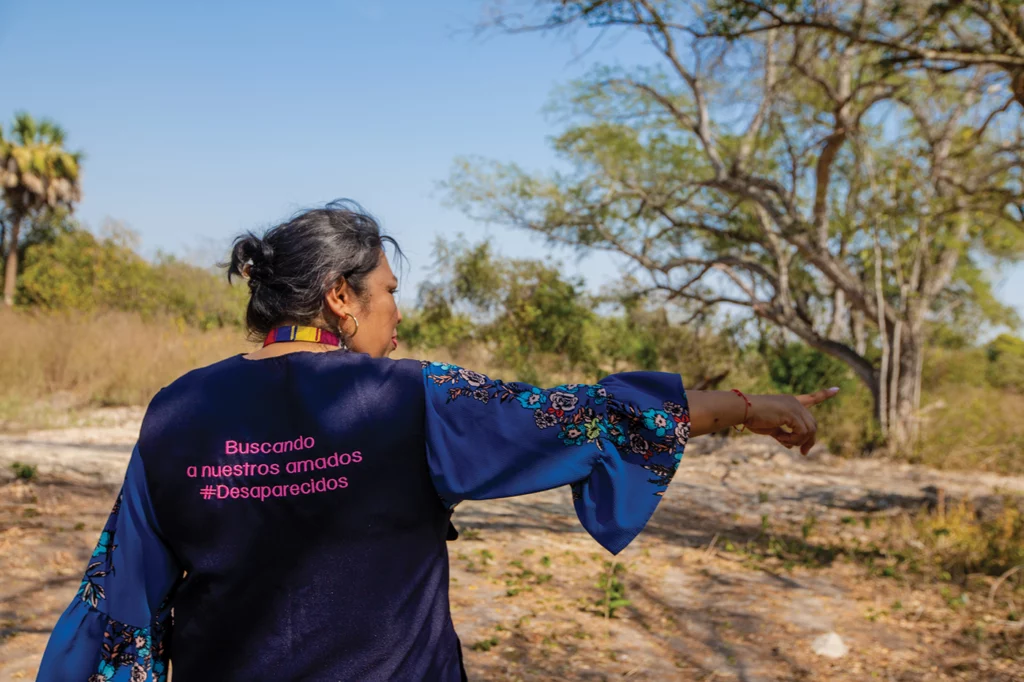 Graciela Pérez has personal experience with that magnitude. Five of her family members disappeared one night in August 2012. Pérez's 13-year-old daughter, Milynali Piña Pérez; her brother Ignacio Pérez; and her three nephews—Alexis Domínguez (age 16), José Arturo Domínguez, and Aldo de Jesús Pérez (both age 20)—didn't return home to Tamuín, San Luis Potosí, after a short trip to the United States. The last time they called Pérez, they were two hours away, near Ciudad Mante, Tamaulipas.
At first, Pérez and her family had hope in the authorities. But after filing a missing-persons report with state police, Pérez's family received a call demanding a ransom. When her sister Edith Pérez asked for proof of life, the callers gave details that didn't match their family members', and the sisters realized it was an extortion attempt. On the ninth day, desperate for news from the authorities, Pérez begged her family to let her go out and search. Despite concerns about the danger of Pérez traveling alone to Tamaulipas, her family eventually agreed, recognizing that Pérez had nothing left to lose after her only daughter disappeared.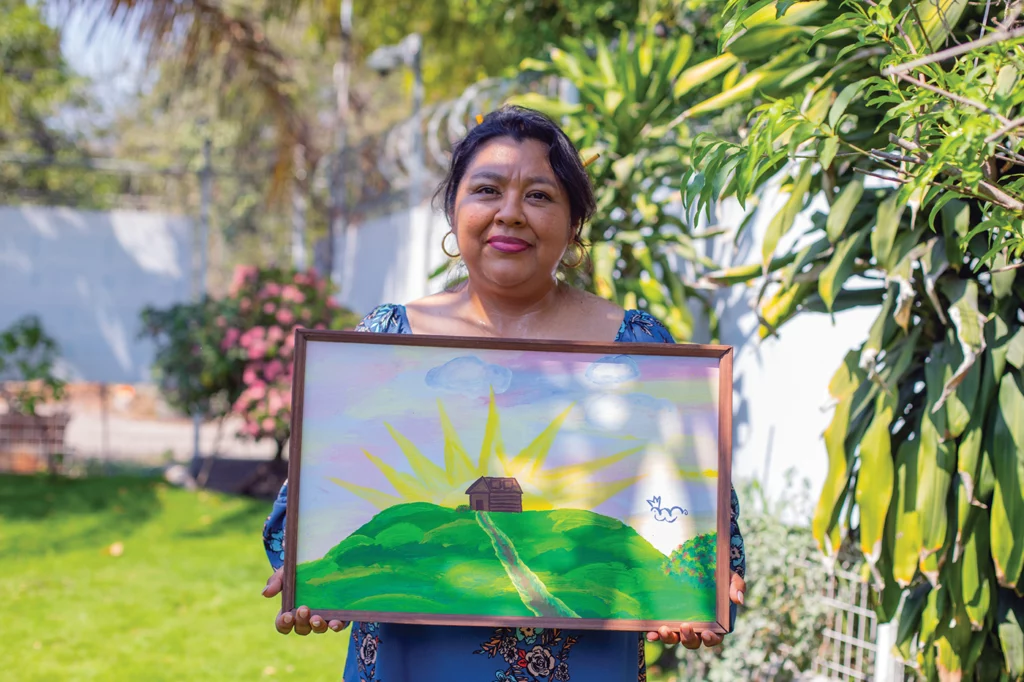 Pérez began by demanding a meeting with the state prosecutor in Tamaulipas. At the meeting, she says an officer who was supposed to be searching for her family advised her to seek help from the military instead, claiming the situation was too dangerous for the state police to investigate.
"I left there in pieces," Pérez says in Spanish. "And that's when I realized that the authorities were not going to do anything." Through social media, Pérez found people who gave her information on which routes to take during her search, and even shared their own cases in hopes that Pérez might find information about their loved ones. As she traveled desolate roads, she found looted cars and the charred remains of vehicles set ablaze. In the following weeks, more families joined her journey; the group began to locate clandestine graves and places Pérez hoped her family had not been. "I couldn't think that my daughter, my boys, my brother had to be in a place like that, right?"
Milynali loved to watch telenovelas, which Pérez would watch with her, even if she didn't enjoy them. An avid watercolor painter, Milynali was excited to start exploring oil painting just before she disappeared. She dreamed of becoming a pediatrician, and working on the weekends in the restaurant she and her mother hoped to open. Milynali would be the chef; Pérez would handle the customers and the register.
"She was very visionary, very independent. She was very self-assured," Pérez says proudly. "She is my daughter." As her search continued, Pérez built connections with military and law enforcement officials, gaining off-the-record information about arrests and seized safe houses. She managed to obtain coordinates, locate extermination sites, and gather evidence of other possible cases of disappearances. Her sister Edith, whose sons disappeared with Pérez's daughter, also joined the search. Three months after her sons disappeared, Edith Pérez publicly confronted then-president Felipe Calderón during a visit to San Luis Potosí, denouncing the government's neglect of families of the disappeared. Her confrontation drew attention to the issue, and made headlines nationwide.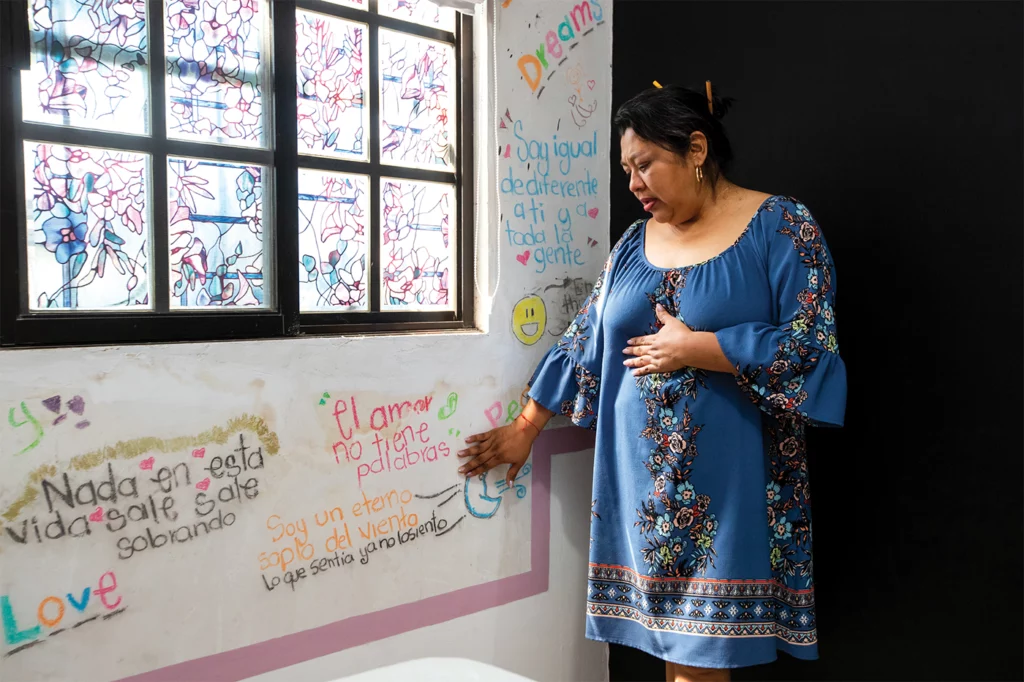 The media attention, combined with the connections to family members and law enforcement officials, eventually prompted Graciela Pérez to create a formal association to bolster search efforts for her family members and other disappeared people. Milynali Red (the Milynali Network) became a formal association on May 24, 2017, and currently comprises more than 300 families of the disappeared; it's one of the longest-running collectives in the country.
"I realized that I wasn't just looking for mine," says Pérez. "The worst thing that has happened to me is that there comes a time when I forget about my loved ones. I manage things [for other families], and in the end I realize that I didn't ask anything for mine."
A Grain of Sand, a Grain of Hope
The 10-year anniversary of her family's disappearance has been a defining—and draining—moment for Pérez. The countless field searches and long hours spent under the burning sun have resulted in fatigue, new allergies, and other ailments, she says. "I don't know how much longer this will last," says Pérez. "I'm trying not to think about the future. I just live one day at a time."
"In the end, we are just leaving a grain of sand. The best we can do is document the best practices and pass them on," adds Pérez. "I wouldn't wish to pass anything on to anyone because no one wants to be in this horrible search."
In addition to sharing best practices, family collectives also aim to provide support for the psychological, physical, and financial toll wrought by the ongoing struggle and unresolved grief of those with disappeared loved ones. Rivas has seen her compañeras suffer from depression, heart issues, and cancer. "A collective is also to see that your people are OK, in morale and economically," says Rivas. Keeping track of each collective member's case with the authorities can be difficult when the cases are long-standing and families are rarely offered new leads. And yet, new families—often with similar cases—continue to join.
"It brings a range of emotions," explains Rivas. "On one hand, you feel happy to be able to help and provide support to struggling families. On the other hand, you feel sad because in your case there was no one to guide you, and many opportunities were lost."
Rivas continues to search for her husband, and now also coordinates searches for dozens of disappeared people in Nuevo León, together with more than 44 families. The collective is in the process of forming itself as a civil association. One of Rivas' compañeras suggested that they be named Renacer (Rebirth).
"One of them said, 'I like Renacer,'" says Rivas. "I asked, 'Why?' She said, 'Because it's like we are reborn after all we have experienced. It was as if we were dead, and now we are alive again.'"
---
Chantal Flores

is a Mexico-based freelance journalist investigating the impact of enforced disappearance in Latin America and the Balkans.
---