Illustration by Fran Murphy
Review An assessment or critique of a service, product, or creative endeavor such as art, literature or a performance.
Time Isn't Money
"Saving Time" explores a life beyond the constraints of the Western clock.
Why you can trust us
---
When I read Jenny Odell's acclaimed 2019 book, How to Do Nothing: Resisting the Attention Economy, I was navigating both workplace-related PTSD and burnout. Odell's clarity about the attention economy, or how social media companies monopolize human attention for profit, snapped me out of the fast-paced work routine I had created for myself.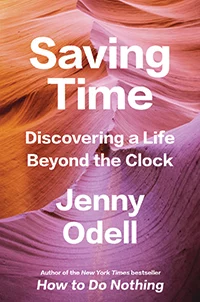 Ten-hour workdays were common for me, so I welcomed Odell's suggestion to consider doing nothing as anti-capitalist praxis. But it was still a difficult message to digest after years of being trained to value productivity above all else. In her latest book, Saving Time: Discovering a Life Beyond the Clock, Odell proposes a similarly challenging message: If time is the unit of measurement that most humans share, and it's divided to generate profit rather than to nourish and care, then how do we deconstruct the structure of time?
Excavating the origins of how Western societies conceptualize time, Odell explores the relationship between our color-coded daily schedules and colonization. Drawing on historian Giordano Nanni's 2012 book, The Colonisation of Time: Ritual, Routine and Resistance in the British Empire, Odell connects the dividing of our days into seconds, minutes, and hours to Europe's colonial domination. In seeking to universalize working hours to increase production, the Western clock arrived in the colonies as a tool to "tame" the people who lived there. Indeed, as Odell writes, "A standardized approach to time and labor often accompanied colonists wherever they went." Colonists even determined how "civilized" Indigenous communities were based on how they conceptualized time.
Instead of breaking down their time into hours of profit-making work, Indigenous groups organized their societies according to tasks that needed to be done for the survival of the community. Work was not something they did to make money; it was done to be "part of a social economy" where work time and nonwork time had no differentiation. The multidisciplinary artist and author argues that remaking our conception of time can be a liberatory tool. "I believe that a real meditation on the nature of time, unbound from its everyday capitalist incarnation, shows that neither our lives nor the life of the planet is a foregone conclusion," Odell writes, putting forth the claim that how we conceptualize time is neither humane nor logical.
The time structures we operate under aren't arbitrary; they're designed to support capitalism, and, as workers, we're selling our time. Implicit in this line of thought is a question: What do we lose when we're forced to sell our time to capitalism? This exposition is, in part, to show readers that "time is money" isn't written in stone and that we would benefit from questioning it. "When the relationship of time to literal money is expressed as a natural fact, it obscures the political relationship between the seller of time and its buyer," Odell argues.
Like many freelance millennials, I measure my time according to how much money I can potentially make—how long can I work before I do actual harm to myself? How early do I have to get up to get an assignment done? When do I need to file an assignment so I can get paid before rent is due? Drawing on a 1925 book that exemplifies Taylorism, a productivity management methodology, to demonstrate how we divide our time into profit, Odell perfectly describes my day-to-day: "[Increasing Personal Efficiency by Donald Laird] is shot through with the cultural moment's fixation on speed, mastery, and a single-minded mission to cut out the useless," Odell notes. While the book is from 1925, I saw myself in how Laird describes the cutthroat time management workers are expected to model to maximize their profit-making time.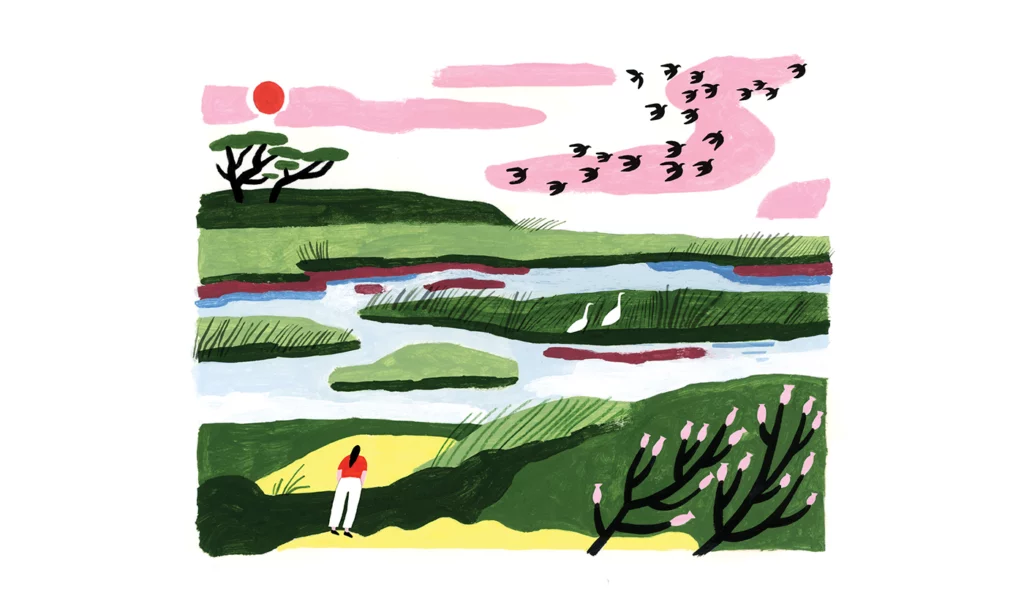 The obvious answer to this conundrum would be to rest and return to work at a later date, but the problem with this—as Odell distills in the chapter "Can There Be Leisure?"—is that nonwork time always becomes a pathway toward more work. Beyond the fact that rest requires a certain amount of financial privilege, we're encouraged to take time off so we can work when we're no longer tired. We're resting to become better at our jobs. Odell concludes that in our culture, leisure time—the commonly doled out solution to burnout—exists only for us to return to work and eventually tire ourselves out again and again.
It's easy to feel hopeless about our current conditions when the things that are supposed to heal us push us back toward the systems that are destroying us. Odell's "panoramic assault on nihilism," as she calls it, is palpable in Saving Time; while she insists on addressing what hurts society, she's also adamant about finding an escape, a new way to live. She puts forth the idea that since our relationship to time is so intimately connected to how we view the world, we have to change that perspective. That could look like forgoing the human conception of time, which doesn't account for the many other beings—trees, animals, rivers—that operate within their own concept of time, or rather, their own desires and needs.
We could also lean in to the Indigenous perspectives of embeddedness in and attentiveness to place (commonly translated as "bioregionalism"). Embracing bioregionalism would allow us to resist the concept of linearly organized time. "Bioregionalism is useful here both as metaphor and as concrete demonstration, in that its timescales overlap and sometimes lie outside the human perspective," Odell writes. "Expressed simply as change, ecological and geological time are full of difference: Things happen both quickly and slowly, at both tiny and inconceivably epic scales."
This is perhaps where Odell risks losing some readers by turning to a more abstract solution. She encourages readers to look for "[the] irrepressible force that drives this moment into the next." I know exactly what she means: a kind of leisure that can't be pinpointed and therefore can't be commodified. It can be the moment I see a bird sit on a branch by my window, or the overwhelming realization that the universe is alive and that I am in it. It can be the instant I realize we are all breathing the same air at a protest, and that we are all here, together.
As Odell puts it, the point isn't "to live more, in the literal sense of a longer or more productive life, but rather, to be more alive in any given moment—a movement outward and across, rather than shooting forward on a narrow, lonely track." Reclaiming a life beyond the clock is that movement outward and across, toward other bodies, toward dreaming together, toward a world no longer constrained by the chains of time.