The Gig Economy Issue:
Culture Shift
Urban Foraging: Weeds You Can Eat
Urban Foraging: Weeds You Can Eat
6 edible weeds that can provide protein, reduce anxiety—or even predict the weather.
Why you can trust us
---
Foraging, or wandering in search of food and plants, isn't relegated to remote forests and idyllic fields. Edible and usable weeds are abundant in urban environments too. Some are found in common cuisine: Dandelion and stinging nettle are often used in salads and teas. And many weeds are vitamin- and nutrient-rich.
Harvesting urban weeds can help us connect better with the natural spaces where we work, live, and play. But finding them requires a little technique. Melany Vorass Herrera, author of The Front Yard Forager, suggests carrying a field guide to help identify plants, picking only as much as you need, and avoiding areas known for pollution, heavy industry, or chemical use (pesticides, herbicides, fertilizers).
Your nearest urban patch may be home to a variety of edible weeds, including some you may never have heard of, like lamb's quarter (hint: it doesn't have to do with meat).
When and Where to Find Them
---
Lemon Balm
How to use it
Use dried leaves for tea, salads, and meat dishes. Crush leaves for lemon-flavored vinegar and herb butter.
What it does for you
Lemon balm reduces anxiety and remedies digestive problems.
Did you know?
Lemon balm tinctures and oils are used to treat insomnia and to calm agitation in people with Alzheimer's disease.
---

Lamb's Quarter
How to use it
Eat leaves raw or cooked. Use seeds in baked goods, like muffins and cakes.
What it does for you
Lamb's quarter may be a "superfood" contender—the leaves have more calcium and protein than spinach.
Did you know?
Its seeds can be a staple for a gluten-free diet. Lamb's quarter is related to quinoa, with both in the Amaranthaceae family and commonly used as wheat substitutes.
---
Chickweed
How to use it
A mild, lettuce-like taste makes it a good garnish in salads and sandwiches.
What it does for you
Water stored in the leaves flushes vitamins and minerals through the body.
Did you know?
Chickweed blossoms are rainy day fortune-tellers. The blossoms close up when rain is imminent, signaling you to be raincoat-and-umbrella ready.
---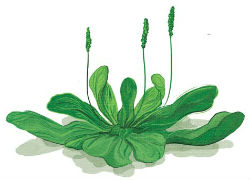 Plantain
How to use it
Add leaves to salads, steep for tea, or drizzle them in oil and bake as chips.
What it does for you
Tea from leaves soothes toothaches, coughs, and sore throats.
Did you know?
The Plantago genus classifies about 200 plant species called plantains, completely unrelated to plantain bananas. Plantago is Latin for "sole of the foot," which ancient Romans believed the leaves resembled.
---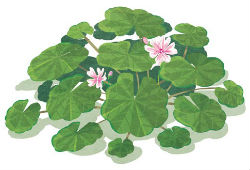 Mallow
How to use it
Add young shoots to salads. For soups, the leaves can be used as a thickener and to add a sweet taste. For baking, roots can be used as an egg white substitute.
What it does for you
High in calcium, magnesium, and potassium, the leaves aid bone strength and resilience.
Did you know?
Celtic folk doctors used mallow to treat hair loss.