The Gig Economy Issue:
Culture Shift
Sorry, Trump: So Many Reasons to Welcome Immigrants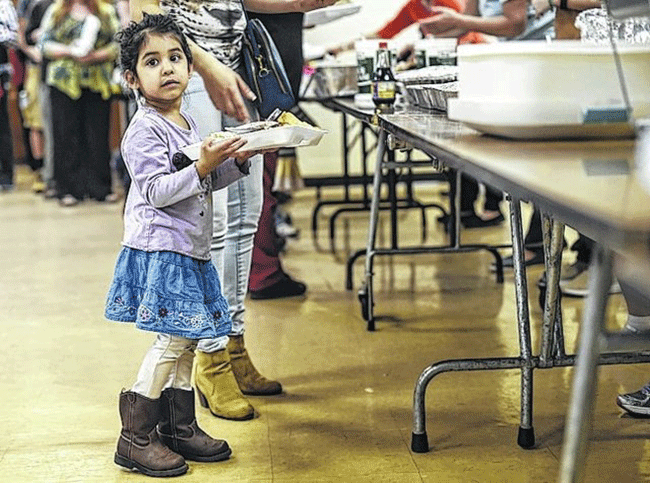 Sorry, Trump: So Many Reasons to Welcome Immigrants
Why cities across the country are rejecting xenophobia: They know the economic and social value of newcomers.
Why you can trust us
---
With all the attention the media gives to presidential candidate Donald Trump, some might think that the anti-immigrant sentiment he expresses is the dominant frame of mind in our country. But Susan E. Eaton's book Integration Nation: Immigrants, Refugees, and America at Its Best reminds us that, in fact, hate and xenophobia are being rejected by communities across the nation.
What's the secret recipe to creating more welcoming communities in our community? Part of it involves making the economic case that immigrants contribute. In places like Dayton, Ohio, and Philadelphia, civic and business leaders have understood that economic revitalization can be driven by immigrant entrepreneurship and energy, and so have sought to foster and support small-business development.
But while direct economic interests fortify the case for immigrant integration, Eaton's book is a powerful reminder that it's a few fundamental values—being open, receptive, and neighborly—that are really critical. For what's at stake is not just our prosperity but the very soul of America—and this turns on the choices we make every day about how to act, how to lead, and how to inspire others to do the right thing.
Of course, welcoming attitudes and activities do not happen on a blank slate. In a recent co-edited book, Unsettled Americans: Metropolitan Context and Civic Leadership for Immigrant Integration, we tried to lay out the factors that make a difference in receptivity—that is, what "unsettles" native-born Americans about new immigrants and what factors best help new Americans settle in.
First, history matters. Cities with a longer legacy of immigrant arrival also tend to have the immigrant-serving institutions that help integrate newcomers. But such experienced cities often are bordered by suburbs that are less familiar with immigrants—a big challenge because those suburbs are exactly where America's immigrant population is growing most rapidly.
Second, race matters. When a city or a region has a diverse immigrant community—both in terms of class and national origin—native-born residents are less likely to view immigrants in a negative, racialized manner. In Silicon Valley, highly skilled (often Asian) immigrants are seen as essential to business health, which has positive spillover effects: Silicon Valley was one of the first places in the United States to create a local health insurance program that covers undocumented kids.
What's at stake is not just our prosperity but the very soul of America.
Third, politics matters. Naturalized immigrants and their American-born children can vote and hold political representatives accountable for their actions. Consider New York, where immigrant voters, social movements, and advocacy organizations secured political support from then-Mayor Michael Bloomberg and current Mayor Bill de Blasio for immigrant-friendly practices, like municipal ID cards and resistance to the involvement of Immigration and Customs Enforcement in local jails.
Fourth, leadership matters. While some politicians seek to inflame anxieties to build their own political careers, other influential people and organizations are crafting more welcoming responses. For example, the Utah Compact, reached in 2010, embodied an agreement between business, civic, faith, law enforcement, and other leaders to have a more civil discourse on immigration and to avoid separating families. Strikingly, in one of the nation's most conservative states, undocumented immigrants have long had access to driver's licenses and in-state tuition.
What Eaton powerfully adds to this list of structural factors is something seemingly less concrete but, in fact, even more essential: the role of grassroots values. She does this by taking us far from the usual areas that come to mind when we think of immigrants in the United States—New York, Chicago, and Los Angeles—to instead visit the heartland, New England, and the South.
In Omaha, Nebraska, Islam is a growing faith—this in a state whose image of Whiteness is belied by the fact that more than 30 percent of the children under age 5 are people of color. In the face of change, leaders have chosen communication and coexistence. One example: A former Jewish country club—built for and by Jews who were barred from obtaining other country club memberships—is being converted into a tri-faith campus, where a synagogue, mosque, and church will stand side by side.
Integration Nation 
Susan E. Eaton 
The New Press 224 pages
Or consider the state of Mississippi, where some in the African American community initially viewed the growing number of Latino immigrants as job competitors. But stressing that jobs, work conditions, access to education—and basic human rights—are common goals, African American elected officials have blocked a range of anti-immigrant legislation. Economic interests weren't the only reason: Eaton's book recounts a statement by James Evans, a Mississippi state legislator: "The Black Caucus knows its history—many of our members lived that civil rights history—and we vowed to never sit still when human beings are being treated as less than human."
Perhaps Eaton's most compelling story comes from Hazleton, Pennsylvania, a city of 25,000 that became famous in 2006 when its city council passed a series of ordinances to prevent employers from hiring and landlords from renting to undocumented immigrants. Appalled by the emerging tone, hometown hero and then-manager of the Tampa Bay Rays Joe Maddon decided to shift the conversation, helping to start the Hazleton Integration Project.
One of the results was the Hazleton One Community Center, where immigrants and native-borns alike can learn English or Spanish, enjoy cultural and sports programs, and send children to do homework. But equally important has been a new spirit of unity. When Maddon asked a cook in a Mexican restaurant where he was from, he expected to hear a hometown in, say, Oaxaca. Instead, the cook replied in English, "I'm from Hazleton," sparking a messaging idea for a banner featuring multiethnic groups of residents with the tagline, "We're from Hazleton!"
"We vowed to never sit still when human beings are being treated as less than human."
But there must be more than banners and slogans. In a recent report, "Opening Minds, Opening Doors, Opening Communities," we review the wide range of policies and practices that can help cities and regions be more welcoming to immigrants. These include streamlining services, providing in-language assistance, shifting law enforcement to community policing, and making immigrant integration everyone's business.
But you don't get policies without politics, and our politics—sometimes for better and sometimes for worse—are fundamentally based on our values. Eaton reminds us that America is at its best when it welcomes rather than rejects immigrants, when it chooses integration over exclusion, when it builds bridges rather than walls. She stresses that what's at stake in the immigration debate is not only the policy details of guest worker programs, border security, and paths to citizenship; what's at stake is who we are as a nation.
The research shows that we all have an economic interest in welcoming our new neighbors—cities and regions do better when we do. But ultimately, immigrant integration is about more than our interests. It is about who we are and how we treat each other—welcoming the newcomer, helping those who are anxious find their way to their better selves, and bringing communities together to turn the page on hate.