The Gig Economy Issue:
In Depth
Advising My Laid-Off Mom About Freelance Work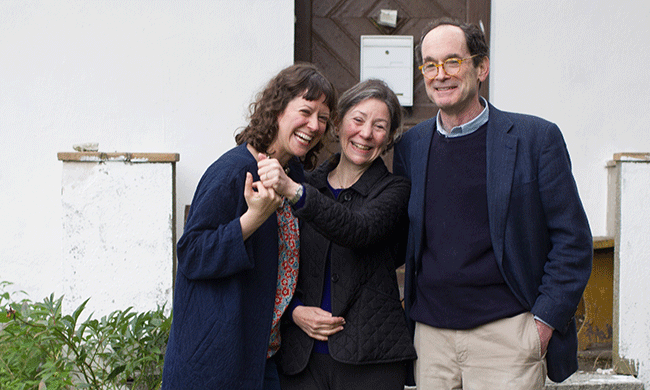 Advising My Laid-Off Mom About Freelance Work
The economy has changed from many single-track, steady careers into workers who thrive on one-off gigs and "projects." But when you're over 60 and overqualified, how do you find a job?
Why you can trust us
---
In 2009, my mother lost her job. The associate director of New York City's Metropolitan Museum of Art, she was moved out, along with many others her age, when her boss retired and a new director rolled in. Over 60 and overqualified, she suddenly found herself not only unemployed but perhaps unemployable. Once an influential player in the museum world, she now had the keen sense that a large part of her carefully constructed identity had been shattered.
A few generations ago, that may have been the end of the story. But it wasn't the end of hers. Examining her skills, connections, and prospects—perhaps for the first time in years—she came to the same conclusion others already had: She was likely never to enjoy the salary and prestige she had before, but, more for reasons of self-esteem than finances, she simply wasn't ready to retire.
Since my mother had last searched for work, the economy had changed many single-track, steady career animals into workers who thrived on one-off gigs and hazily defined "projects." This sudden shift in the work landscape triggered an unexpected role shift within our family, turning the table so I became the career adviser.
My mother's journey cobbling together a second career—as a headhunter and consultant for museums, galleries, and art-related nonprofits—included a wide range of freelance positions. At the beginning, very few of them paid. This closely mirrored the experience of many in my generation. So I shouldn't have been surprised when she and my father began looking to me, a recent college graduate only a few years into a freelance writing career, for advice, support, and pep talks about money and worth. "You're a successful freelancer," my father said, asking for help on my mother's behalf. "She needs to hear she can do this."
Apparently, many in her position are already doing this quite successfully. A joint study by Elance-oDesk (now Upwork) and the Freelancer's Union titled "Freelancing in America" found that more than 30 percent of U.S. workers over age 35 freelance. That includes a good number of Americans approaching retirement.
After decades within an organized office environment, she conceded that finding success as an independent contractor proved to be tricky.
My mother and I had always been close, but now I simply wasn't sure how to become her mentor. I was, after all, just beginning to build my own career. Taking cues from my parents—who had once told me I could do and be anything—I had moved to a foreign country on a whim and was struggling with a new language, untold bureaucracy, and the particularly maddening challenge of trying to get noticed in my field from across an ocean. Now, I found myself punting their words of encouragement back again, hoping my mother would absorb them. She understood the obstacles she faced, but I felt it was up to me to help her—to use a particularly life-coach-ready turn of phrase—turn those obstacles into opportunities.
One of those obstacles was mindset. Having just graduated from college, I was, in a sense, more malleable and open, with more time to try on various career hats. My mother, who was fast approaching retirement age, had a set notion of what she could and could not do—regardless of whether that turned out to be true.
"I finally had an epiphany when I realized at my age, which was not so young at the time and is even less young now, it was unlikely someone was going to hire me," she told me.
After decades within an organized office environment, she conceded that finding success as an independent contractor proved to be tricky: "I don't really know very much about the business end of things."
She wasn't the first to admit that this came from growing up with a very different vision of women in the workplace. "My parents didn't expect me to work, and, I mean, I didn't particularly expect me to work," she said. I was shocked to hear this at first, but then pleased at how far we had come. Just one generation lay between me, an aspiring freelancer struggling to build my own business, and my grandmother, a full-time homemaker. My mother was the middle link. No wonder she was often sorely lacking in confidence.
"Career reinvention is viewed today not as a lack of commitment but as a sign of imagination."
Contrary to what my parents and parents' parents may have thought, these days my mother is sure to find more encouragement from fellow travelers along her particular road. "Career reinvention is viewed today not as a lack of commitment but as a sign of imagination and entrepreneurship," said Jennifer Zaslow, 49, partner at Clear Path Executive Coaching. "I remember my dad telling me, 'I always wanted you to find a job you could stay at,' but now people are leaping from stone to stone."
Of course, my mother is quite aware she's been able to make those kinds of leaps from a position of tremendous privilege. After the end of a near-40-year career at the Met, with her husband still working, "we had no mortgage, we had no car payments, we have no debt, and that's huge."
For my part, since that conversation with my father, I've encouraged my mother to go in for interviews, and I'm vocal when I think she's getting a bad deal. After hearing about a train ride to Boston for a lackluster interview followed by a particularly disappointing meal with a potential boss, I declared, "Bad food? Deal breaker!" I was half-joking, but she didn't take the job.
I've helped transform her resume into a LinkedIn profile and advised her on which profile photo to use. Our next plan is a sit-down meeting over a new website, which I will design for her based on the skills I learned designing my own. My mother's story has made me all the more appreciative of my freelance writing career—one I stumbled into more than chose deliberately—and how it has prepared me in myriad ways for whatever may lie ahead.
Just a few short years later, as my own earnings grow along with my confidence, I remember how my father put it when he first asked me to help my mother: "She needs to hear she can do this." Looking back on it now, it was exactly that moment that made me realize I could.